You might have heard about the famous Goan Prawns Curry right? Well, did you know that our famous Goan Prawns Curry has different versions? We make it by adding raw mangoes, bilimbi, hog-plums, lady fingers, etc. We also make it with or without onion. Today's recipe is another version of Goan Prawns Curry i.e. Goan Prawns Curry with Ladyfingers or bhendi.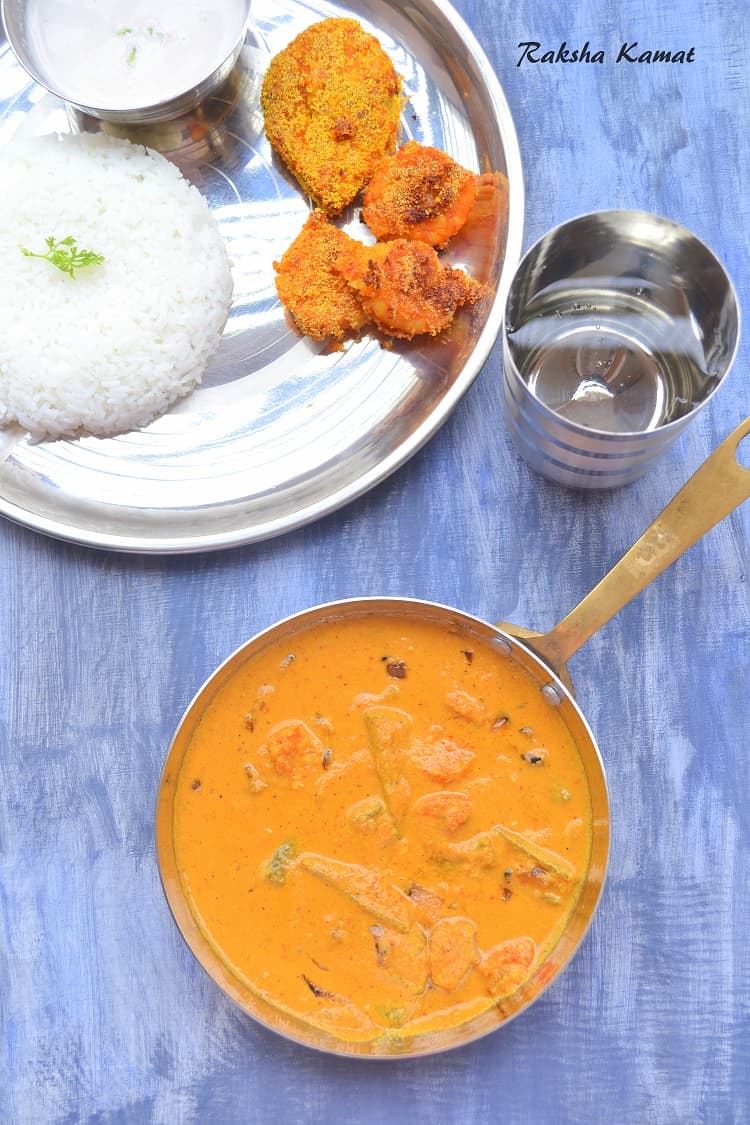 Fish is found in abundance in Goa. Almost every day we Goans eat fish for lunch. Fish is not just delicious, but is also very good for health as it is rich in omega 3 fatty acids and vitamin D3. The other day I one of my friend told me that he had yummy fish thali in Goa and that too just for Rs.150/-. Believe me friends, if you visit Goa, do eat the fish thali to enjoy the traditional Goan meal.
Serve the Goan Prawns Curry with steamed rice, mackerel uddamethi, prawns balchao, fried kingfish, dry prawns kishmoor, val papdichi bhaji, salad and sol kadi to make a nice and delicious Goan thali. Children love this Prawns curry. It is mildly spiced unlike the other fish curries which are flavored with Sichuan pepper.
This prawns curry is made with freshly grated coconut and fresh spices. The spices are added to the coconut while grinding. No garam masala is added to this curry. Also note, we don't add kokum, ginger and garlic to this Goan Prawns Curry. However, people of other communities add kokum and their style and method of preparation differs. The curry turns tastier if small prawns are added to this instead of tiger prawns.