You might have heard about the famous Goan Prawns Curry right? Well, did you know that our famous Goan Prawns Curry has different versions? We make it by adding raw mangoes, bilimbi, hog-plums, lady fingers, etc. We also make it with or without onion. Today's recipe is another version of Goan Prawns Curry i.e. Goan Prawns Curry with Lady fingers or bhendi or okra.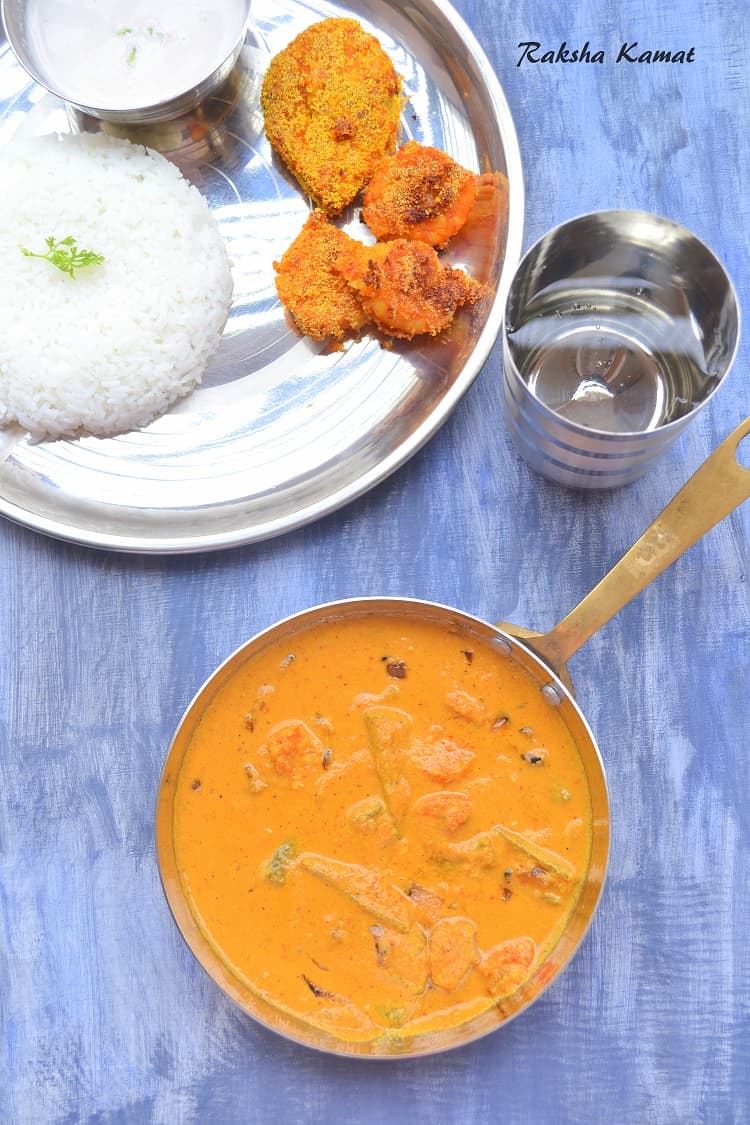 Fish is found in abundance in Goa. Almost every day we Goans eat fish for lunch. Fish is not just delicious, but is also very good for health as it is rich in omega 3 fatty acids and vitamin D3. The other day I one of my friend told me that he had yummy fish thali in Goa and that too just for Rs.150/-. Believe me friends, if you visit Goa, do eat the fish thali to enjoy the traditional Goan meal.
Serve the Goan Prawns Curry with steamed rice, mackerel uddamethi, prawns balchao, fried kingfish, dry prawns kishmoor, val papdichi bhaji, salad and sol kadi to make a nice and delicious Goan thali. Children love this Prawns curry. It is mildly spiced unlike the other fish curries which are flavored with Sichuan pepper.
How to make Goan prawns curry with ladyfingers?
This prawns curry is made with freshly grated coconut and fresh spices. The spices are added to the coconut while grinding. No garam masala is added to this curry. Also note, we don't add kokum, ginger and garlic to this Goan Prawns Curry. However, people of other communities add kokum and their style and method of preparation differs. The curry turns tastier if small prawns are added to this instead of tiger prawns.
Also check this Goan prawns curry with radish and raw mango. and Goan prawn curry with hog plum
Goan Prawns Curry With Ladyfingers
Ingredients
For Gravy:
1

cup

grated coconut

or 1/2 coconut of small size

1

marble sized ball

tamarind

1

teaspoon

turmeric powder

4

dry red chillies / byadgi chilies / shepda in Konkani

5

black peppercorns

1

teaspoon

Coriander seeds

1/2

onion

finely chopped

5

ladyfingers/bhendi

slit and chopped into 1 inch sized pieces

1

teaspoon

oil
For marinating the prawns:
1

tablespoon

turmeric powder

1/2

tablespoon

chili powder

1/2

teaspoon

Salt
Instructions
For marination:
De-shell the prawns. Remove the thick black thread that is there in the middle of the Prawns back. This is also known as back-bone.

Apply the turmeric powder, chili powder and salt. Leave this for minimum 30 Minutes. If you want to marinate for longer time, then keep the marinated prawns in refrigerator.
For the gravy:
Grind, grated coconut, turmeric powder, tamarind, peppercorns, coriander and red chillies. After grinding the gravy is ready. We will cook prawns in this gravy.

In a kadai, add 1/4 cup water, marinated prawns and chopped lady fingers. Add 2 tablespoon ground gravy to this. Let it cook for 10 minutes.

Pour in the rest of the ground gravy and stir. Add ½ cup water and cook on a medium flame for 2 minutes

Let it get cooked for another 10 minutes Switch of the gas.

Now in a tadka/seasoning pan, add oil preferably coconut oil. Once the oil gets heated add chopped onion and fry till it gets burnt. After onion gets bit burnt, give a tadka of burnt onion to the gravy and close the lid.

Add salt to taste. Remember that the prawns were marinated with salt. So add only 1/4 teaspoon salt first. Taste and add more if needed.
Video
Share on Facebook
Pin Recipe
Check out my video recipes on YouTube!
Click here to -> SUBSCRIBE