Goan Prawns Curry With Raw Mango – I
love Prawns. I feel extremely happy if someone gives me prawns curry and rice with some fried fish. If I get this, I don't want any other type of non-veg food. In Goa we make curries with various types of fish. This curry is locally  called as 
"Hooman".
This time I added raw mango to
Prawns curry
. Some people add
ladyfingers
or
drumsticks
to this curry. Any way this curry turns yummy. The fresher the prawns, the yummier the Goan Prawns Curry With Raw Mango turns.
---
Nowadays I take this curry to office. My friends love this and always tell me that it is extremely yummy. I am sharing this with you all with my secret ingredient. This secret is to add a tadka of burnt onion to the curry. Just try it out. It turns awesome.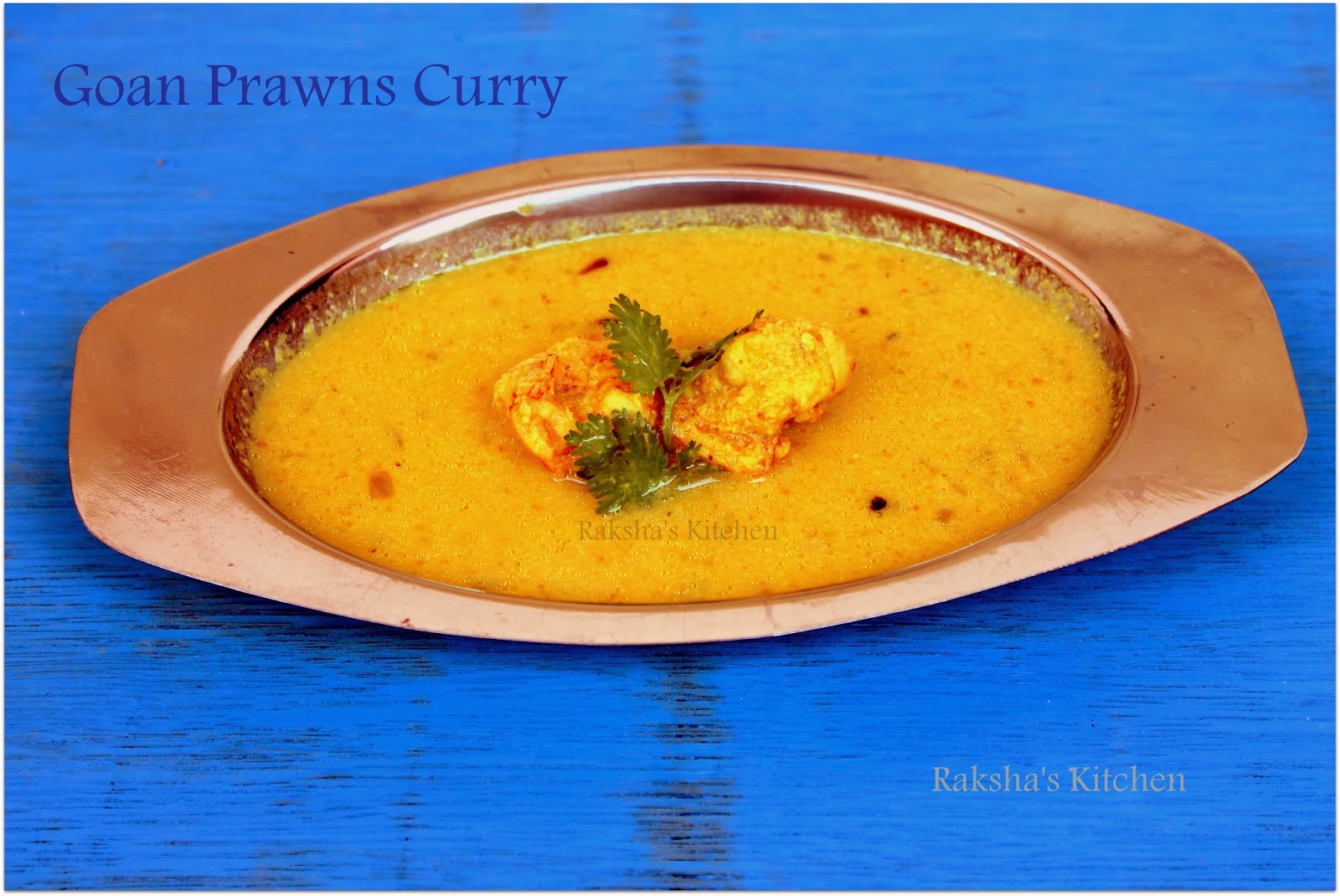 Ingredients:
15-20 Prawns / Shrimps
1 raw mango
1 teaspoon oil
For Gravy:
1/2 cup grated coconut(coconut of small size)
1 marble sized ball of tamarind
1 teaspoon turmeric powder
2-3 dry red chillies / byadgi chillies / shepda in Konkani / Kashmiri red chillies
5 peppercorns
1/2 teaspoon coriander seeds
1/2 chopped onion
For marinating the prawns:
1 tablespoon turmeric powder
1/2 tablespoon chili powder
1 teaspoon Salt
Instructions:
For marination: 
De-shell the prawns. Remove the thick black thread that is there in the middle of the Prawns back. This is also known as back-bone.
Apply the turmeric powder, chilly powder and salt. Leave this for minimum 30 minutes.
If you want to marinate for longer time, then keep the marinated prawns in refrigerator.
Peel the raw mango and cut it into 1 inch long pieces.
For the gravy:
Grind, grated coconut, turmeric powder,tamarind,peppercorns,coriander and red chillies.
In an aluminium bowl, add 1/4 cup water, prawns and raw mango pieces. Add 2 tablespoon gravy to this. Let it cook for 10 minutes.
Then pour in the gravy and stir. Add water 1/2 cup and cook on a medium flame for 2 Min's.
Let it get cooked for another 10 minutes.
Switch of the gas.
Now in a tadka pan, add oil preferably coconut oil. Once the oil gets heated add chopped onion and fry till it gets burnt. After this gets burnt, give a tadka of burnt onion to the gravy and close the lid.
Add salt to taste. Remember that the prawns were marinated with salt. So add only 1/2 tsp salt first. Taste and add more if needed.

Note: The gravy should neither be too thick nor too thin.
This recipe is published on Cooks.NDTV.com
Check this link for the recipe:
http://cooks.ndtv.com/recipe/show/goan-prawn-curry-with-raw-mango-589054