Goan Ros Omelette – It's been a while since I wrote my last blog post. I was down due to some health issues and had to stay away from work. Thanks to many of you who personally pinged me on Instagram and Facebook asking about my whereabouts. All is well now and slowly I am coming back to routine. I have still not taken a control of my kitchen and hence I will be posting recipes which I had cooked and clicked few months back. Today's recipe is Goan Ros Omelette which is a popular Goan street food.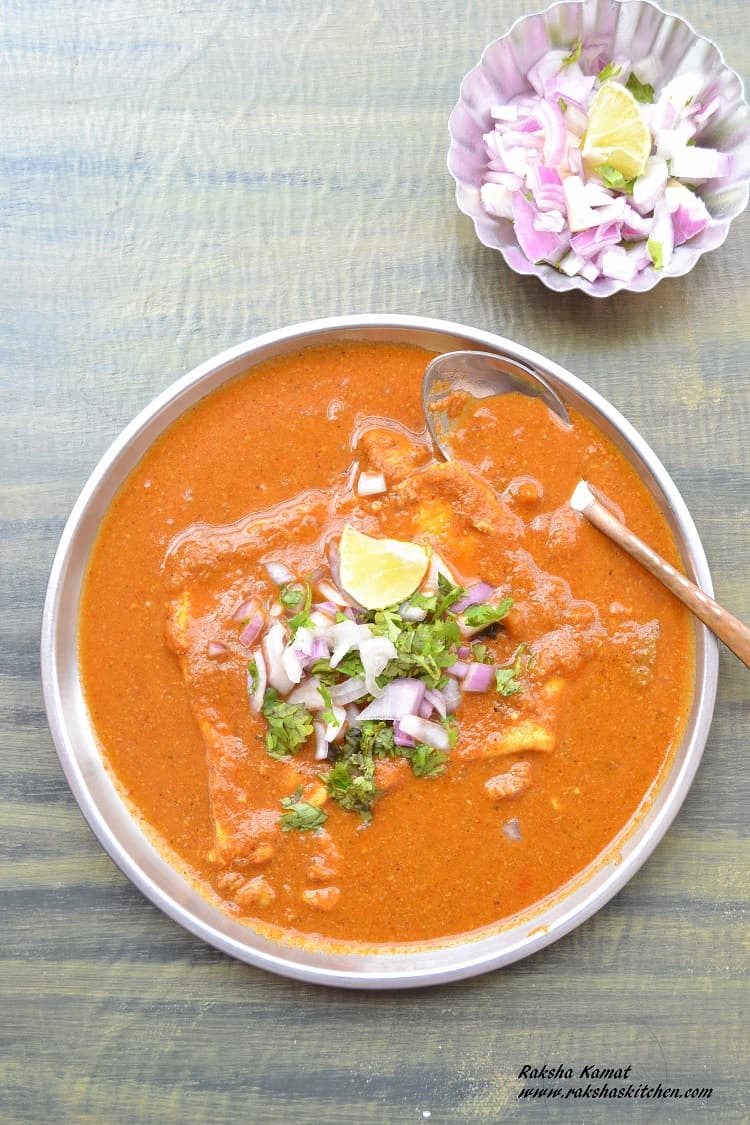 Ros Omelette is an omelette topped with mutton or chicken curry. The curry is known as "Ros" in Goan Konkani. Ros omelette is also known as "Rassa" omelet or Ras omelette. It is topped with chopped onion and lime.
Ros Omelette is usually prepared on local stalls called "Gaddo".  Mostly these are made of wooden push cart on four wheels. They open by around 6 PM and closes by 10 PM or until everything is sold out. Ros omelette is generally served with Goan pav. You can even ask for "polee".
I was introduced to Ros Omelet gravy recipe only after my marriage. Thanks to my hubby. The dish was spicy and bursting with flavors. The place looked unhygienic just like any other street side food stall, but the taste was delicious. I fell in love with it. Now whenever I visit Goa, I make it a point to visit either Ulhas or Ashok's Gaddo.
Oh Yes! This dish is also served in some restaurants too. But taste would not be as authentic as that served on the street side stalls.
Related posts : Goan street food Bataat wada , Goan onion pakodas, Spinach omelette
Preparing this Ros omelette is not very difficult. You can follow this chicken xacuti recipe for Goan Ros recipe. If you want a veg version, prepare mushroom xacuti curry to serve with the omelet.  For making omelet, break the egg and pour in a bowl. Mix finely chopped onion and tomato. Add finely chopped coriander leaves and chopped green chilly. Add red chili and turmeric powder and salt and mix till fluffy. Heat a frying pan, drizzle oil and pour the prepared egg. Prepare the omelet by cooking on both sides. Fold the omelet on either sides. Serve with xacuti curry. Garnish with finely chopped onion and a piece of lemon. Don't forget to serve it with pav. You can also serve it with slice bread.
Goan Ros Omelette
Ingredients
For Omelette:
2

tablespoon

Tomato

finely chopped

2

tablespoon

onion

finely chopped

1

green chilli

finely chopped

1

tablespoon

corriander leaves

finely chopped

1/4

teaspoon

turmeric powder

1/2

teaspoon

red chili powder

1/4

teaspoon

Black Pepper Powder

1/2

teaspoon

oil

To taste

Salt
Fr Garnish:
1/2

onion

finely chopped

1

lemon

chopped into 4 pieces
Instructions
Let us prepare the omelette:
Take a mixing bowl. Add finely chopped onion, finely chopped tomato, finely chopped coriander leaves and finely chopped green chili.

Add the spice powders – turmeric powder, red chili powder and black pepper powder and mix.

Break the egg and pour it into the bowl. Discard the shell.

Beat the egg and mix well until fluffy.

Add salt to taste and mix well.

Take the frying pan and heat it. Add oil to the pan. Spread it by moving the pan around.

Pour the egg and cook on low flame till omelette is cooked on one side. Fold the sides and gently flip it to the other side and cook till egg is completely cooked.
For Ros:
Prepare the ros by following the instructions given here – You can either make Chicken xacuti or mushroom xacuti (for a vegetarian version).
Serving:
For serving the ros omelette in authentic Goan way, take a steel plate and add the omelette. Pour 1 ladle curry from xacuti. Do not add any chicken pieces.

Garnish with chopped onion and lemon.

Serve with fresh Goan pav.
Notes
Note: Important recipe links:
Share on Facebook
Pin Recipe
Check out my video recipes on YouTube!
Click here to -> SUBSCRIBE