We get variety of sea fish in Goa. We also cook different types of fish recipes. 'Talle Sukhe' also known as Tallyache sukhe or tallyanche sukhe is a Goan sardines fry recipe. It can also be called as hot and sour sardines. This is another tarle recipe which my mom taught me during my trip to Goa somewhere in October 2014. This sardines sukha turns tangy and spicy.  Hot and sour sardines is the best stir fry made with sardines in a yummy tangy and spicy coconut base.
How to remove the strong smell of sardines?
This sardines sukhe turns very good and has a sour and spicy taste. Many people don't like the smell of sardines, so just clean them and apply salt. Keep them aside for 15 minutes and then wash again. This ensures that the strong sardines smell goes off.
Health benefits of sardines:
Sardines has number of health benefits. They promote heart and bone health. They are rich in proteins and make the immune system strong. Sardines are an excellent source of vitamin B-12 and are highly recommended for pregnant and lactating women.
Tallyache sukhe is hot and sour sardines cooked in dry coconut gravy to which tamarind and kokum is added.
Today's sardines recipe is also called as hot and sour sardines. Sardines are cooked in tangy and spicy coconut gravy. The spiciness to this recipe comes from the dry red and fresh green chilies. The kokum petals and tamarind adds a dash of sourness. The dish also has teffal berries or sichuan pepper which adds a unique flavor to the sardines sukha recipe. The kokum petals also gives a beautiful color to the recipe.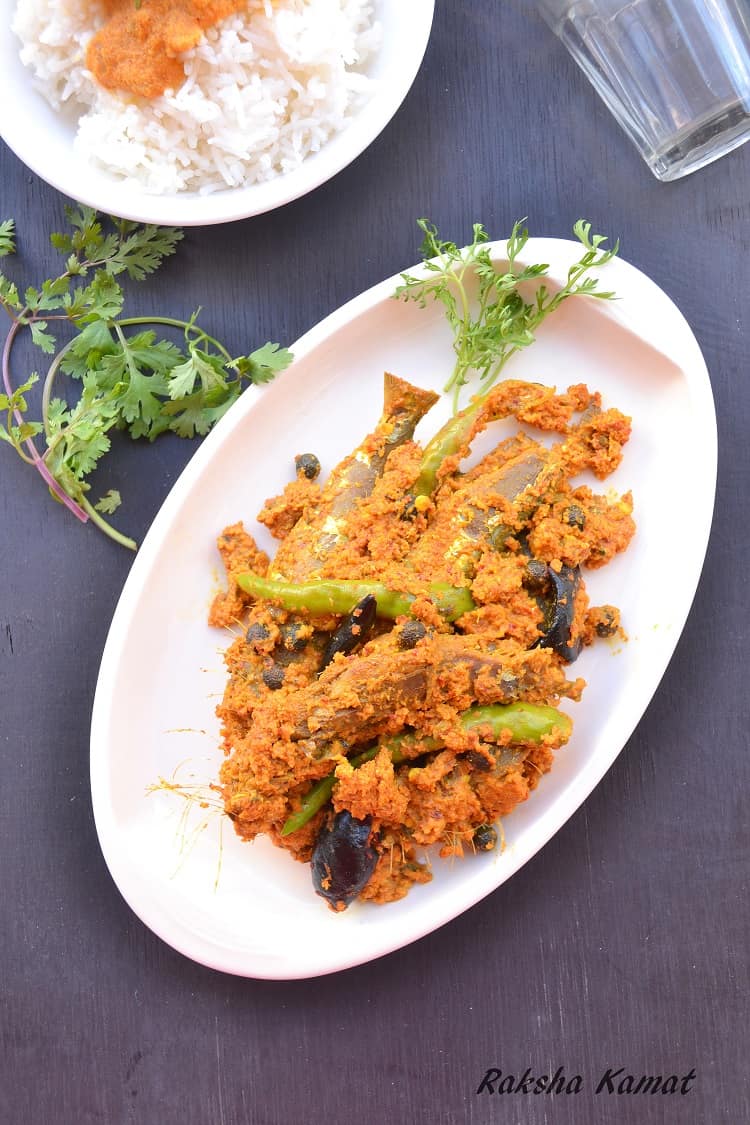 Similar fish sukha recipe can also be cooked with mackerels and anchovies too. Try out the
mackerel sukha recipe
which is also my moms signature recipe. Also this
vellyache sukhe or anchovies semi gravy
won my mother in laws heart when I made it for her. Do try it out too. Serve these fish sukha recipes with steamed rice.
Hot And Sour Sardines / Tallyache Sukhe
Sardines are cooked in tangy and spicy coconut gravy. The hot and sour sardines is the best and tastiest stir fry made with sardines. Serve it with rice or chapatis or bread.
Ingredients
8-10

Sardines

5-6

tablespoon

coconut grated

4

dry red chilies

1

marble sized ball of tamarind

2

green chilies

2

kokum petals

10-15

triphal/sichuan pepper/teffal
For Marinating:
1

teaspoon

chili powder

1

teaspoon

turmeric powder

1/4

teaspoon

salt
Instructions
Wash and cut the heads of the sardines. If sardines are big, then cut them into 2 to 3 pieces, else leave them as it is. I used small sardines in this sardines sukha recipe.

Apply salt to the sardines and wash again after 10 minutes.

Marinate the sardines with the masala mentioned above (turmeric powder, red chili powder and salt) and keep aside for atleast 30 minutes in the fridge. Do not keep in the freezer.

Add grated coconut, dry red chilies and tamarind  to a mixer jar.Add 1/2 cup water.

Grind to make a thick gravy. Consistency should be thicker than chutney.

Heat a kadai and add the thick gravy from the mixer grinder, 2 slit green chilies and marinated sardines.

Slightly crush the teffal seeds (sichuan pepper) using a mortal and pestel and add them to the gravy while cooking.

8)After 8 minutes, add the kokum petals and cook this till sardines get cooked.

If the gravy becomes too dry add 2 tablespoon water and cook till sardines are cooked.

Add salt to taste after checking the taste as sardines were already marinated with salt.
Video
Notes
Serve with chapatis or rice.
Share on Facebook
Pin Recipe
Share by Text
Check out my video recipes on YouTube!
Click here to -> SUBSCRIBE
If you like this recipe and prepare it give us a shout out and follow us on Facebook, Instagram, Twitter and Pinterest with hashtag #rakshaskitchen.
Also pin this recipe image on Pinterest.
Note: This post was originally published on 18th Nov 2014.