Being a working woman I always try recipes which are quick and easy to make, specially for busy the weeknight dinners. Today's recipe is a delicious stir fry made with shrimps or prawns, some vegetables like bell pepper, onion, tomato, broccoli and Delmonte Cheesy Dip mayo. This Shrimp Stir Fry With Cheesy Dip Mayo can be served with chapatis, slice bread, noodles or with steamed rice.
Delmonte Cheesy Dip is a scrumptious blend of eggless mayo, cheese and spicy exotic herbs like parsley and oregano with a dash of black pepper and garlic. It has a shelf life of 6 months and needs to be in refrigerator after opening. Apart from adding the mayo to make stir fries, you can also spread it on bread to make cheesy toasts or to make a cheesy sandwich too. And did you know that you can make delicious pastas with this cheesy dip mayo? Oh yes! Try it out. It turns delicious too.
Addition of Delmonte Cheesy Dip mayo makes this stir fry cheesy and also lends a nice herb flavor to the recipe. You can make this stir fry and also add it as a filling to wraps and sandwiches and pack in lunch boxes or serve as evening snacks. If you ever have some unexpected guests at home, a packet of marinated shrimps in refrigerator, some vegetables and mayo, you can immediately whip this stir fry and serve it over a bowl of basmati rice or noodles and impress them. This shrimp stir fry with mayo is sure to win hearts. Also try other recipes that I created with mayo.
Ingredients:                                                                                              Prep. Time: 45 Minutes, Serves: 4
15 shrimps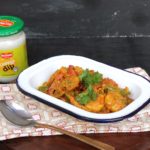 1/2 green bell pepper, Julienne
1/2 red bell pepper, Julienne
1/2 red bell pepper, Julienne
1 medium sized onion, finely chopped
2 medium sized tomatoes, finely chopped
7 garlic pods, minced
4 basil leaves, torn
1/2 cup, chopped broccoli florets
2 tablespoon Delmonte Cheesy Dip mayo
1 teaspoon soya sauce
1 tablespoon green chilli sauce
1/2 tablespoon garam masala
2 tablespoon oil
coriander leaves for garnish
For marination:
1 teaspoon red chilli powder
1/2 teaspoon salt
1/2 teaspoon salt
Procedure:
De-vein the shrimps.
Wash and marinate them by applying the ingredients mentioned for marination.
Keep them aside for 30 minutes.
Heat a wok/kadai and add oil.
When oil gets heated, add chopped onion and fry till onion turns translucent.
Add garlic and saute till raw smell of garlic goes away.
Add tomato and fry till tomato turns mushy.
Add the bell peppers and broccoli florets and fry for 10 minutes.
Now add the marinated shrimps and cook for 15 minutes stirring occasionally.
Add garam masala, soya sauce and green chilli sauce and mix well.
Add the torn basil leaves and mix.
Add mayo and mix well.
Add salt to taste and garnish with chopped coriander leaves.