You all might have seen the Vaya Tyffyn reviews and posts on my blog right? Now apart from Vaya Tyffyn, Vaya has come up with another product named Vaya Drynk. These are stylish thermos flask which keeps the liquid inside them hot for upto 12 hours or cold upto 18 hours. You can carry warm soup or cold drink in this Vaya Drynk thermos flask. I prepared refreshing and filling Mango Banana Milkshake this mango season and carried it to office in my Vaya Drynk thermos. I am also using this new Vaya Drynk to carry juices and smoothies to office everyday.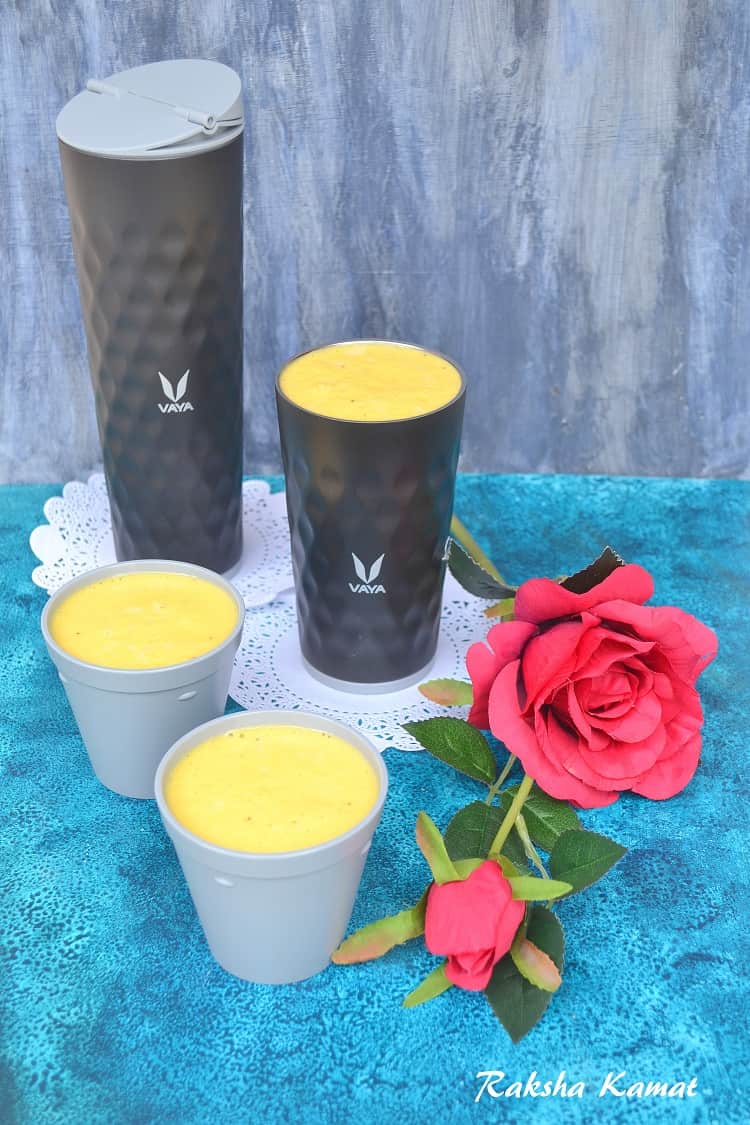 Vaya Drynk serves as a stainless steel water bottle and comes in two sizes – 350 ml and 600 ml. It comes in different colors to choose from. The Vaya Drynk bottles comes with 2 lids and 2 cups each. It can be used as a sipper with the sipper lid or gulper with the gulper lid. Without any lids, the Drynk serves as a stylish glass. If you use the gulper lid, the thermos water bottle transforms into a coffee/tea flask. The gulper can be capped with 2 cups which are of equal size. This is ideal for sharing specially while travelling.
The 350 ml is smaller bottle and can also be used as kid's water bottle. The 600 ml Drynk from Vaya is perfect water bottle for office goers. You can also pack juices, smoothies or soups in these bottles and have it in school or office. The smaller one is ideally meant for tea or coffee and the 600 ml one is great for water and juices.
Flasks are bulky and fragile as they have glass inside. Vaya Drynk is made of high quality stainless steel instead of glass.
It is sleek and light.
Has a smart body with excellent grip.
It has a non-slip base.
The lids are made of high quality BPA-free plastic too.
It is leak proof.
These water bottles from Vaya are perfect for everyone. You can carry any type of beverage like juices, smoothies, buttermilk, tea, coffee, warm soups, porridges or water. Anything packed cold will remain cold for upto 18 hours and anything packed hot will remain hot for upto 12 hours in these Vaya Drynk bottles. You can purchase the Vaya Drynk thermos by clicking here.
Before stepping out of the house, always remember to carry your own water. Plastic water bottles are unhealthy and destroy the environment as the plastic used is not of good quality. The Vaya Drynk water bottles are eco-friendly and healthier than plastics.
Below is the recipe of mango banana milkshake. The recipe is simple and easy to make. You only need to cut the fruits, mix the ingredients in a blender and blend until smooth. Either have it at home or pack it in the Vaya Drynk thermos and carry to office. You can also pack it in smaller 350 ml Vaya Drynk and send it to the kid's day care.  You can also make hot soups like carrot tomato soup and pack it the Vaya Drynk.
Mango Banana Milkshake
Ingredients
1

medium sized

mango

peeled and cubed

2

small

bananas

peeled and cubed

2

cups

milk

1

tablespoon

sugar

optional

Few

ice cubes
Instructions
Add all ingredients to a blender and blend together.

Pour in glass and serve.
Notes
Note: I received the product for review from Vaya. All the views and opinions expressed are my own. 
Share on Facebook
Pin Recipe
Share by Text
Liked this recipe? Please give us a 5 star rating and share the recipe link with a picture on Facebook, Twitter , Pinterest and Instagram
Mention @rakshaskitchen and tag #rakshaskitchen!