Masoor tonak is a delicious curry made with whole brown lentils in spicy coconut based curry. This tastes delicious and can be served with rice or bread or rotis.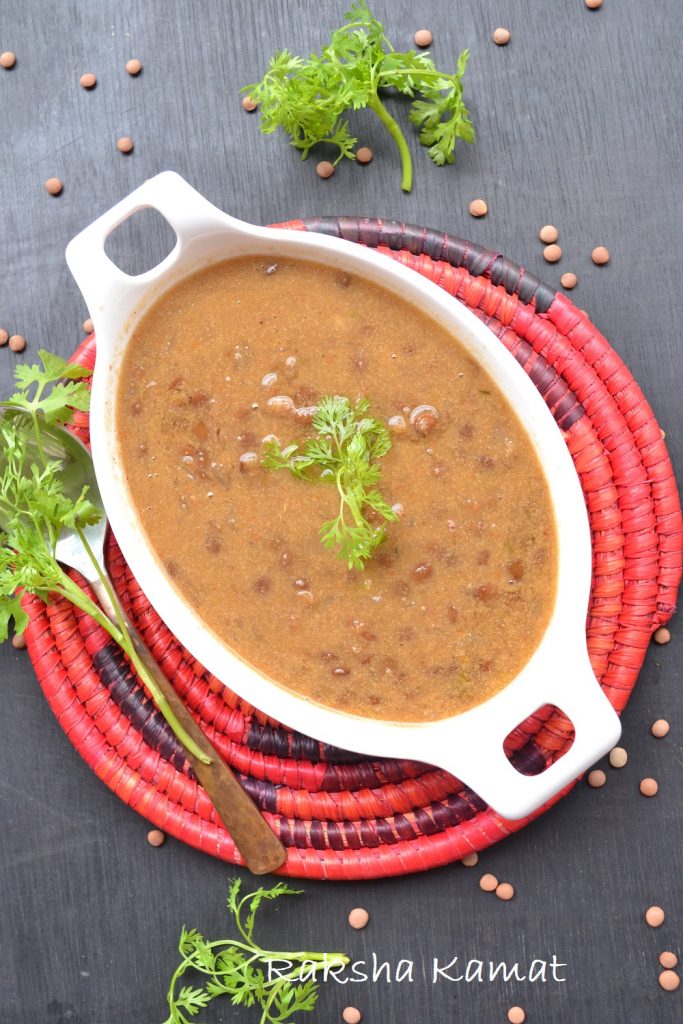 Sabut Masoor Dal or Whole brown lentil is known as just Masoor in Goa. We Goans make a delicious coconut based gravy named Masoor Tonak using this sabut masoor dal. Tonak means any spicy curry made with coconut and spices to which either legumes, mushrooms or any vegetables have been added.
Goan style masoor tonak or masoor masala curry is a delicious masala curry made with grated coconut and spices. Whole brown lentils are added to this curry along with potato. Serve this Goan style tonak with whole brown lentils with rice or rotis or bread.
In Goa, we make "
tonak
" almost everyday. Though majority of us eat rice for lunch, our dinners consist of these "
tonak's
" like masooriche tonak and chapatis. Some people love to eat these with
pooris
or bread.
Ingredients to make Goan masoor tonak recipe:
Brown lentils: Use whole brown lentils or sabut masoor dal to make this delicious masoor dal recipe.
Coconut: Use freshly grated coconut to make this Goan tonak recipe. You can use coconut milk too. Just roast the spices separately and mix it in coconut milk and use in this recipe.
Spices: Spices like dry red chilies, cloves, black peppercorns, coriander seeds, tamarind, turmeric powder and garam masala are used in this brown lentil Indian curry.
Onion: Use red onion to make this delicious Goan style masala curry with masoor.
Potato: Potato is also added to make this delicious massor curry Goan style.
How to make no onion no garlic masoor dal tonak in Goan style?
If you are making a no onion no garlic tonak, do not add onion and garlic to this recipe. You can continue cooking the same tonak recipe with all ingredients except onion and garlic. In that case, instead of adding onion to the kadai and sauting, just add oil and a couple of curry leaves. Then pour the ground gravy and boiled lentils and potato.
The North Indian's cook this masoor dal in a completely different way. They don't add grated coconut. A reason why they don't add coconut to their food is because, coconut does not grow abundantly in North India unlike Goa. Therefore we use it in our day to day cooking. Do try this masoor tonak recipe as it turns really good. Apart from masoor tonak recipe Goan, do check the
chana tonak
recipe. You will see that the procedure to prepare tonak is similar. Just that the star ingredient changes.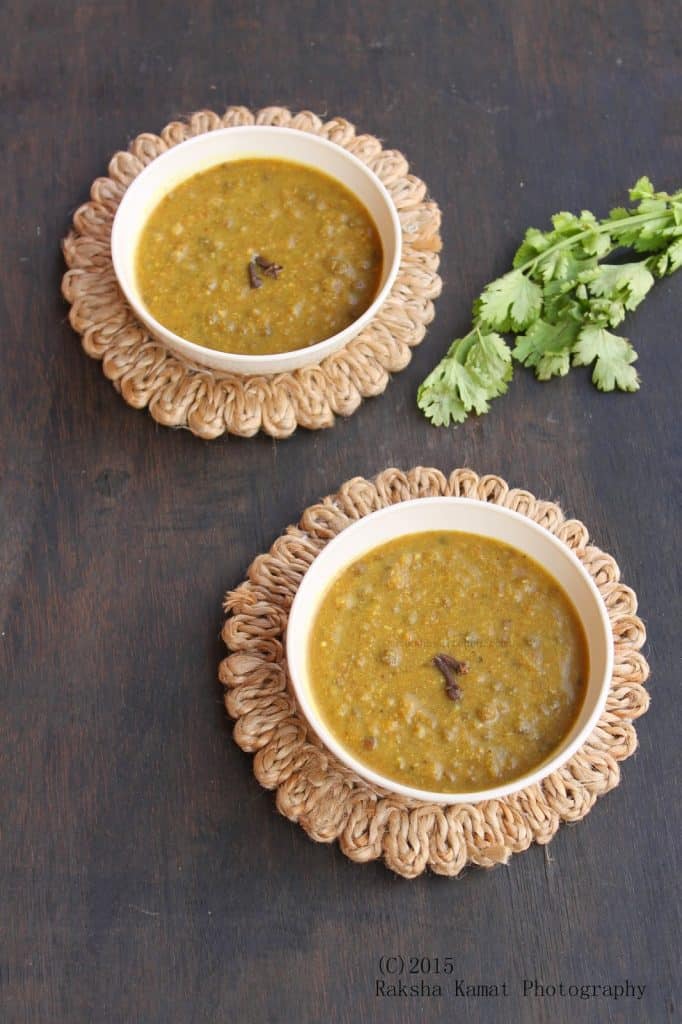 Goan Masoor Tonak
Goan Masoor Tonak is a delicious curry made with whole brown lentils in a spicy coconut gravy. This is easy to make and tastes delicious.
Equipment
Kadai / wok

Mixer grinder

Pressure cooker
Ingredients
1/2

cup

Sabut Masoor Dal / whole brown lentils

4

tablespoon

coconut

grated

4

dry red chillies

1

tablespoon

coriander seeds

5

peppercorns

2

cloves

1/2

onion

chopped straight

1

potato

5

garlic cloves

1

marble sized ball

tamarind

1

teaspoon

turmeric powder

1/2

teaspoon

garam masala

optional
Instructions
Soak whole masoor dal for 4-6 hours.

Boil massor dal by adding the chopped potatoes and little salt.

For 1/2 cup sabut masoor dal, I added 1 and 1/2 cups water to the pressure cooker and cooked for 4-5 whistles. Switch off the gas and keep this aside.

After it cools, drain the water. Do not discard the water. This can be later added to the gravy if it turns thick.

In a kadai/wok, add 1 tablespoon oil, and fry onions till they turn pinkish.

Add garlic and fry till it becomes aromatic.

Add all the masala (red chilies, coriander seeds, peppercorns and cloves) and fry for some time.

To this add grated coconut and fry till coconut turns brownish. Make sure to fry on low flame.

Once it gets fried switch off gas.

Mix turmeric powder and stir.

Drop the tamarind ball in the kadai while the coconut and masala contents. Let it cool down.

Grind this into smooth gravy by adding 3/4 cup water or as required.

Now switch on the gas and in the same kadai (kadai will be empty as the contents are ground), add the gravy.

Let the gravy get cooked for 5 minutes, then add the boiled masoor dal to the gravy. Add garam masala and give a nice stir.

Cook for 10 minutes and switch off the gas.

Add salt per taste.
Notes
Do not discard the water which was used to boil the masoor. This can be later added to the gravy if it turns thick.
I prefer the gravy to be of medium consistency, neither too thick nor too thin.
If the gravy is too thick, add the water which was used to boil the masoor dal.
Share on Facebook
Pin Recipe
Share by Text
Liked this recipe? Please give us a 5 star rating and share the recipe link with a picture on Facebook, Twitter , Pinterest and Instagram
Mention @rakshaskitchen and tag #rakshaskitchen!
Follow us on Facebook, Twitter, Instagram and Pinterest.
Pin this image on Pinterest to refer to it later. Please comment and rate the recipe.
Note: The recipe was published on 23rd Jan 2015 and is republished.