M
ushroom Xacuti or Mushroom Tondak or Tonak is another authentic Goan traditional recipe. The recipe tastes the best when cooked using wild or forest mushrooms. In Goa, we get the forest mushrooms only during the rainy season. They are plucked by the people living in the forest as only they know which forest mushrooms are edible and which are not and only they know the trick of plucking these mushrooms. The forest mushrooms are then sold at a very high rate on the highways passing through the dense forests on the Goa Karnataka border or Goa Maharashtra border by tying then tightly in big leaves.
Sometimes they get it to the markets as well as sell it as expensive as Rs.10/- per mushroom and they are always in demand. These forest mushrooms tastes the best and are never missed by during the season. They are bit more rubbery in taste and takes more time to cook, than the cultured button mushrooms that we get in stores. But whatever you say, they are the tastiest mushrooms and should never be missed.
The Mushroom Xacuti recipe is actually simple to make. You have to first sort out all the ingredients. Then grind the ingredients mentioned below to make a gravy. Then stir fry chopped onion, tomatoes and mushrooms and add the gravy to this. Simmer and adjust salt and garnish with coriander leaves.
The health benefits of mushrooms are numerous. They are rich in antioxidants, Vitamin D and contain selenium which helps to detoxify cancer-causing compounds in the body and helps prevent diseases like cancer and diabetes. They are rich in vitamin C, fiber and potassium and hence promotes heart health by reducing the risk of cardiovascular diseases. Since it is rich in selenium it increases the immunity.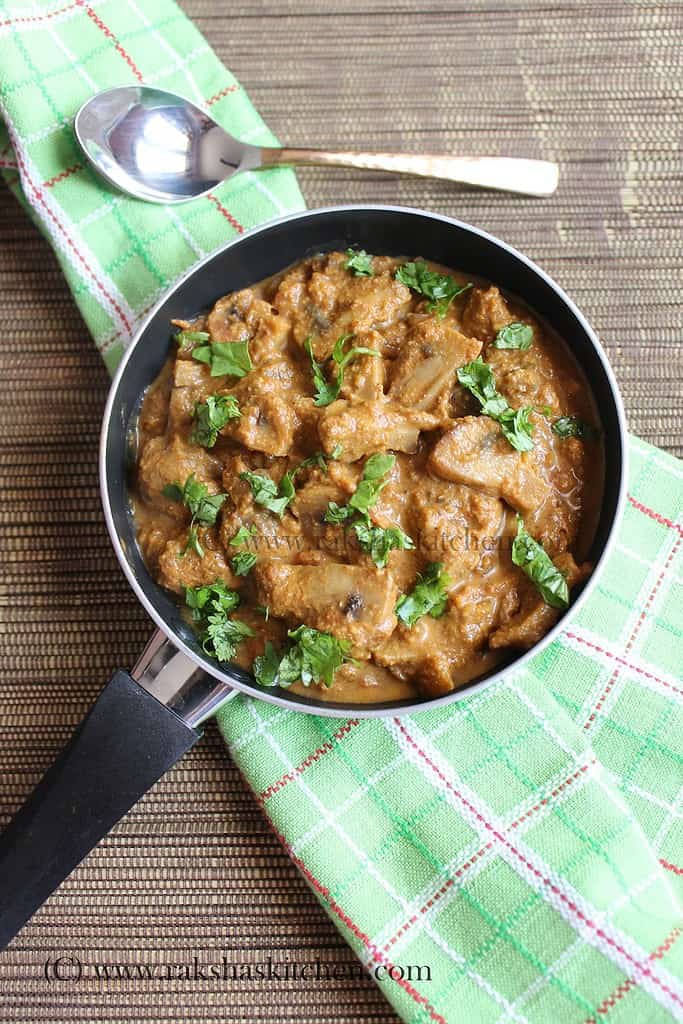 You can serve this dish for dinner with rotis, naan or chapatis. We Goans love to have it with Pav. We also serve it for parties with slice bread.
Ingredients:
                                       Serves: 4, Prep. Time: 45 Minutes                                                 20 button mushrooms
2 medium sized onion
1 tomato, finely choppedFor the gravy:
½ cup grated coconut
4 dry red chilies
1 tablespoon coriander seeds
5 peppercorns
2 cloves
1 teaspoon turmeric powder
1/2 marble sized ball of tamarind
2 tablespoon chopped coriander leaves for garnishing
Salt to taste
4 tablespoon oil
Procedure:
1) Wash and clean the mushrooms. Chop them into pieces and keep them aside.
2) Finely chop the 2 onions separately and keep aside.
3) Heat a kadai. Add 2 tablespoon oil. Add one finely chopped onion and fry till it turns pinkish. Then add the spices like coriander seeds, crushed dry red chilies, cloves and peppercorns and roast them for 5 Minutes.
4) Then add grated coconut and roast on low flame till grated coconut turns brownish. Take care not to burn the grated coconut. Switch off the gas. Add tamarind ball and turmeric powder to the roasted grated coconut mixture, stir and let this cool down.
5) After cooling down, grind the grated coconut mixture by adding 1 cup water to make a thin gravy. Keep it aside.
6) Now in the same kadai which will be empty or in another empty kadai, heat 1 tablespoon oil and fry the other finely chopped onion. Once it turns pinkish, add chopped tomatoes and cook till tomatoes turn mushy. Add the chopped mushrooms and cook till mushrooms soften and release water. This should take another 15-20 Minutes.
7) Pour the ground gravy in this onion and mushroom mixture, stir and simmer.
8) Add salt to taste and garnish with chopped coriander leaves.
Note: I have not added garlic to this recipe. Because the taste of mushroom goes away with the strong garlic taste.