Goan Style Black Eyed Peas Curry | Chawli Tonak or chawliche tonak is another delicious Goan style legume masala preparation. Chawli is also known as cowpeas or black eyed peas. In Goa, we prepare different types of curries like hooman, kadi, khatkhatem, varan, toi, saar, tonak, xacuti, uddamethi etc.  Tonak means a spicy curry made with spices, grated coconut, vegetables and legumes.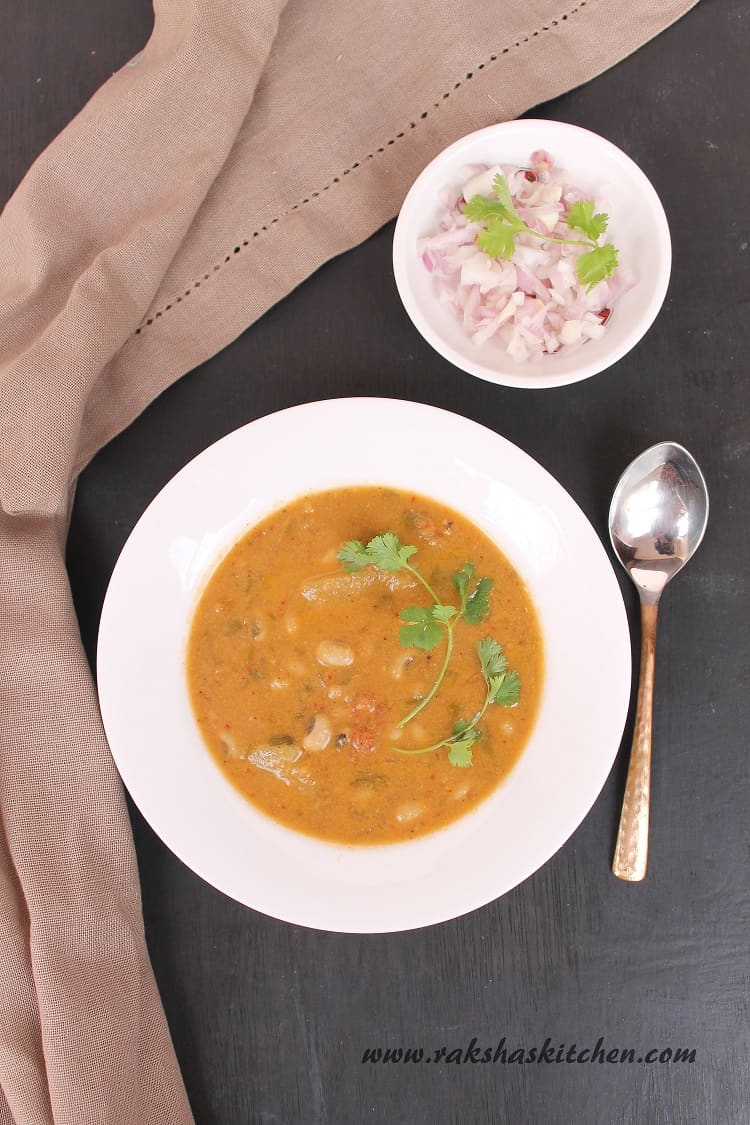 During rainy season we prepare terrem tonak made with colocasia leaves. For various occasions like birthdays and weddings, we prepare cashew tonak. We prepare tonak with legumes like moong, masoor, chana, green peas, kabuli chana, chawli, arsande, etc. At my home, a tonak is made almost everyday for dinner and served with chapatis or phulkas.
Cowpeas or chawli have numerous health benefits. They are rich in vitamin A and other antioxidants and help us in preventing lots of diseases. They also help us in losing weight as they are low in calories and fat and are a good source of dietary fiber. They are good for diabetics and help in maintaining blood sugar levels within normal range. Consumption of cowpeas also lowers blood cholesterol. There are many more health benefits of chawli. You can make different types of curries or even add them to salads.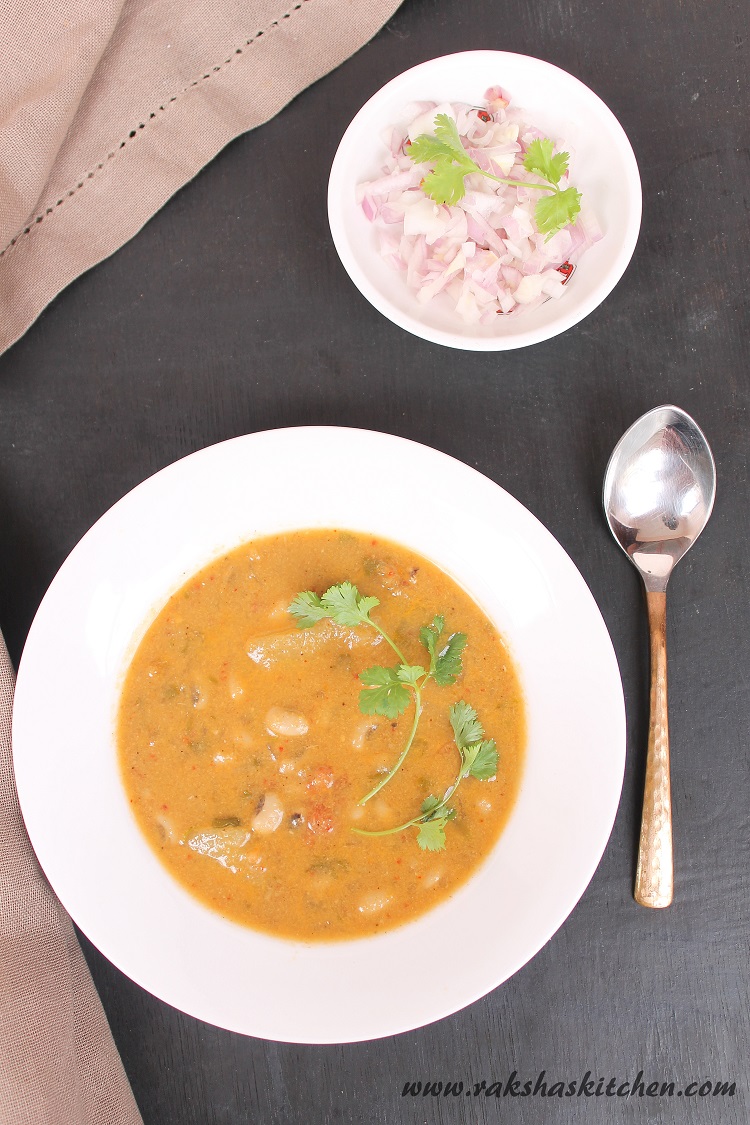 Goan Style Black Eyed Peas Curry | Chawli Tonak
Ingredients
1/2

cup

chawli / black eyed peas/cowpeas

1

Tomato

chopped

1

medium sized

potato

peeled and cubed

4

tablespoon

grated coconut

4

dry red chillies

1

tablespoon

corriander seeds

5

black peppercorns

2

cloves

1/2

onion

juliennes or cut length wise

1

potato

5

garlic cloves

1

marble sized ball

tamarind

1/2

teaspoon

turmeric powder

1/2

teaspoon

garam masala

optional
Instructions
Soak chawli/black eyes peas/cowpea for 4-6 hours in water.

Boil soaked chawli by adding the chopped potatoes, chopped tomato and little salt. For 1/2 cup chawli, I added 1 and 1/2 cups water to the pressure cooker and took 4-5 whistles. Switch off the gas and keep this aside. After it cools, drain the water. Do not discard the water. This can be later added to the gravy if it turns thick.

In a kadai/wok, add 1 tablespoon oil, and fry onions till they turn brown.

Add garlic and fry.

Add all the masalas (red chillies, coriander seeds, peppercorns and cloves) and fry for some time.

To this add grated coconut and fry till coconut turns brownish. Make sure to fry on low flame. Once it gets fried switch off gas.

Mix turmeric powder and stir.

Drop the tamarind ball in the kadai while the coconut and masala contents cool down.

Grind this into smooth gravy by adding 3/4th cup water or as required after it cools.

Now switch on the gas and in the same kadai (kadai will be empty as the contents are ground), add the gravy. Let the gravy get cooked for 5 Minutes, then add the boiled chawli to the gravy. Add garam masala and give a nice stir.

Cook for 10 Minutes and switch off the gas.

Add salt per taste.
Notes
Do not discard the water which was used to boil the chawli. This can be later added to the gravy if it turns thick. I prefer the gravy to be of medium consistency, neither too thick nor too thin.
If the gravy is too thick, add the water which was used to boil the chawli.
Share on Facebook
Pin Recipe
Check out my video recipes on YouTube!
Click here to -> SUBSCRIBE