Every time we went to Goa, the 1st thing my hubby would get is "Podeirale Oonde" – meaning Baker's Bread. He would get the hot freshly baked Pav. When we used to return back to Bangalore, he would get a dozen back home and store in the fridge. He would heat and eat. He just loves those Oonde /Pav. A perfect fan of Oonde. We searched the entire Bangalore for these Pav, but could not find them anywhere around.
I tried the same in my kitchen. The 1st experiment was not so successful. The 2nd one made my day.
I got loads and loads of appreciation from my Hubby Dear. My little one came running when she saw pav. She just climbed on top of the table and took one. My day got filled with a little bit of more happiness.
Ingredients:
4 cups All Purpose Flour / Maida
3.5 gm Active dry yeast
4 tablespoon ghee / butter
3/4 teaspoon salt
2 cups water
Procedure:
In a bowl, add yeast and put in 1/2 cup warm water. The water should neither be hot nor cold. It should be warm.
Now add the remaining water to this mix.
In another bowl, add flour,salt and the yeast water and knead slowly and gently. The dough will be sticky.
Add ghee and still knead.
Knead it with lots of patience and love.
You can apply some oil to your fingers while kneading the dough.
Now keep the dough aside for 1 – 2 hrs.
The dough will rise.
Again knead the dough for 5 Min's.
On the baking tray sprinkle some flour.
Make balls out of the dough and place on that tray. Keep enough space in between each of the balls.
Again leave it for 30 min.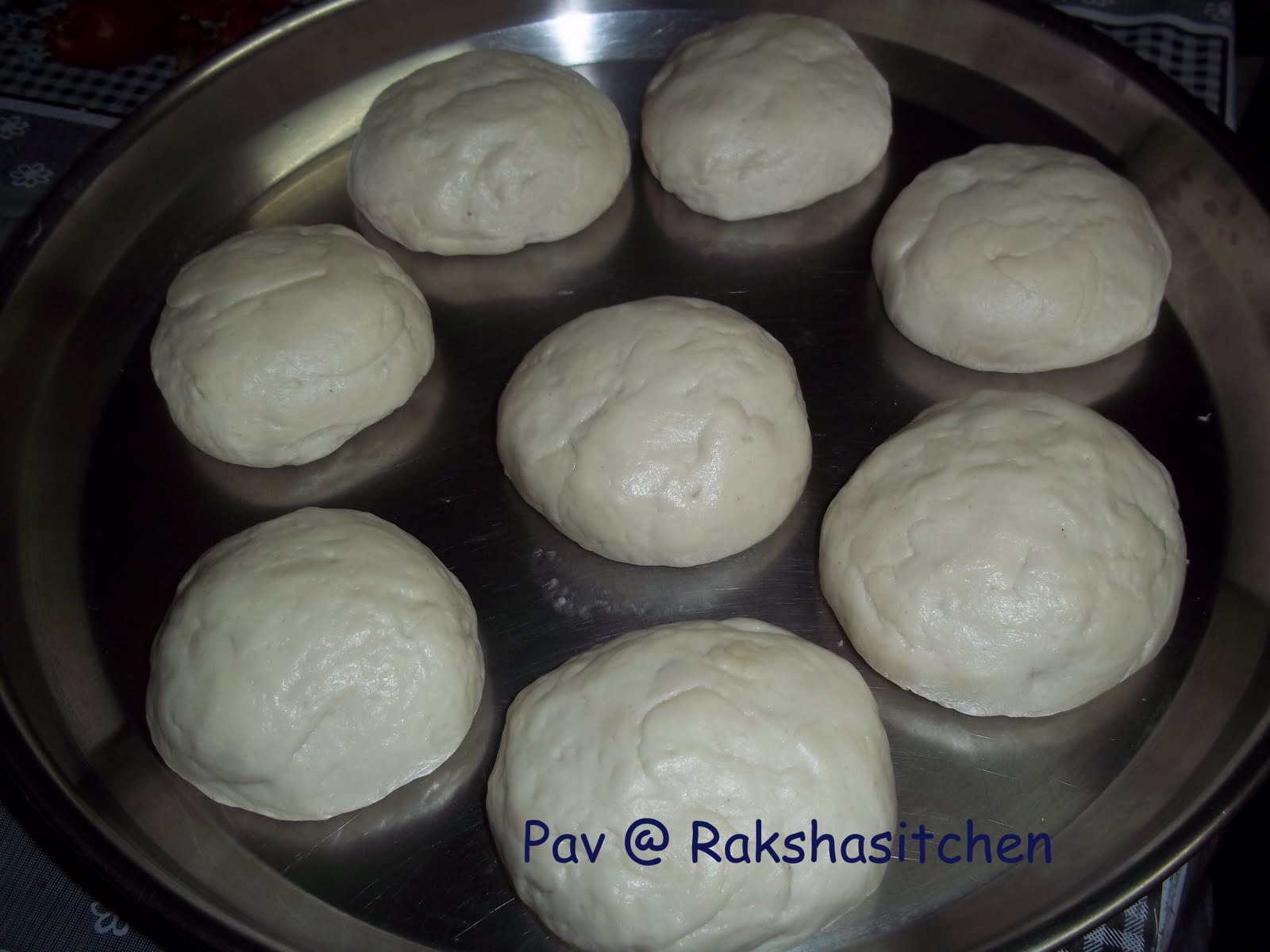 Make balls out of the dough
At the end of 30 Min's, pre-heat the microwave in convection mode @ 190 C for 6 Min's.
Now place the tray with the flour balls and bake for 25-30 Min's @ 190 C in convection mode.
Garam Garam Pav is ready 🙂
Serve it either with pav-bhaji, or with chicken masala or just have it with tea – that's how I love it.

© Raksha's Kitchen. All the images & content are copyright protected. Do not use images from my website or social media without my prior written permission. Unauthorized use and/or duplication of this material without express and written permission from this site's author and/or owner is strictly prohibited.
Excerpts and links may be used, provided that full and clear credit is given to Raksha Kamat and Raksha's Kitchen with appropriate and specific re-direction to the original content. If you want to republish this recipe, please re-write the recipe in your own words and credit me, or link back to this post for the recipe.
In case of unauthorized use of our content, you will be liable for any action resulting from copyrights infringement, trademarks or proprietary rights due to usage of our content by you.