Have you always wondered what to cook for the kid's lunch box? Kids are fussy eaters and need different varieties of recipes everyday. Sometimes it becomes difficult for the mother to find new and delicious recipes. So here is a collection of easy and delicious vegetarian Rice Recipes that you can make early morning and pack in the kid's lunch box or tiffin. I also make these recipes regularly as my kid wants different dishes in her lunch box everyday.
Related posts: Top 5 Ganesh Chaturthi recipes, Different types of Poha recipes
Quick And Easy Rice Recipes For The Kids Lunch Box
Tomato Rice  – One of the easiest recipes that moms can make early morning. I usually make it in a pressure cooker and it gets ready within 30 minutes. It turns delicious and my daughter takes double servings. 1 for her and 1 for her friends who love to dig in her lunch box. Tomatoes are rich in vitamin C, vitamin A and iron.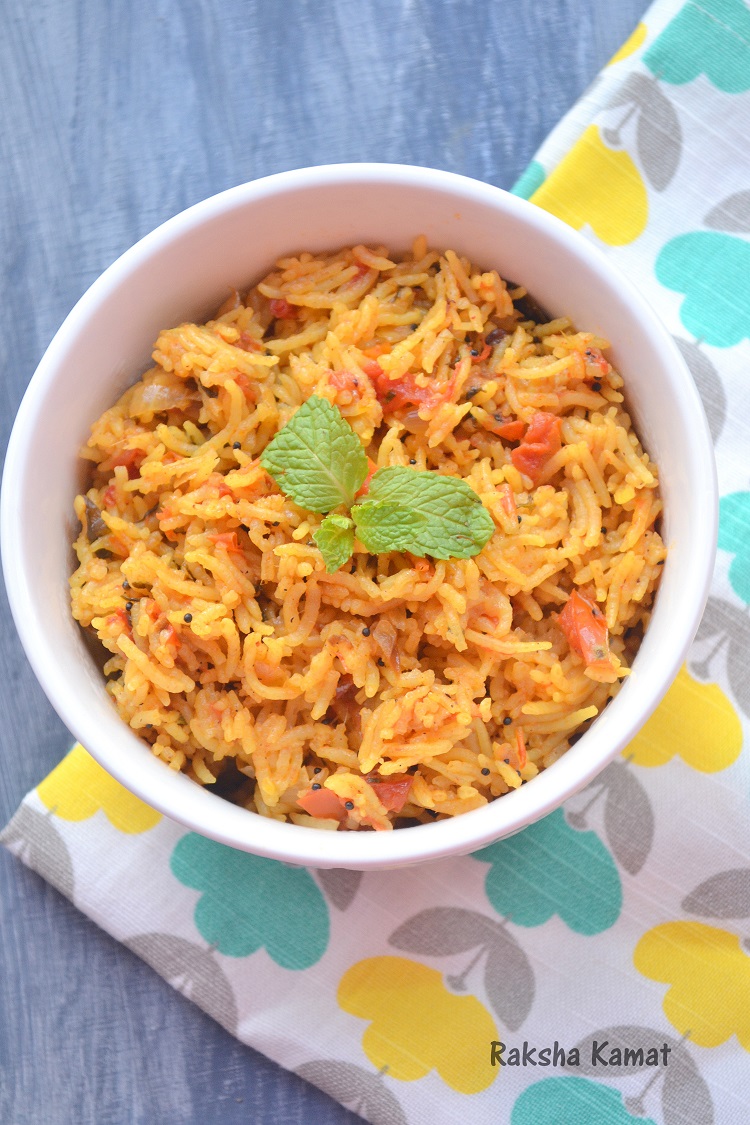 Broccoli Rice – Simple broccoli rice recipe. I used a rice cooker to cook rice in this recipe. The fragrance of basmati rice and cinnamon powder makes this dish yummy. This is a healthy way to add broccoli to your kids diet.
Veg Fried Rice – This recipe is everyone's favorite. Add different types of vegetables like carrots, bell peppers, sweet corn, green peas, etc., to this recipe. This recipe will also ensure that your kid eats different types of vegetables.
Tava Pulao – If your child loves Bombay pav bhaji, then he or she will surely love this tava pulao. Different types of vegetables are added in this recipe. If you are pressed for time, make the prep on the previous night.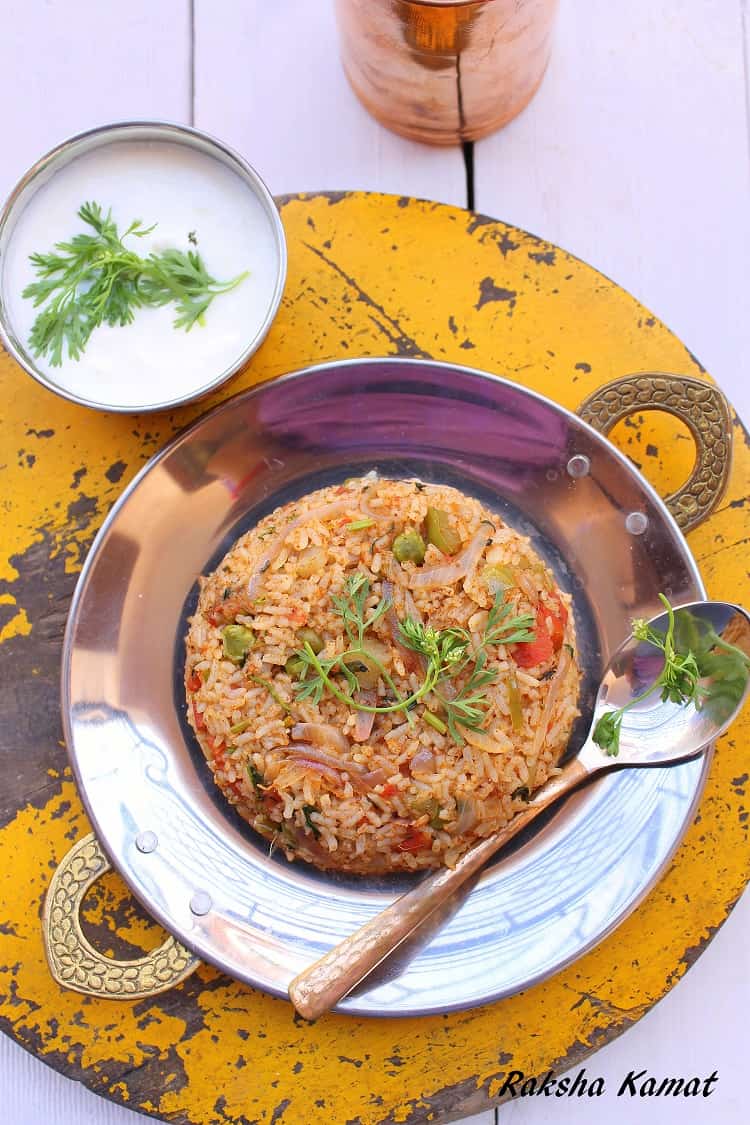 Tofu Fried Rice – An Indo-Chinese dish made with rice and tofu. This is a one pot meal and is easy to make. Tofu can be replaced by paneer in this recipe.
Soya Granule Pulao – This recipe can also be made in a pressure cooker and gets ready within 30 minutes. Tastes yummy when served with raita and papad.
Sweet Coconut Rice – This recipe is meant for those who don't like spicy stuff in their lunch box. Addition of cashewnuts and raisins makes this rice healthier.
Sweet-Corn and Peas Pulao – Delicious pulao made with sweet corn and green peas. Other spices added to make the recipe flavourful. The combo of sweet corn and peas along with other spices makes this pulao tasty.
Lemon Rice – This rice has mild lemon flavor. You can serve it with kurkure bhendi.
Peas Pulao – This peas pulao is a no onion and no garlic recipe. This pure vegetarian recipe, turns delicious. Gets ready in flat 20 minutes. Serve it with corn salsa.
Beetroot Pulao – Make this colourful and delicious beetroot pulao and pack in your kids lunch box. The pink colour will even make a beetroot hater eat this rice. This recipe is a perfect one to make the kids lunch box nutritious. Serve with vegetable raita and carrot salad.
Pudina Pulao – This is a delicious rice recipe which has pudina or mint flavor. It takes only 30 minutes to prepare this recipe by a pressure cooker.
Hey, you should also check these 60 no cook recipes.