Holi is the festival of colours and is round the corner. Indians all over the world will be celebrating this festival. Due to COVID, we cannot celebrate this festival like before, but we can surely cook some delicious recipes for Holi and celebrate. Let us see some Holi Indian food and specially some Holi dessert recipes.
Let us see some top Holi recipes:
Gujiya / Nevri: Gujiya also known as karanji or nevri can be prepared. These gujiya are made with a filling of grated coconut, rice flour, sugar and spices and covered with a coating made of all-purpose flour.
Whole wheat ladoo: Made with whole wheat flour, ghee, sugar and cardamom, these wheat ladoos are easy to make recipe.
Apple kheer: This apple kheer also known as seb ki kheer is made by cooking grated apple and sugar in milk. Dry fruits may be added to make this kheer nutritious and rich.
Lauki halwa: Made with grated bottle gourd, milk, sugar, and dry fruits. This lauki halwa turns delicious.
Puran poli: Puran poli is a sweet flat bread stuffed with lentil (split chickpeas), jaggery and cardamom powder. This is usually prepared for festivals and special occasions.
Pumpkin halwa: Pumpkin halwa is a delicious Indian dessert made using red or yellow pumpkin. Milk, sugar, and a dairy product named khoya or mava is added to make this halwa. It is garnished with dry fruits and green cardamom powder.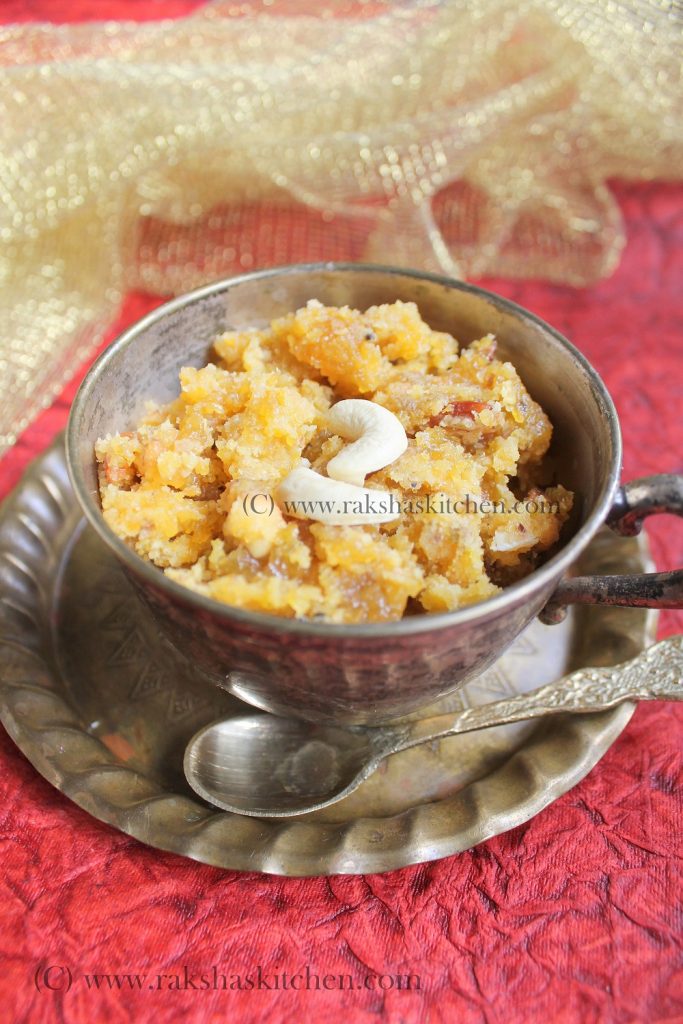 Coconut burfi: Coconut burfi is also known as nariyal burfi. It is a fudge made with coconut, sugar, and milk. This burfi made with fresh coconut is an easy fudge recipe and can be made for festivals like Diwali, Holi, Ganesh Chaturthi, etc. Get step by step pictures to make coconut burfi at home from scratch.
Carrot halwa: Made with grated carrots, condensed milk, sugar, and dry fruits. This Indian carrot pudding is a must try.
Chana dal burfi: This Holi recipe is made with just 5 ingredients – chana dal, sugar, cardamom, grated coconut, and ghee. Tastes delicious and is a must try recipe.
Vermicelli kheer: Vermicelli Kheer is a pudding made with vermicelli in milk which is sweetened by sugar and flavoured with cardamom. Dry fruits are also added to the Indian sweet dish.
Rice kheer: Creamy and delicious authentic Indian rice pudding. Rice is cooked in milk and sugar. Cardamom powder is added for flavour and garnished with dry fruits.
Sabudana kheer: Made with sago pearls and milk and garnished with dry fruits and cardamom powder, this sweet kheer is a family favourite.
Rabdi: Rabdi is a North Indian sweet dish. It is made by boiling milk on low heat by reducing its content to less than half the quantity. Different types of dry fruits and spices like cardamom are added to give a nice flavour.
Beetroot halwa: Delicious beetroot halwa made with grated beets, milk, sugar, and dry fruits.
Shahi tukda: Shahi tukda is a rich and festive Indian sweet made by soaking fried bread slices in sugar syrup and thickened or condensed milk with spices like cardamom and saffron and garnished with dry fruits. Shahi tukra belongs to the Hyderabadi cuisine.
Chakri: Crispy and delicious, these savory chakris are a must make recipe during festivals in India.