Chakri or Murukku is a deep fried snack made in India. I have made it with rice flour, and spices and few more ingredients. This is a perfect snack for festivals.
Today I am sharing with you all the recipe to make Goan chakri or chakli or murukku. In Goa, for any festival we make variety of chakris and today's recipe is rice flour chakri or rice flour murukku.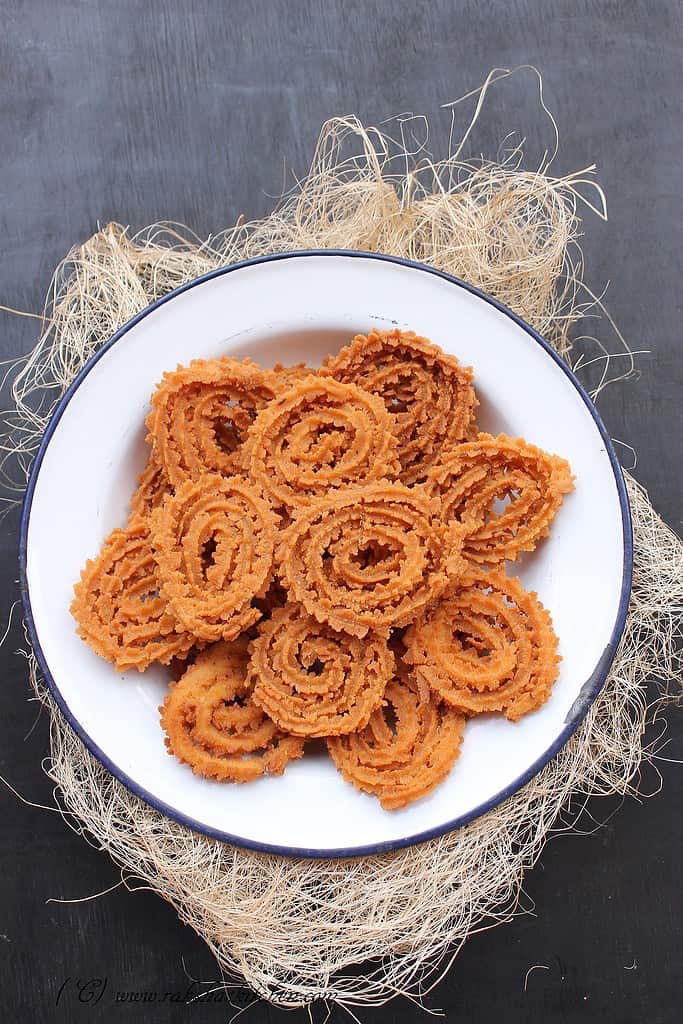 Wiki says that Murukku originated in Tamilnadu. In Goa too we have been making them since ages. The name chakri is derived from chakra meaning round. If you cannot make a round shape, you can even make small pieces, deep fry and eat them.
Chakris are made in a special device or machine known as "chakar dato".  There are several varieties of such devices available in the market. Just that you should make the dough properly to get the right shape.
I learnt this recipe from my mother in law. She is an expert in making sweet and savory dishes. I learnt the art of making the perfect Goan chakris from her. She feels good to teach me the traditional Goan dishes and appreciates the interest that I have in cooking
Ingredients to make chakri:
Flour: Rice flour and all-purpose flour (maida) are the two types of flour used in making this chakri recipe in Goan style.
Spices: Jeera/cumin seeds, red chilli powder, hing/asafoetida and cardamom powder are the spice powders used to add taste and mildly spiced flavour to the snack recipe.
Sugar: A little bit of sugar is added to the recipe for giving it a slightly sweet taste.
Desi ghee/clarified butter: Desi ghee is used for moulding the dough.
Oil: Oil is used for deep frying. Any type of oil can be used.
Different types of sweet and savory snacks like wheat ladoo, nevri or karanja, chana dal burfi, sabudana kheer, etc are made during festivals. In the recipe section below, find out how to make chakri.
How to store chakri snack?
These murukkus can be made instantly and you can store them in airtight containers for up to 2 weeks. These are perfect to have as snacks. They turn crispy and tastes delicious.
In Goa, we make variety of snacks known as "faral" for festivals and chakris are one of them. This recipe is listed in top 5 recipes for Ganesh Chaturthi.
Rice Flour Chakri | Murukku
Chakri or Murukku is a deep fried snack made in India. I have made it with rice flour, and spices and few more ingredients. This is a perfect snack for festivals
Ingredients
2

cups

rice flour

1/2

cup

all-purpose flour/maida

2

tablespoon

cumin seeds/jeera

3

tablespoon

red chilli powder

2

tablespoon

sugar

4

tablespoon

desi ghee/clarified butter

4

cardamom pods

peeled and crushed

Pinch

of hing/asafoetida

2

cups

oil for deep frying

2

teaspoon

salt

as per taste

1/2– 3/4

cup

water
Instructions
Heat a kadai and add ghee.

After ghee melts, add all-purpose flour and mix it well in the ghee for 10 minutes.

You should be able to make a dough with all-purpose flour and ghee. Let it cool down.

Take a mixing bowl and add rice flour. Add chilli powder, crushed cardamom, hing, cumin seeds and salt.

Mix the maida dough in rice flour.

Pour water little at a time and make smooth dough.

The dough should not be very soft nor too hard.

It should resemble the dough used for making rotis/chapatis.

To know if the dough is proper try to make 1 small chakri.

If while making the chakri/murukku the dough breaks, then you can add little water and mould the dough again.

If the dough comes out without proper shape from the single star shaped hole, it means that the dough is has more water in it. Add little more rice flour and mix.

Spread a butter paper on a big plate.

Take a portion of the dough and roll it into a roll.

Add it to the chakri/murukku maker or chakri machine.

Close the lid.

Now start making chakri by moving the machine in circular shape.

Heat a kadai and add 2 cups oil. To know if the oil is at right temperature, add a small piece to it. If the piece sinks in oil means temperature is not proper. If the piece rises to the top, the oil temperature is correct.

One by one take the chakris on the slotted spoon/ladle and release it into oil.

Deep fry 2 to 3 chakris or murukkus at a time.

Remove when they appear brownish. Spread them on a kitchen paper.

Remember to keep the gas on medium flame.
Notes
Chakris will become dark brown after cooling.
Remove them when they start turning light brown.
Share on Facebook
Pin Recipe
Follow us on Facebook, Twitter, Instagram and Pinterest.
Pin this image on Pinterest. If you like the recipe, please comment and give us a 5 star rating. This post might contain affiliate links.
Note: This recipe was published on 1st Dec 2016 and is republished with pinterest image.