The festive season is around the corner and Indian people all over the world will start making delicious recipes. One of the most important sweet recipes which is made for every festival in India are kheer recipes. Let us see some best Indian kheer recipes.
What is kheer?
Kheer is also known as payasa or payasam in India. This Indian dessert is made by boiling milk, sugar and a main ingredient like vermicelli, sago, semolina, lentils or fruits or vegetables like bottle gourd, apple, pumpkin, etc. This Indian pudding is flavoured with green cardamom and saffron. This Indian milk pudding is garnished with lots of dry fruits like cashewnuts, almonds, pistachios, raisins or dates.
Kheer is made for every occasion in India. Be it birthdays, anniversaries, job promotions, new birth in the family, marriages, house-warming ceremonies, purchase of new property or new vehicle, getting good results in exams, etc. You name the occasion and a sweet dish is a must. There are many types of kheer recipes that are made in India and all over the World. Let us see some of them in today's post.
Let us see some of the delicious Indian kheer recipes:
Sabudana kheer – A delicious Indian pudding made with sago pearls. This kheer is made by simmering milk and adding sugar and sago pearls. Get the sabudana kheer recipe.
Sabudana Kheer / Sabudana Payasam
Sabudana Kheer also known as sabudana payasam is a delicious sweet dish. It is made with sago which is made from tapioca root, milk, sugar and cardamom powder.
Check out this recipe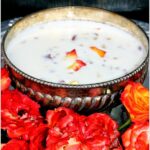 Vermicelli kheer – This kheer is made with vermicelli. Vermicelli is roasted and cooked with milk to which sugar is added. This easy kheer recipe is also known as semiya payasam or shevyachi kheer in Goa. Get the vermicelli kheer recipe.
Shevyachi Kheer | Vermicelli Kheer | Semiya Payasam
Vermicelli Kheer is a pudding made with vermicelli in milk which is sweetened by sugar and flavoured with cardamom. Dry fruits are also added to the Indian sweet dish.
Check out this recipe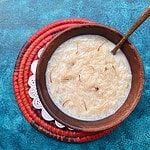 Apple kheer – This apple kheer also known as seb ki kheer is made by cooking grated apple and sugar in milk. Dry fruits may be added to make this kheer nutritious and rich. Get the apple kheer recipe.
Apple Kheer
Apple kheer or Seb Ki kheer is a delicious Indian milk based dessert made with apples and dry fruits. This Indian milk pudding with fruit is a delicious and nutritious recipe specially made for festivals like Diwali and Holi.
Check out this recipe
Chana dal and sago kheer in coconut milk – This kheer is also known as mangane and is a traditional Goan kheer. Chana dal or split Bengal gram and sago is cooked in coconut milk. cashewnuts are added to this kheer. Get the mangane recipe.
Mangane | Manganem | Goan Chana Dal Payas With Sabudana
Mangane or Manganem is a tradition Goan kheer made with sabudana or sago pearls, chana dal (split chickpeas), jaggery and coconut milk. This is garnished with cashewnuts making it rich and flavourful.
Check out this recipe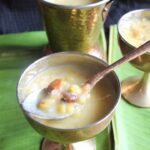 Bottle gourd kheer in coconut milk – This kheer is made with bottle gourd in coconut milk and is also known as kokundudhi kheer in Goa. This healthy kheer is vegan. Instead of sugar jaggery is used to provide sweetness. Get the bottle gourd kheer recipe.
Goan Style Bottle Gourd Kheer
Goan Style Bottle Gourd Kheer or "Kokondudhi kheer" is a yummy Indian milk pudding made with bottle gourd, jaggery and coconut milk. This healthy and vegan bottle gourd kheer with jaggery and coconut milk is served for Indian festivals.
Check out this recipe
Carrot kheer – Carrot kheer or carrot payasam is a delicious Indian milk pudding made with grated carrots and dry fruits. Grated carrots are cooked till soft and tender and then simmered in milk till milk thickens. Almonds can be added to this gajar ki kheer. Get the carrot kheer recipe.
Carrot Kheer
Carrot kheer or carrot payasam is a delicious Indian milk pudding made with grated carrots and dry fruits. This Indian milk pudding with carrots and dry fruits is nutritious and an easy kheer recipe.
Check out this recipe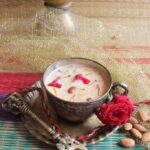 Rice Kheer – Creamy and delicious authentic Indian rice pudding. Rice is cooked in milk and sugar. Cardamom powder is added for flavour and garnished with dry fruits. Get the rice kheer recipe.
Rice Kheer | Goan Rice Payas
Rice kheer or Goan rice payas is a traditional Indian pudding recipe made with rice, milk, sugar, dry fruits and flavoured with green cardamom powder. This kheer with rice is an easy recipe and can be made with left over rice too. Get step by step pictures of how to do rice kheer in pressure cooker.
Check out this recipe
Sweet potato kheer in coconut milk – This is a healthy and delicious kheer made by cooking sweet potato and sago pearls in coconut milk. Instead of sugar, jaggery is added to provide sweetness. This is also a vegan kheer recipe. Get the sweet potato kheer recipe.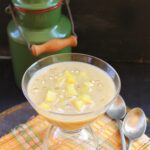 Semolina Kheer – This is also known as rava kheer and is made by cooking roasted rava in milk. Sugar and green cardamom powder are added for sweetness and flavour respectively. Get the semolina kheer recipe.
Keto almond kheer – For all the keto fans, you also have a delicious kheer recipe for your taste buds. This low carb kheer is a must try recipe. Get the keto almond kheer recipe.
Oats kheer – Yes! You read it right. We have a delicious kheer with oats too. Get the oats kheer recipe.
You can also try some more unique kheer recipes like mango kheer ,  quinoa kheer with strawberries and wheat payasam recipe.
Also check out the top recipes to make for festivals like Ganesh Chaturthi and the best poha recipes to make for Diwali.

© Raksha's Kitchen. All the images & content are copyright protected. Do not use images from my website or social media without my prior written permission. Unauthorized use and/or duplication of this material without express and written permission from this site's author and/or owner is strictly prohibited.
Excerpts and links may be used, provided that full and clear credit is given to Raksha Kamat and Raksha's Kitchen with appropriate and specific re-direction to the original content. If you want to republish this recipe, please re-write the recipe in your own words and credit me, or link back to this post for the recipe.
In case of unauthorized use of our content, you will be liable for any action resulting from copyrights infringement, trademarks or proprietary rights due to usage of our content by you.