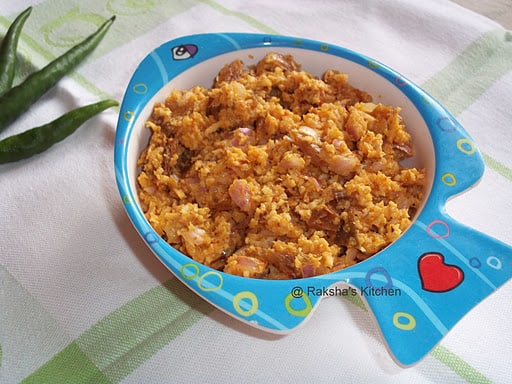 M
y every visit to Goa makes sure that I get some dry Mackerel back home. This comes handy when we crave for fish and when fish is not easily available. I love to have this Sukya Bangdyachi Kishmoor / Dry Mackerel Kishmoor with the proper Goan Fish Thali comprising rice, fish curry, fried fish and sol kadi.
The recipe mentioned below is how I prepare Sukya Bangdyachi Kishmoor / Dry Mackerel Kishmoor. I love to add a little more tamarind to this dish as I prefer the tangy taste. The tamarind paste can be done by soaking a fistful of tamarind pulp for 30 Min's in 1/2 cup water. I really prefer the tamarind paste which I prepare at home. The chilly powder can also be adjusted as per your taste.
It is important to fry the dry Mackerel on the tawa so as to remove the raw fish taste.
You might be tempted to ask me what Kishmoor means?
I myself wonder what is the meaning of Sukya Bangdyachi Kishmoor / Dry Mackerel Kishmoor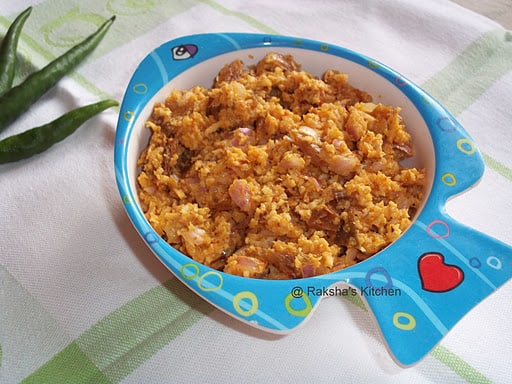 🙂 Will surely go and do some study and let you people know the meaning. This can also be called as a type of salad as no cooking is required in this. But that is just a wild guess. OK, let me go and find the meaning… till then please have a look at the below recipe and try it in your kitchen too.
Ingredients:
5-6 dry mackerel
4 tablespoon grated coconut
1 tablespoon turmeric powder
1 medium sized onion, finely chopped
3 tablespoon tamarind paste
1 tablespoon red chili powder
1/2 teaspoon salt
Instructions:
Soak the dry mackerel in water for 4 hrs.
After 4 hrs scrap the skin and cut them into small 1/2 inch pieces carefully by separating the fish bones. This works better if done by hand.
Fry the dry mackerel pieces on tawa for 2 minutes and let it cool down.
Chop the onion into small pieces. Add the grated coconut, turmeric and chilly powder to this. Now add the small fried dry mackerel pieces. To this add the tamarind paste.
Mix everything properly.
Add salt to taste.
Serve this with Rice, Fish Curry and fried fish 🙂
Also check out top 10 Goan fish curry recipes.

© Raksha's Kitchen. All the images & content are copyright protected. Do not use images from my website or social media without my prior written permission. Unauthorized use and/or duplication of this material without express and written permission from this site's author and/or owner is strictly prohibited.
Excerpts and links may be used, provided that full and clear credit is given to Raksha Kamat and Raksha's Kitchen with appropriate and specific re-direction to the original content. If you want to republish this recipe, please re-write the recipe in your own words and credit me, or link back to this post for the recipe.
In case of unauthorized use of our content, you will be liable for any action resulting from copyrights infringement, trademarks or proprietary rights due to usage of our content by you.