Are you all looking for a quick, easy and delicious recipe? Are you looking for an easy recipe for kids? Well, today's recipe is Bread Pizza recipe. This is an easy recipe. In this recipe, I have made bread pizza on tava. The recipe is very simple and easy to cook. It gets ready within few minutes and is perfect for the evening hunger pangs. The plus point is in making instant pizza with bread slices without oven.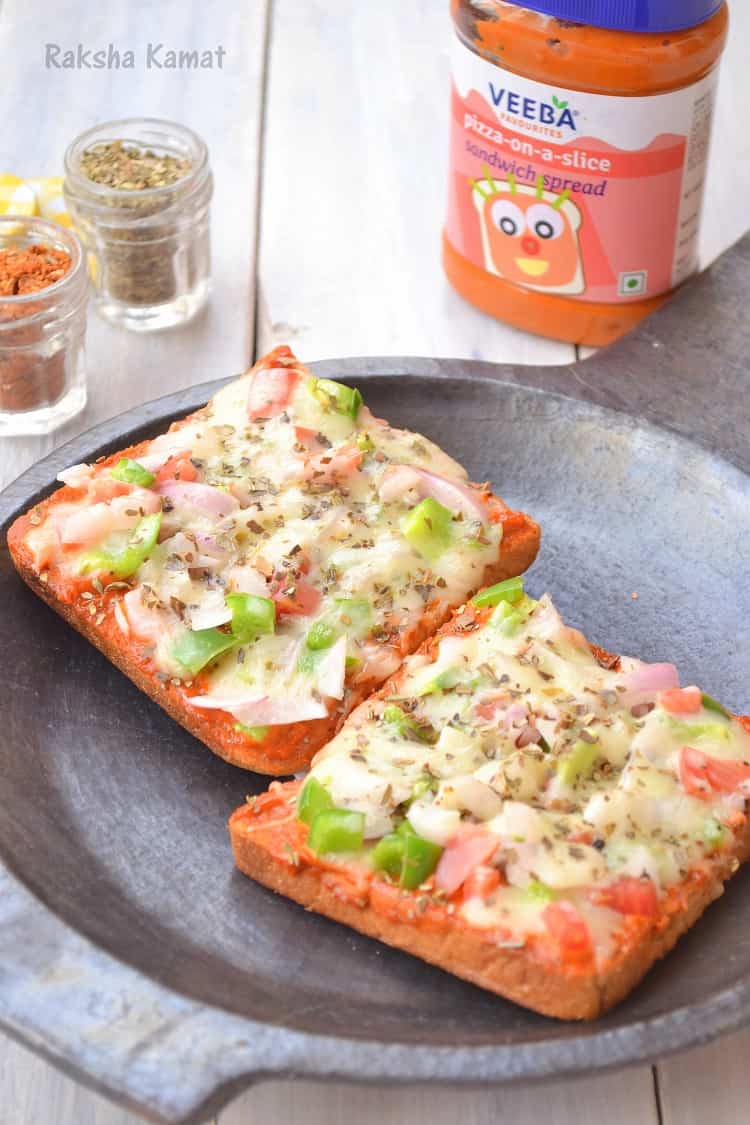 You can use any type of bread to make this pizza. I have used whole wheat bread. You can also add as many toppings as you desire. I have added onion, tomato and bell pepper as toppings as these were readily available in my pantry. You can add chopped olives, jalapenos, basil, and sweet corn and chicken toppings. Load it with lot of seasoning and cheese. I also used a delicious pizza sandwich spread as base.
Let me tell you what made this slice bread pizza so delicious? I have used Veeba Pizza on Slice spread as base. You can even use your own pizza sauce. I want my bread pizza to be quick and hence use this spread as base. The pizza on slice sandwich spread is made from the freshest ingredients and as per highest quality standards.
I also use other Veeba products like Veeba white pasta sauce and red pasta sauce to make delicious pastas to pack in mine and my kid's lunch box. Apart from this that have lot of sandwich spreads and salad dressings too. The taste of all the Veeba products suits the Indian palate.
Let us now prepare the easiest bread pizza.
Take a slice bread and apply butter on one side of the bread slice.
Heat a tava or frying pan. Gently place the bread slice on the tava with the buttered side facing the tava. Heat the buttered bread slice for 1 minute on low flame.
Remove and keep it on a plate. Do this for other bread slices too.
After the bread slices cool, spread a generous amount of pizza on a slice sandwich spread.
Next, sprinkle some Italian seasoning or oregano.
Now, let's add the toppings. One by one add finely chopped onion, finely chopped tomato and finely chopped bell pepper.
Sprinkle some oregano again.
Top it with lots of grated cheese. I have used mozzarella cheese for making this delicious bread pizza snack.
The final step is, heat the frying pan and place the prepared slice bread with toppings and grated cheese on it. Close it with a lid and keep the flame low.
Serve the bread pizza immediately after the cheese melts.
Yea… so now you all read the recipe to make bread pizza. Isn't it simple? So are you wondering how it will taste? Well, it tastes delicious. My family just says mmmm with every bite of it. The bread pizza does not turn soggy. It turns crispy too.
Addition of various vegetables as toppings also ensures that your kids eat healthy food at home.