Breakfast is the first meal we have everyday. Hence I always ensure that it is the healthy. I love making different recipes for breakfast everyday. I had been making aloo paratha since a long time and realised that it was not on the website. Hence today I took time to cook and click pictures special for my website and my readers.
Aloo paratha is famous and one of the easiest paratha to cook. It is a flat bread made with whole wheat flour in which mashed potatoes are stuffed and fried.
We just have to boil potatoes and mash them. Add some ingredients and stuff it in dough to make delicious flat breads which are known as parathas or paranthas in India. Paratha is a dish which belongs to North India, but now it is being prepared in all Indian states.
My daughter loves aloo paratha and hence I make it frequently. She also loves to take it to school in lunch box along with tomato ketchup. Hubby and I have it with curds.
I will share a tip to make the paratha faster during the morning rush time. Boil the potatoes at night, cool and store in refrigerator, use them next morning. You can mould and make the dough and stuffing ready the previous night and store in fridge. Next morning, simply put things together and make the parathas.
Here are some more paratha recipes: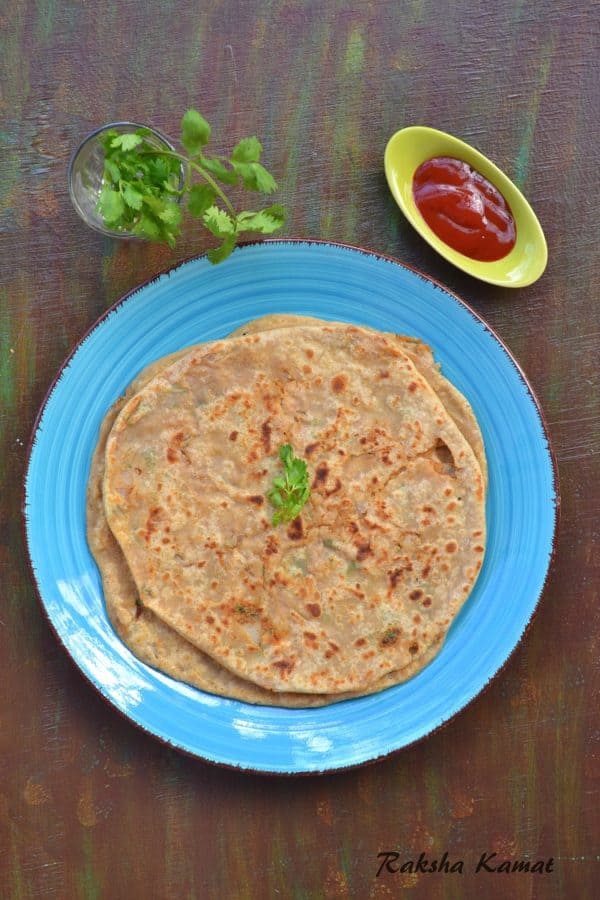 | | |
| --- | --- |
| | |
Let us keep the dough ready to make aloo paratha:
Mix wheat flour to make firm dough. Add salt and oil to wheat flour and mix. Mould it into a soft yet firm dough by adding water little at a time.

Cover the dough with muslin cloth for 30 minutes. You can even make this dough in a food processor and then let it rest for some time.
Let us keep the stuffing ready:
Peel and finely chop the boiled potatoes.

Using a masher, mash the chopped boiled potatoes.

Take a mixing bowl and add mashed potatoes, finely chopped onion, finely chopped coriander leaves, red chilli powder, cumin powder, garam masala and salt.
Let us make the parathas:
Make small balls from the dough of equal size. The size should be a little bigger than the table tennis ball.

Roll the dough ball into a little bit of dry wheat flour and roll it into small thick flat round shape.

Place 2 tablespoon of the stuffing on it and close from all sides.

Dust it in dry whole wheat flour and roll it into bigger round shapes, just like a chapatti. If you see any air bubbles while rolling, simply pat it gently with your fingertips.

Then apply 1 teaspoon ghee on the frying pan and place the paratha on it. After 5 Min's, apply 1 teaspoon ghee on the upper side and turn. Fry for 5 Minutes. The aloo paratha is ready. Serve it with curds or any dish.