I baked these wonderful Strawberry cookies after India's wonderful victory in the World Cup 2011. My heart was touched with all the emotional moments.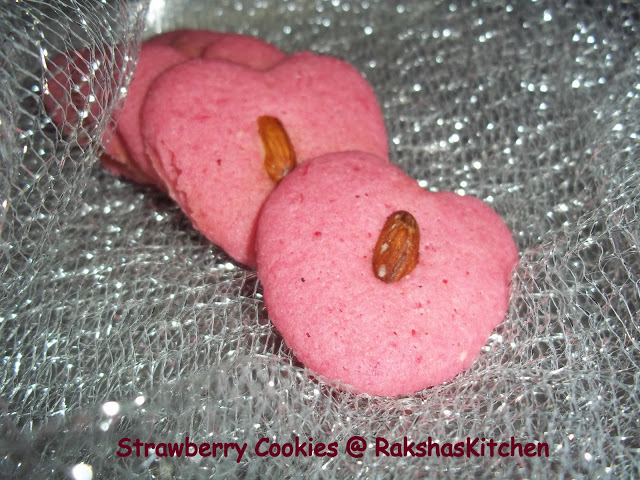 Very proud of the Indian team. I am dedicating these cookies to my Proud Indian Cricket Team.
Long live Team India. 
Love you guys.
Ingredients:
2 tablespoon All purpose flour/maida
1 tsp corn flour
1 tsp baking powder
2 tsp strawberry crush
1 tablespoon powdered sugar
2 tsp ghee/butter
2 tsp cooking oil
5 – 10 almonds



Procedure:
Mix the all purpose flour, corn flour,baking powder and strawberry crush.
Mix in sugar.
Mix ghee and oil and make a soft smooth mould.
Grease the microwave tray by applying ghee.
Make heart shaped cookies and place them on the plate.
Microwave for 90 seconds.
Take then out of microwave and cool them on a wired rack.
After cooling, the crispy strawberry cookies are ready.
Cut the almonds straight and decorate the cookies.
Serve them with love .