Few months back my mother-in-law had visited us. She stayed with us for 2 months and during that time she taught me different types of dishes. She also taught me some dishes with greens like fenugreek leaves stir fry and radish leaves stir fry. Though I had been making this methi bhaji since long, this time I learnt to make it in my mom-in-laws style. What inspired me to learn this style is that my daughter loved this version of methi subzi recipe.
I had been adding methi/fenugreek leaves to dough while making chapatis. I also love making methi parathas and they taste yummy. But today's dish is a simple stir fry made with methi or fenugreek greens. As you all know fenugreek leaves are rich in iron and nutrients. They are very good for health. Lactating mothers should eat fenugreek leaves as it promotes milk flow.
Making this methi bhaji or fenugreek leaves stir fry is easy. But you should be patient in separating the leaves from the stems. This is a tedious task. But only if you separate leaves from stem and then chop, the stir fry will taste good. After separating leaves, just use a food processor or chopper to chop the leaves in one go. If you cut the stem with the leaves, then the subzi will be a bit hard to bite (this is important specially if you make it for kids).
I have added jaggery to this stir fry as fenugreek leaves have a bitter taste. But after cooking they taste good. You can alter the jaggery content as per your taste. My kid does not like bitter taste, so I added 1 tablespoon jaggery. Serve this methi bhaji with rice, drumstick dal, kelyacho fodi, pumpkin bharta and pickle.
You can also try recipes like moringa leaves subzi and red leafy amaranth bhaji.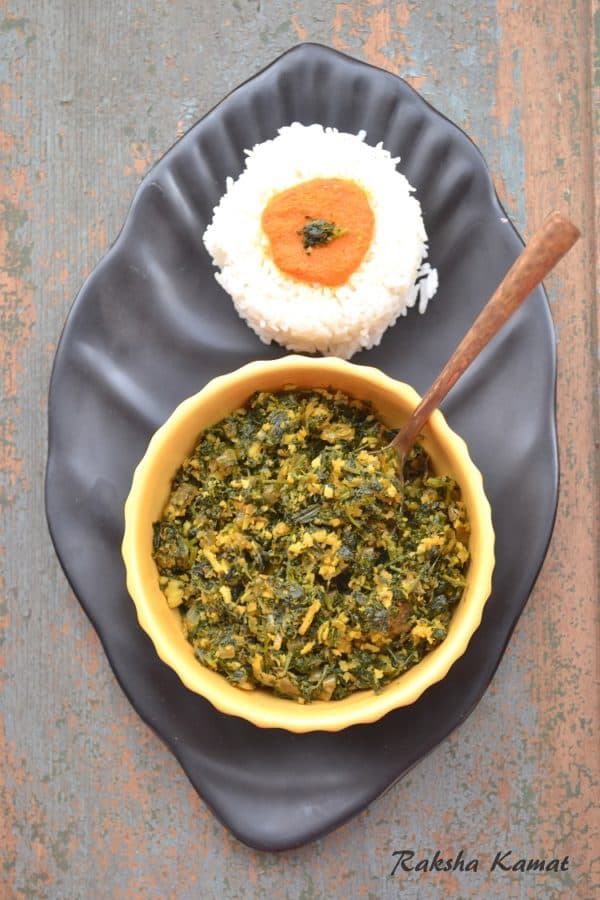 | | |
| --- | --- |
| | |
Wash the fenugreek leaves. Separate the leaves from the stems.

Heat a kadai or wok. Add oil. After oil gets heated, add onion and saute till onion turns pinkish. Add chopped garlic and saute till raw smell goes away.

Add finely chopped fenugreek/methi leaves and saute on low flame.

Cover and cook for 15 minutes. Fenugreek leaves will release little water and will get cooked on its own if covered and cooked. However, you can add 1/4th cup water and cook the fenugreek leaves in it if you wish.

Add turmeric powder, red chili and jaggery powder and mix.

After the leaves are cooked, add grated coconut and mix well.

Add salt to taste and mix.
It is important to separate the leaves from stem before chopping the fenugreek leaves.
You can use a chopper to finely chop the leaves after separating from stem.
I prefer to cover and cook the fenugreek leaves instead of cooking by adding water. Just that you have to frequently monitor that fenugreek leaves don't burn.
Red chili powder can be replaced by 1 green chili.