Prawns Onion Fry is a dish which my mom used to make for me in my childhood. I did not know what to name this dish so named it Prawns Onion Fry. I would love to say that this prawns fry it is one of the signature dish of my mom. Also I want to tell you that it is not a traditional dish but a dish invented by my mom using the ingredients which are easily available in a Goan kitchen. She passed this spicy prawns recipe to me. It is very easy to prepare and so I thought of sharing it with you all.
I remember the days of my childhood, especially during monsoons. It used to rain heavily and the bettlenut trees in our backyard would sway and I would enjoy this sight from the balcony of my room. Mom used to make this dish and the aroma would reach straight to my room and I used to come down to the kitchen and sit for lunch. Mom used to cook yummy food. She had also won lots of awards in cooking in my village. I am learning some of her signature dishes. I want to document and keep them for my family.
In Goa, normally rava fried prawns are prepared everywhere. Apart from that we also make delicious prawns curry too. Sometimes we add ladyfingers or raw mangoes to prawns curry. We also add prawns to tonaks and stir-fries.
Today's dish prawns fry with onions is very easy to prepare. Prawns onion fry is nothing but marinated prawns fried with onion, garlic, spices and rava(semolina). It is usually served with rice as a side dish.
You only need to mix the ingredients and stir-fry till the prawns are cooked. This dish is perfect when you want to try something different for lunch or dinner with prawns. So when you are bored of rava fried prawns or when you are pressed for time, do try this delicious dish. Do let me know how my mom's dish turned up in your kitchen and if you try, do give credits to my mom.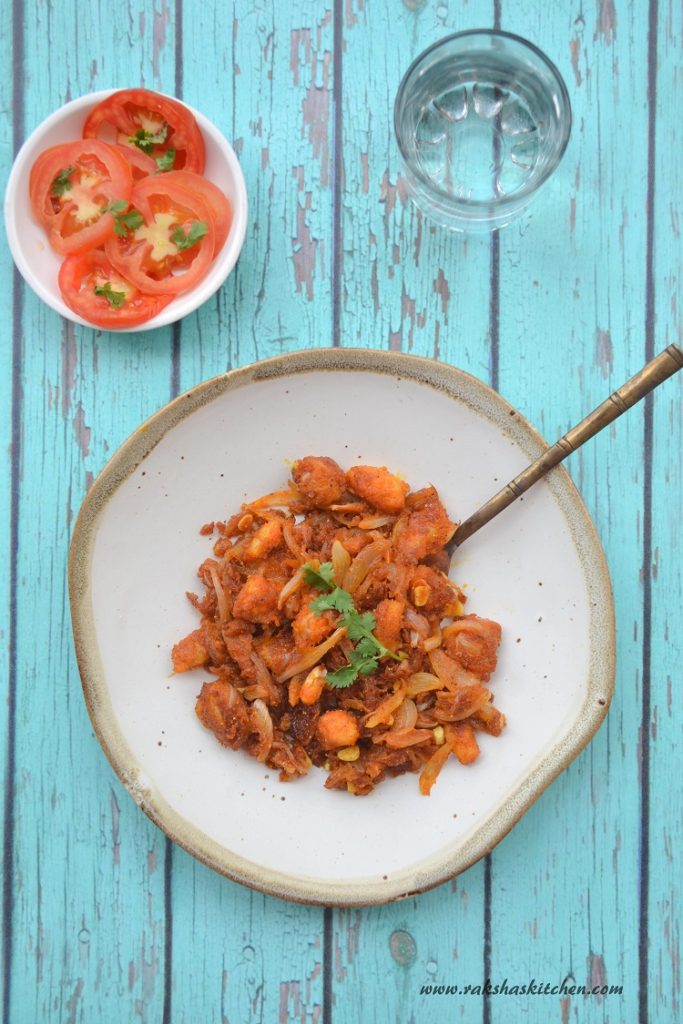 Prawns Onion Fry
Ingredients
10

Prawns

peeled, de-veined and chopped into small pieces

1

teaspoon

turmeric powder

1

teaspoon

red chilli powder

1

tablespoon

garam masala

1

medium sized

onion

julienned or cut lengthwise

2

tablespoon

rice flour

1/4

teaspoon

Salt

2

tablespoon

oil
Instructions
Take a mixing bowl. Add all the ingredients one-by-one in the same order as mentioned in the ingredient list except oil and mix well.

Take a tava or griddle or frying pan and add oil.

After oil gets heated, spread the prawn mixture from the mixing bowl on the tava.

Keep the heat/flame low and stir-fry till the prawns are cooked.
Share on Facebook
Pin Recipe
Check out my video recipes on YouTube!
Click here to -> SUBSCRIBE