Raw jackfruit subzi or raw jackfruit sushel is a delicious Goan preparation made with tender raw jackfruit. Small tender raw jackfruits are used in making pansache sushel or raw jackfruit subzi. This subzi is a healthy one as it is made with minimal oil.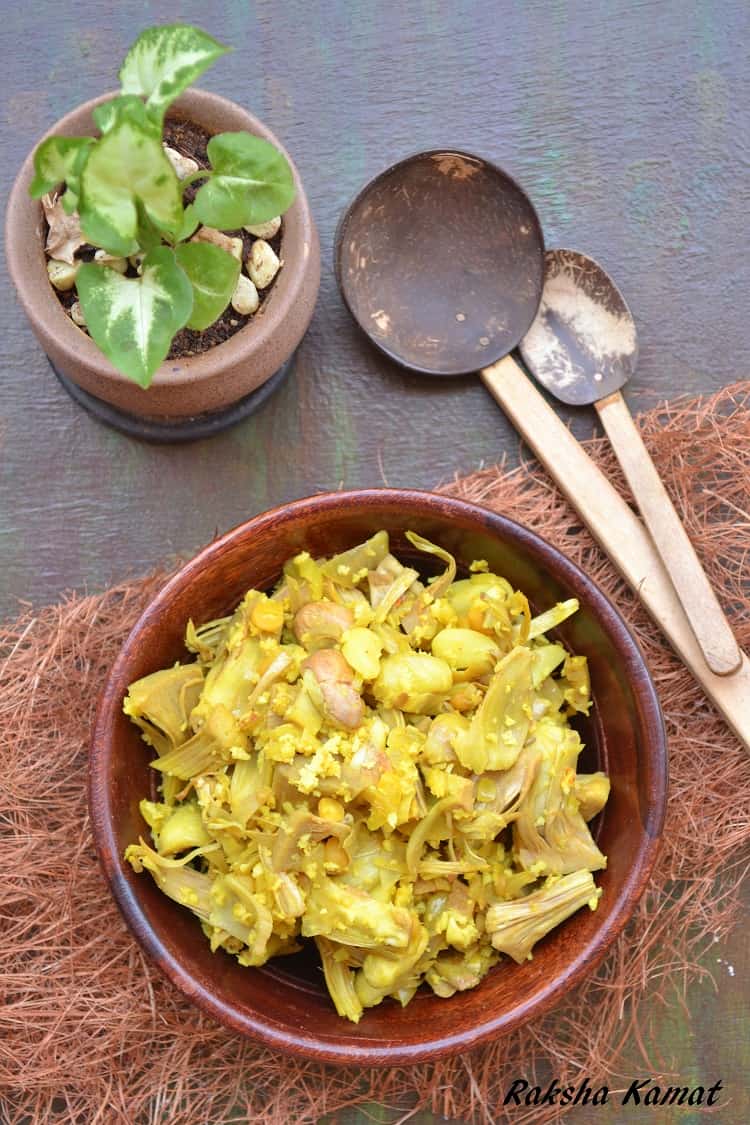 Raw jackfruits are abundantly found in India in summer season. This is the perfect time to make delicious recipes with raw jackfruits. We Goans make delicious recipes with jackfruits. With smaller raw jackfruits we make sushel as mentioned in today's post. With slightly bigger raw jackfruit we make Chacko.
This raw jackfruit subzi or pansahe sushel is a lengthy preparation. My mom in law taught me this sushel recipe. She is in Bangalore this summer and I am taking this time to learn all Goan traditional recipes. So let's look into this delicious Goan recipe.
Prepping Raw Jackfruit:
First apply oil to palm and to the knife. Spread some newspapers on the floor or kitchen table. Cut the raw jackfruit into 2 pieces, wipe jackfruit gum or "deekh" with newspaper and again cut into 2 more halves. Discard the middle core ("maav" in Konkani). Use a sharp knife and cut the outer thorny skin. Then cut the raw jackfruit into 2 inch long pieces (1 inch thick). Do not discard the tender jackfruit seeds ("bhikna"). They are soft. Use them while cooking sushel. Keep the raw jackfruit slices in water for 30 minutes or till it is ready for cooking. This ensures that raw jackfruit does not discolour and also washes off excess jackfruit gum. After prepping, raw jackfruit is ready for cooking.
Raw Jackfruit Sushel
The sushel recipe mentioned today is a long one. Soak little toor dal in water for 30 minutes. Pressure cook, the chopped jackfruit pieces and toor dal together by adding little water. After pressure cooking, let it cool down. Open the pressure cooker and separate toor dal and cooked raw jackfruit pieces. Discard any water present in cooker. Collect all the jackfruit pieces on a flat plate or flat utensil and using the pestle ("khalbato" in Konkani) mash the jackfruit pieces to form shreds. Boiled raw jackfruit gets mashed easily.
Related posts: Jackfruit cake, stuffed jackfruit, Rava fried breadfruit
Now, next step is to make the chutney to add taste to the raw jackfruit subzi. For this take green chilies, garlic pods, grated coconut, little sugar and using the mortar and pestle, make a thick coarse paste. Do not add water to make the paste. If needed you can use the mixer grinder but remember to make the paste thick and coarse.
Next step is to mix the mashed raw jackfruit, separated cooked toor dal and chutney made from green chilies and grated coconut. Mix nicely with finger tips. Heat a kadai and add little oil. Add the mixed raw jackfruit mixture and sauté slightly. Cook with kadai lid covered for 5 minutes. Occasionally stir. Add salt to taste.
This raw jackfruit sushel is a traditional Goan recipe. There are several versions to make this. Some people add hing and some don't add garlic. There are some people who don't even mash the raw jackfruit pieces. Some people add green vatana chanas to this recipe instead of toor dal. Let me know your sushel recipe in comments below.
Serve this raw jackfruit recipe with steamed rice, amlechi uddamethi and raw banana phodi.