Ambadyachi Uddamethi or Goan Hog Plum Curry is a post which I intended to post during the shravan of 2016. But it got delayed due to some unexplainable reasons. I wanted to post this recipe in shravan month of 2017, but again it got postponed due to my travel and office work. Let me not be very late in posting this as this is the right time when hog plums are available in Goa and many other parts of our country.
Amdadyachi Uddamethi is a traditional Goan curry just like Amlechi Uddamethi and mooga gaathi. These dishes are normally prepared during the holy month of Shravan and Ganesh Chaturthi. These dishes are made without onion and garlic and are considered pure veg.
This dish can be served with rice just like varan. You can also make ambadyache raite with hog plums and serve it along with other traditional dishes. In my childhood I used to love ambade. Mom used to make the best ambadyachi uddamethi. I loved to suck the flesh from the hog plums. The thick inner core has to be discarded. Be careful while peeling the hog plums. Just peel the outer skin, else you will be removing the flesh from the hog plums and the curry will not be flavourful.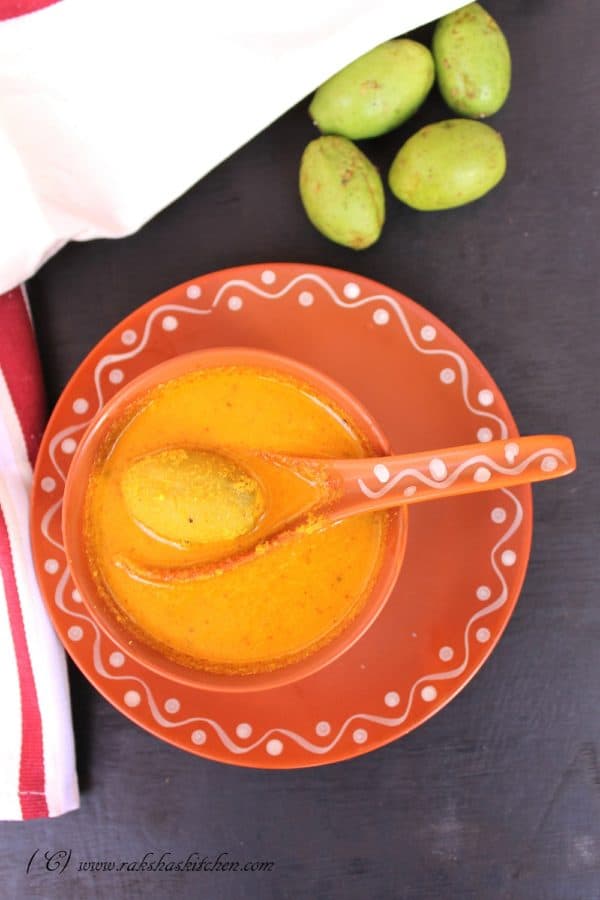 | | |
| --- | --- |
| | |
Grind all the ingredients for the gravy by adding 1/2-1 cup water. The gravy should not be too watery, but a little thick.

Boil hog plums/ambade in 1/2 cup water. Add jaggery to boiling water.

In a kadai/wok, add 1 teaspoon oil. Then add mustard seeds, when they flutter add urad dal and methi seeds. Add asafoetida.

Next is add the gravy to the mustard seasoning. Add the boiled hog plums and mix.

Add salt to taste. Simmer for 10 Minutes.