K
uttu Ke Pakore is another dish which is prepared in North India during the fasting days of Navratri. I learnt this dish when I went to Mastkalandar for the food tasting and demo session of Vrat Maha Thali and Utasav Maha Thali. Until this demo I did not know that a simple yet nutritious recipe could be prepared from buckwheat flour. Chef Samta Gupta demoed this recipe with absolute perfection. These pakodis turned crispy and they are perfect to satisfy your cravings for having deep fried foods during your fasting days.
During the non-fasting days, the buckwheat flour can be replaced by Ragi flour / Finger Millet flour. These will turn absolutely crispy and since they will be made with ragi, they will turn nutritious. The Sendha Namak/Rock Salt can be replaced by normal salt on non-fasting days. You can add black salt or chat masala to modify the taste during the non-fasting days.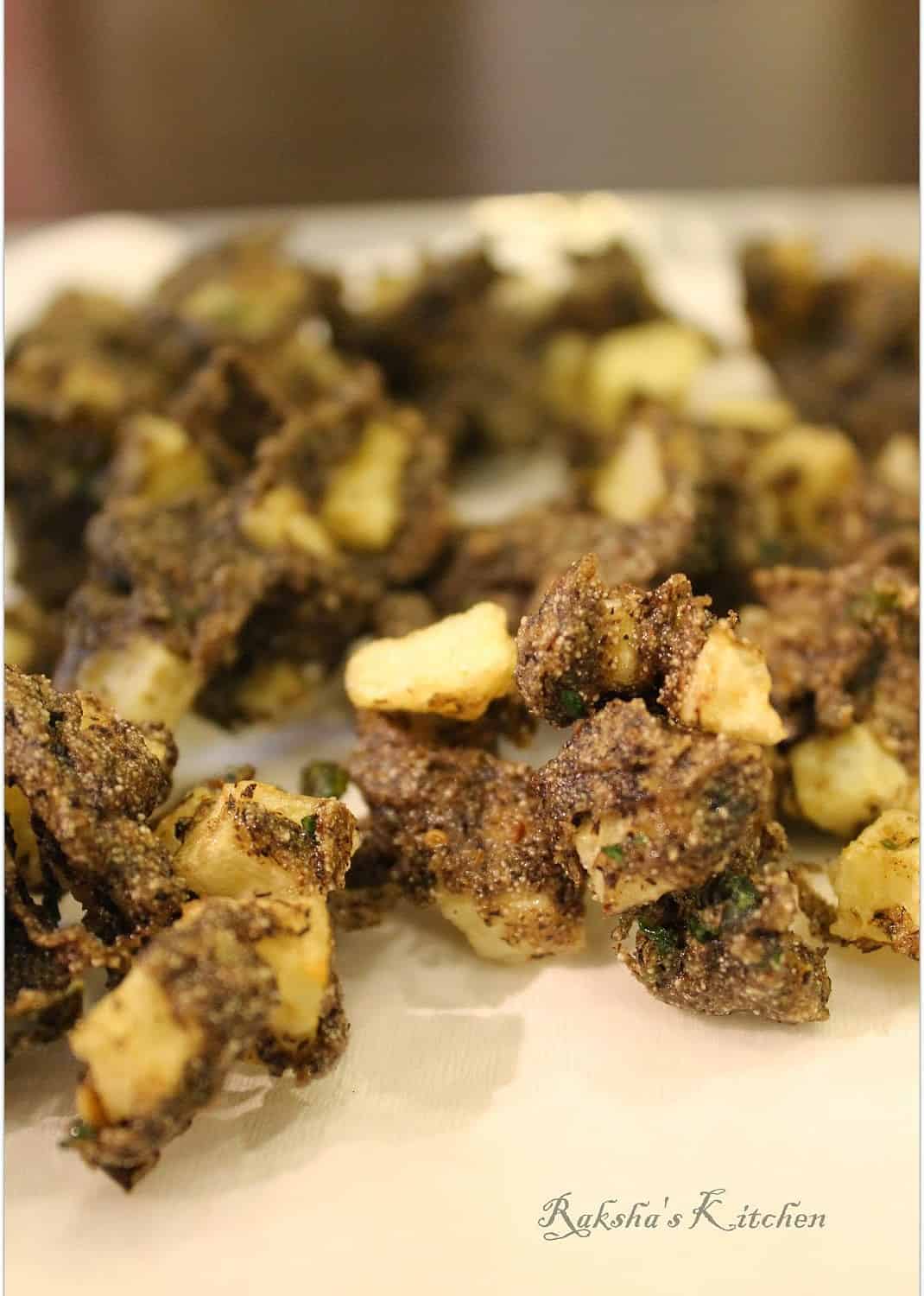 Ingredients:
 3 Medium-Sized Potatoes
 1 cup Buckwheat Flour (kuttu ka atta)
 1/4 cup Coriander Leaves (finely chopped)
 1/2 tbsp Black Pepper Powder coarsely ground
 1 tbsp ajwain seeds / carom seeds
  2 finely chopped green chillies
 1/2 tsp Rock Salt (Sendha Namak)
 Oil to deep fry
Procedure:
Boil the potatoes until half cooked.
After cooling, peel them and cut into small cubes. Keep these aside.
Mix the Buckwheat flour, salt, pepper, carom seeds, finely chopped green chillies and coriander leaves in a bowl.
Add water to the mixture and beat into a smooth batter. Cover it and keep aside for about 20
minutes
Heat the oil in a pan over medium flame for deep-frying.
Douse pieces of potato in the batter. Put each slice of batter-coated potato in the hot oil.
Fry the potatoes until reddish gray and crisp.
Kuttu Ka Pakora is ready.
Serve with some chutney.