Tomato rice made using pressure cooker is a recipe which my daughter loves. She wants different types of dishes in her lunch box everyday. Oh Yes! She knows that her mom is a good cook and hence she demands different dishes. I just love to cook for her as this ensures that she eats healthy home-made food everyday. I pack this one pot tomato rice along with healthy salad in the lunch-box.
The tomato rice recipe does not consume much time. I make it in pressure cooker as it saves time during the morning rush hour. Preparing tomato rice in pressure cooker takes only 25-30 minutes. The best part is that it turns delicious. My daughter one day told me to pack two lunch boxes as her friends love to eat from her tiffin 🙂 Proud mommy moment right? Also try this soya granule pulao which my daughter loves like anything.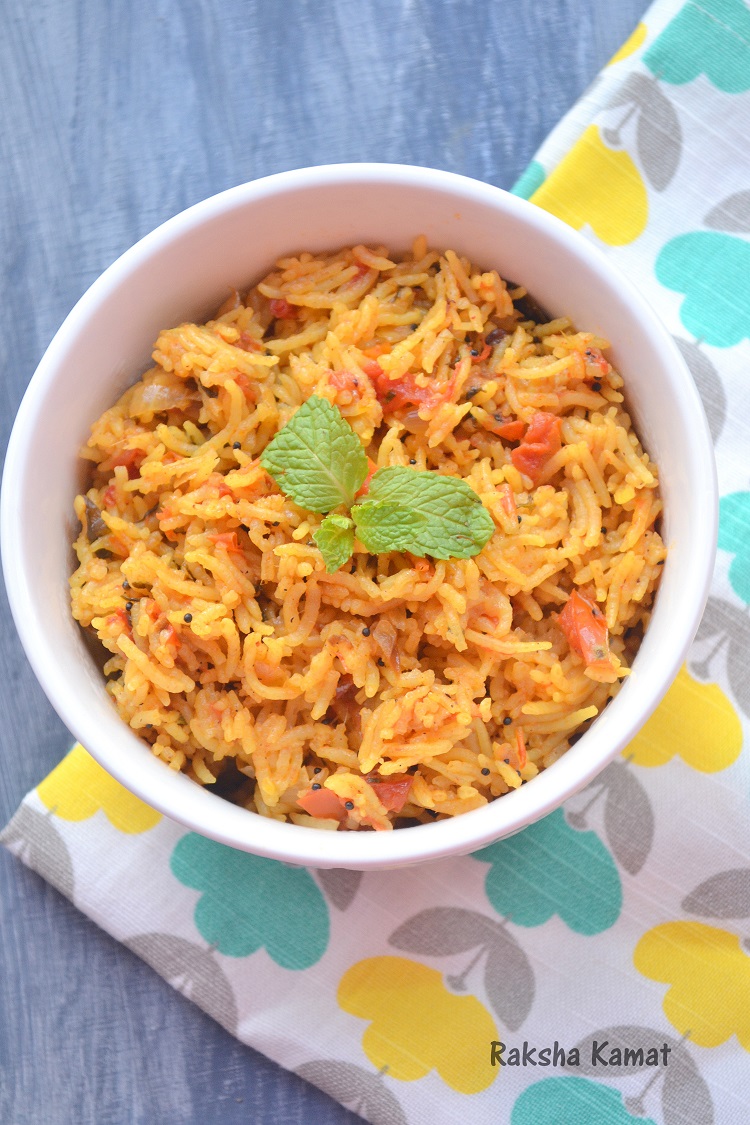 Tomatoes are rich in vitamin C, vitamin A and iron which are essential for maintaining overall health. Regular consumption of tomatoes reduced LDL cholesterol. Lycopene in tomatoes protects the heart against some cardiovascular diseases. Vitamin A in tomatoes improves eye-sight. There are numerous health benefits of tomatoes. My daughter used to eat raw tomatoes when she was a toddler and just loves them. So try this healthy one pot tomato rice recipe. You can also try this healthy vegetable pulao made in pressure cooker.
Tomato Rice Made In Pressure Cooker