I love how the simple creation of a piece of material, be it wood, metal, ceramic, wool, even cork – the options are endless – became a staple for the drinks and hospitality industries of today. I couldn't tell you a single establishment that doesn't have some sort of coaster on their tables or bar counters.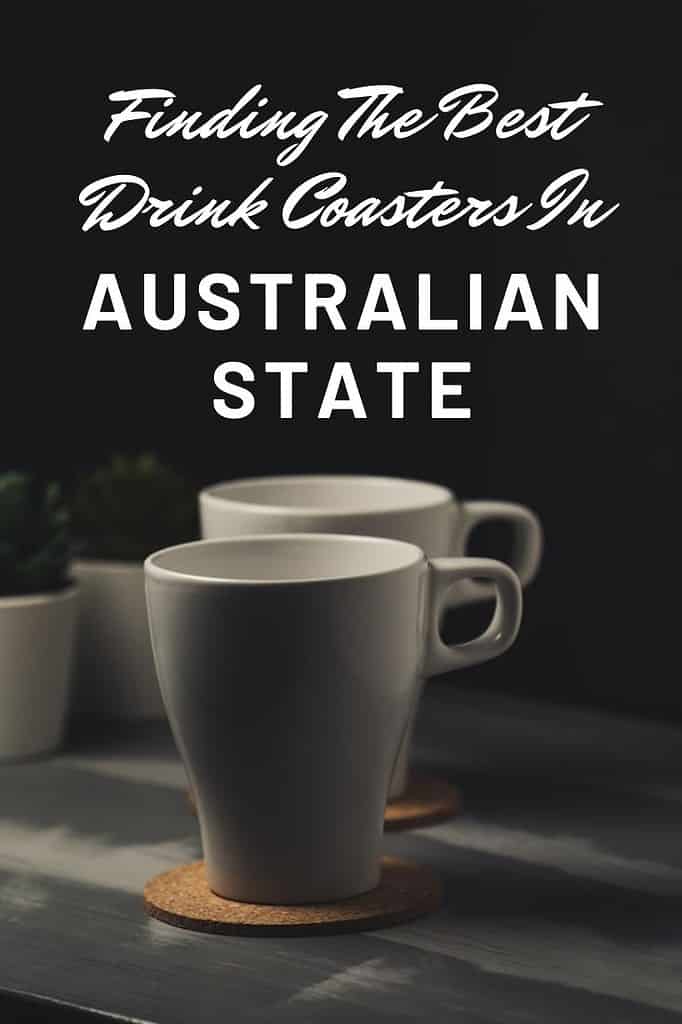 3 Reasons to have drinks coasters:
They look professional. It shows customers that you have put some thought and effort into the smaller details, and says a lot about your business style.
Protects your surfaces. There is nothing worse than someone, who hasn't spent the time and money no doubt, coming along and dragging their pint glass along your new oak finished tabletops, or leaving their espresso cups to drip down leaving wonderful rings all over the place.
Promotes your business. Every time that glass is put down, the name or advertisement subconsciously goes into that person's mind, how you ask, well they are deliberately (thank goodness) looking for the coaster to put the glass down so their eyes are drawn to the advert. It's also a great way to promote specials and upcoming events.
Having come from a hospitality background myself, I am completely on board with a table-talking advertising square, but I wasn't always. To me they looked, how do you say, 'tacky,' but with modern tweaks and designs, my opinion has convincingly changed. The amount of different styles has exploded, check out some unique ideas here that you can even have a go yourself at making.
You can either have a literal carved out sculpted, shaped 3D design or a detailed, look at me printed image.
CMYK vs RGB vs PMS:
There are many different methods and printing results available on the market, three main and more widely used styles for coasters are:
CMYK: "Cyan, Magenta, Yellow, and Black." These are the 4 basic colors used for printing images. These are called 'subtractive' colors which means they get darker as they blend.
RGB: "Red, Green, and Blue." These are more for when working on computers and designing on screen.
PMS: Stands for Pantone Matching System. This is a system for matching colors through code. Each color has an individual code, so companies that already have a branding theme in place can have new merchandise printed with the same colors they already have.
It certainly wasn't so technical or advanced or even decorative when coasters first came onto the scene, they were more function than fashion. The initial use for inventing this 'vessel' we know today as a drinks mat or beer mat was basically for the diners to 'slide' the wine or champagne across the table to others once the servants had retired to their quarters for the evening, so they wouldn't need to get up from the table.
They also weren't flat as such, more of a bowl with a lip design to catch any drippings that ran down the side. So, they did have some regard for their help back in the day, knowing they had to clean in the morning.
Each to Their Own
You could have a pretty safe bet that anywhere you decide to dine or get together for a drink and catch up session, they would have their stamp on things, their quirkiness that makes them, them. https://blog.queensland.com/2019/12/02/brisbane-best-bars/ is a great place to start ticking off that bucket of never-been-to-places but you-want-to-check-them-out list.
Who knows, there are so many personalities in the world, visiting new venues is a great way to travel around not only your city but chatting and hanging out with new people, to travel to their cities. I know when we ran our restaurants and pubs the number of characters that would walk in, you couldn't make it up.
And then there are your every single day like clockwork regulars, with the same stories and the same sad jokes, and yet, the minute they don't come for whatever reason, you miss them, panic a little even, but mainly concerned as you hope they are ok as they are your family. Publican family.
Where to Get the Best?
When we are looking for a product or service, we want the top dogs. We read reviews on company websites, take into account word of mouth and ultimately look for certain factors that would seal the deal for us:
The finished product should reflect not only the price but what it says on the tin, so to speak.
Turnaround time, efficiency and customer satisfaction, you want to know you're in safe hands.
Environmentally friendly sourcing. Would you be helping or harming the planet? It is after all the only one we have.
Choosing the right product for your business is key and the bar coaster experts can put your mind at ease when it comes to delivering the goods. Besides, supporting local business is what makes the world go around, "share the care" as I like to drum into my kids every day – mainly when they have a treat.
 Free Child Care – for 5 minutes.
My children have kept themselves busy in many ways having grown up in a pub, definitely, some of that time was by restocking fridges and polishing glasses, but that's a story for another day.
 Having coasters, to them, meant let the Olympics begin. They would set up obstacles to boomerang them around, a Great Wall of China construction to flick them over into the goals on the other side and the ultimate – The ninja flip and catch.
The Ninja Flip and Catch. Rest the beermat halfway off the edge of the table/bar counter so it is balancing, then with the back of your fingers flick it up into the air and try to catch it between your thumb and four fingers. You'll need to be lightning.
The adults soon got in on this event, and we all know adults look for any excuse to be a kid, and low and behold, 'The Leader board' was created.
Note: This is a sponsored post.
Photo by Vitaly Vlasov from Pexels