Chicken Rava Fry is marinated chicken is coated with semolina or rava and is then shallow fried in little oil. This is served as a starter or appetizer or a side with rice.
My Little one loves chicken and calls it chicken fish. She eats a very less of it, but she loves the taste and jumps with joy when she sees the fried chicken. The other day, my hubby took her to the shop and they bought Real Good Chicken. My little one wanted to play with the packet. But then we told her that there is chicken in it and it has to be cooked. Immediately she handed the packet to me. I cleaned and marinated the chicken. But my little one just had no patience and wanted to eat that chicken fish as she calls it. So I made Chicken Rava Fry.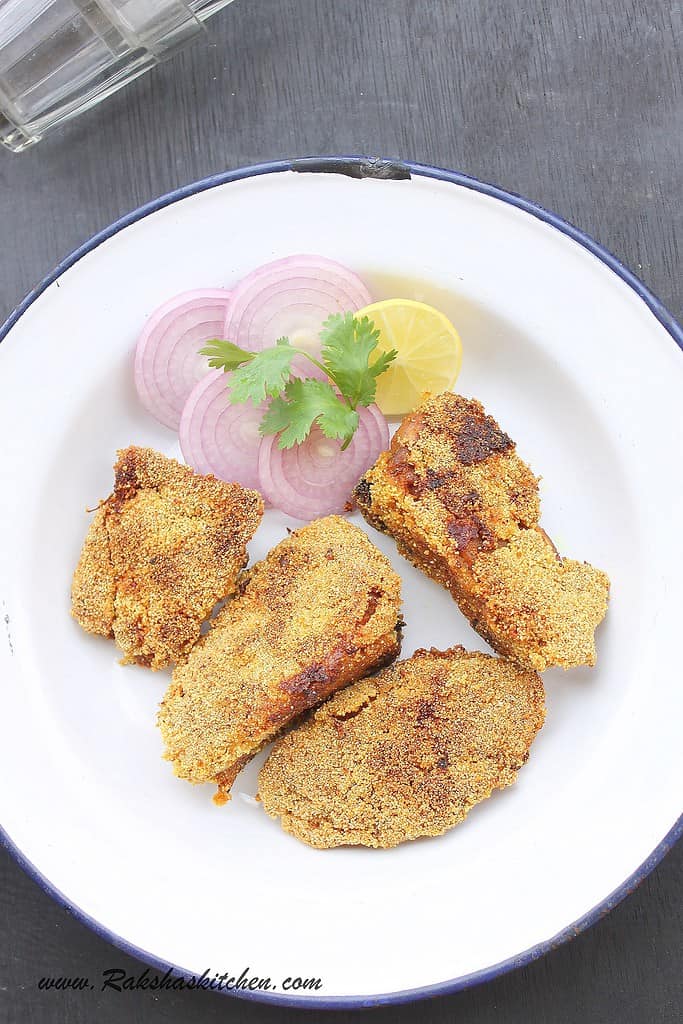 I just marinated the chicken for 1 hour and then tried 3 dishes. One was green chicken, one was chicken malvani and the 3rd was chicken
rava fry
.
Green chicken
for me, chicken malvani for my hubby and the 3rd one was for my little barbie doll. We did have all the 3 dishes and it was real fun. We also love
chicken cafreal
.
The chicken rava fry was a hit as my little one loved it a lot. The special taste of green masala made it really great.
Funniest thing was that, I was feeling bored to cook. I even told my mom on phone that I will not cook that day. But at night for dinner I ended up cooking 3 things at a time and also made some chapatis. God knows from where I got the stamina to cook so much. But I think it was only because of that long weekend. My mom was surprised to hear that I ended up with 3 chicken dishes and that too in the month of Shravan where most of the Indian Hindus do not consume non-veg food.
Rava Fried Chicken
Marinated chicken is coated with semolina or rava and is then shallow fried in little oil. This is served as a starter or appetizer or a side with rice.
Ingredients
10 - 12

chicken pieces

without/without bone
For Marination:
6

cloves

garlic

1/2

inch

ginger

2

green chillies

1

small bunch coriander leaves

1

teaspoon

turmeric powder

2

tablespoon

curd
For frying:
1

tablespoon

turmeric powder

1

tablespoon

chili powder

1/2

tablespoon

salt

1

cup

rava / semolina

1

cup

rice flour

2

tablespoon

oil
Instructions
Clean the chicken pieces.

Grind all the ingredients for marination, except curd.

Mix the ground green paste with curd.

Apply it to the chicken pieces. Cover it with aluminium foil and keep in freezer for 1 hour for marination.

After 1 hour, take it out of freezer and keep it aside for 20 minutes.
For frying:
On a plate, mix the rice flour, rava/semolina, pinch of salt, 1/4 teaspoon each of turmeric powder and chili powder.

Coat the marinated chicken in this rawa.

Heat the frying pan and spread 1 tablespoon oil. Add more if required.

Place the chicken on the pan and fry on low flame.

After 10 minutes turn them to the other side.

Fry them for 20 minutes.

You know they are done when they turn brown.
Notes
Always use low flame for frying and do not cover the pan.
Share on Facebook
Pin Recipe
Share by Text
Liked this recipe? Please give us a 5 star rating and share the recipe link with a picture on Facebook, Twitter , Pinterest and Instagram
Mention @rakshaskitchen and tag #rakshaskitchen!
Follow us on Facebook, Twitter, Instagram and Pinterest.
Pin this image on Pinterest. If you like the recipe, give us a 5 star rating.
This post has been updated with new pictures on 29-01-2017