My daughter wants different varieties of rice every other day in the lunch box. Cooking a different recipe every other day is a challenge, as I have to cook and pack the lunch boxes early morning and leave for office too. I don't have any house help/cook at home and manage everything alone. So in such situations, when I am pressed for time, gadgets like TTK Prestige Delight Electric Rice Cooker comes to my rescue. Today's recipe is an easy vegetable pulao that I made using TTK Prestige Delight Electric Rice Cooker.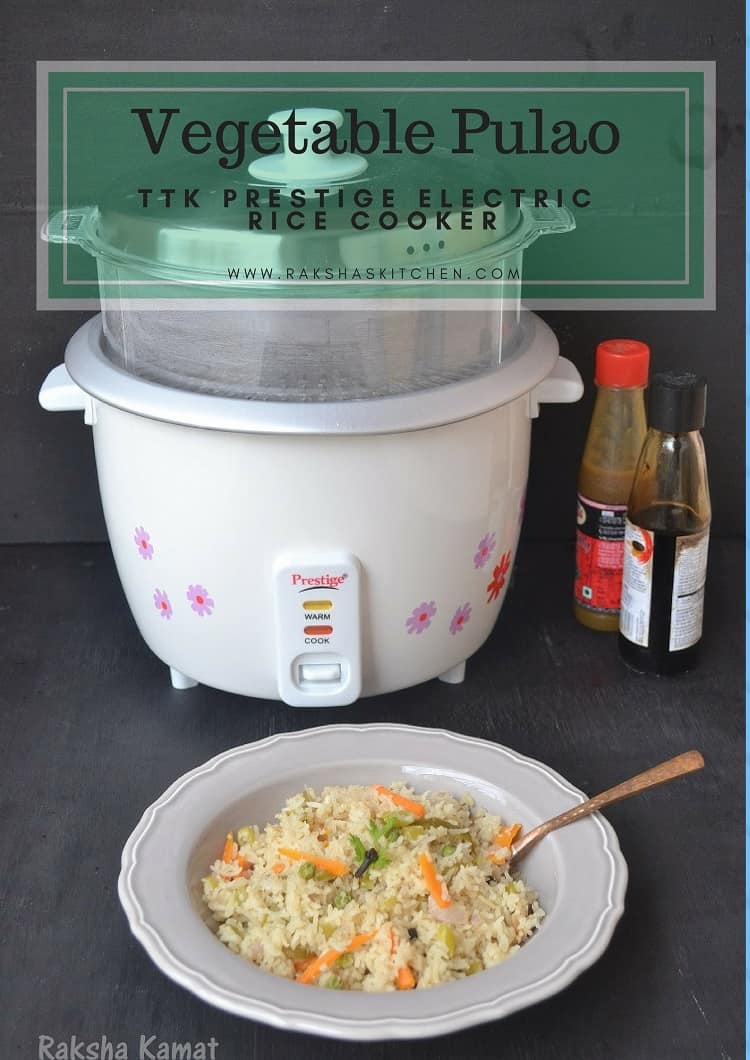 As compared to using a traditional pressure cooker, cooking with an electric rice cooker is non-messy. You don't have to worry about the number of whistles blown and you need not worry about those famous pressure cooker blasts. Just add the ingredients and press the COOK button. Then the electric rice cooker works like a charm and gives a trouble free performance.
TTK Prestige Delight Electric Rice Cooker is a modern appliance for healthy and safe cooking. It is from a trusted brand – Prestige which is famous for kitchen appliances for generations in India. The TTK Prestige Delight Electric Rice Cooker helps reduce the time we spend in the kitchen and still provide healthy food to our family.
Using this Prestige Electric Rice Cooker, you can cook rice and steam vegetables or momos at the same time, thus saving energy and time. You can also make pastas, curries, soups and other liquid food using this rice cooker. You can even bake a cake. But incase where dishes other than rice are cooked, you need to monitor the cooking time and turn the cooker to warm mode manually.
Features:
Cool touch handles – Allows carefree handling to cook delicious food.
Automatic cooking mode – Takes care of food being cooked efficiently. After cooking is completed it automatically goes to "Warm" mode, thus keeping the food warm for next 2 hours.
Steamer basket – Allows you to steam momos, vegetables or any other food stuff simultaneously while the rest of the food is getting cooked.
The graduated aluminum cooking pan – Ensures even heat distribution for the rice to be cooked to perfection. The close-fit stainless steel lid fits tightly and allows efficient cooking and at the same time allows excessive steam to escape through the vent.
Detachable power cord – Makes the cooker portable. Since it is compact, you can carry it to any other locations. E.g. while going for picnics or vacations where you can cook food of your choice.
Advantages:
Saves time and energy
Simplifies cooking chores
You can cook rice and steam vegetables or momos at the same time, thus saving energy
The cooker comes in white color with cute design which looks attractive in the kitchen.
The cooker does not occupy much space on the kitchen counter.
Comes with cool touch handles which allows to handle the cooker even when it is hot.
Disadvantages:
While cooking dishes other than rice, the cooking time has to be monitored manually.
Accessories:
The Prestige Delight Rice Cooker (Model: PRWOS 1.8) comes with the following accessories:
Steamer basket
Measuring cup
Rice scoop
Trivet
Technical Specifications:
Model: Prestige Delight Electric Rice Cooker – PRWOS 1.8
Rated Voltage: 230 V AC – 50 HZ.
Wattage: 700 W
Warm Temperature: 60 – 80 degrees C
Capacity: 5.0 L (for inner container volume)
1.8 L (for rice)
Rice cooking capacity: 1.0 kg.
Cooking Type: Direct Heating.
The new Rice Cooker is here to simplify your cooking chores to save you time and energy at the same time. A menu planned for the day is taken care of by this compact and efficient cooker.
Also check my reviews of TTK Prestige Multi-Kadai, TTK Prestige Clip-On Pressure Cooker,TTK Racer Mixer Grinder and TTK Prestige Microwave Pressure Cooker.
Purchase the TTK Prestige Electric Rice Cooker by clicking below:

Vegetable Pulao Made Using TTK Prestige Delight Electric Rice Cooker
Ingredients
1 and 1/2

cups

Basmati rice

3 and 1/2

cups

water

4

cloves

5

black peppercorns

1

bayleaf

1/2

inch

cinnamon bark

2

cardamom pods / elaichi

crushed

1

carrot

peeled and chopped

1

capsicum

chopped

1/4

cup

green peas

5

French beans

finely chopped

2

medium sized

onion

finely chopped

5

Garlic Pods

minced

1

tablespoon

ginger-garlic paste

1

tablespoon

green chilli paste

1

tablespoon

ghee

To Taste

Salt
Instructions
Wash the basmati rice and keep aside for 20 Minutes.

Heat the Prestige Delight Electric Rice Cooker and add oil.

Add spices (black pepper corns, cloves, cinnamon, cardamom and bay leaf) and sauté for 10 seconds.

Add finely chopped onion and sauté for 1 minute or till onion turns pinkish.

Add minced garlic and fry till the raw smell of garlic goes away.

Add ginger-garlic paste, green chilli paste and sauté.

Add washed basmati rice and mix well.

Add water and mix.

Immediately place the steamer basket and place all vegetables in the steamer.

Close the lid of the Prestige Delight Electric Rice Cooker and switch to cooking mode.

After 10 minutes, remove the vegetables from the steamer basket and mix it with the rice which is getting cooked. Also add salt to taste and close the lid of the rice cooker.

After the rice is cooked, the cooker will go to "Warm" mode. Leave it in "Warm" mode for 10- 15 Minutes.

After 15 Minutes, open the cooker and garnish with chopped coriander leaves.

Serve hot.
Share on Facebook
Pin Recipe
Check out my video recipes on YouTube!
Click here to -> SUBSCRIBE