When you are pressed for time or when you have very less time to cook for a party, try these delicious and lip-smacking Tawa Chicken Fry or Pan Fried Chicken tikkas. Tawa chicken fry contains succulent and tender pieces of chicken breasts which are marinated in different types of spices. These are super easy to make and gets ready within few minutes. You can serve these chicken tikkas as starters or appetisers during a party or simply when you feel like eating delicious fried chicken at home.
The taste of these tawa chicken fry is delicious. I have used tandoori mayo while marinating. If that is not available, you can add tandoori powder and 2 tablespoon extra-thick curd or yogurt. You can marinate these previous night and leave them in the deep freezer. Next afternoon, thaw them and directly start frying them.
Serve these hot pan fried chicken tikkas or tawa chicken fry with green pudina chutney. You may also grill these chicken tikkas on skewers in an OTG after marinating them. The taste will be delicious. So try this delicious dish now and don't forget to send me a picture of the dish.
You can add these tawa chicken fry and make delicious butter chicken. If you love chicken, do try delicious chicken saagwala and easy chicken dry recipes. If you are looking for more appetiser recipes with chicken, do try this Goan style rava fried chicken.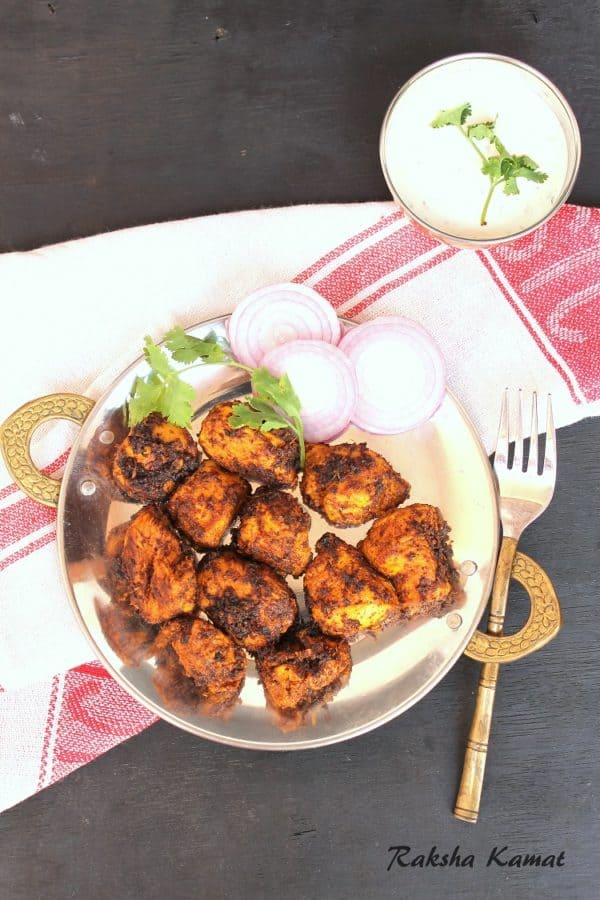 | | |
| --- | --- |
| | |
To make the tawa chicken fry, let us first marinate the chicken:
Wash and cut the boneless chicken breasts into 2 inch cubes.
To a mixing bowl, add the chicken pieces and all the ingredients mentioned in "For Marination" list.

Combine all the ingredients together and mix well by applying the marinade to the chicken pieces.

Close this bowl and leave it in refrigerator for 2 hours or more.

After the chicken gets marinated,keep it out from the freezer.
Now let us start preparing the pan fried chicken tikkas:
Heat a kadai/wok and add 2 teaspoon oil. Once oil is heated, add 2 tablespoon butter.

After butter gets melted, add the marinated chicken pieces and fry in batches till they are cooked on both sides.

Add more butter if needed while frying.

After frying remove and keep them aside.
Serve these delicious tawa fried chicken hot with pudina chutney and salad.