T
his weekend I was invited to relish the flavors of authentic Rajasthani cuisine. The cuisine which belongs to the land of Maharajas at Feast, Sheraton Grand, Bangalore.
Chef Ram Sing Rathore and Chef Devendra Partap Singh were specially invited from Rajasthan for this festival. The menu was specially curated by these two chefs.
A variety of Rajasthani delicacies were present on the menu. It was a perfect spread of royal cuisine from the kitchen of the warriors.
Ambiance & Service:
As soon as we entered the restaurant, we got a warm welcome.
The ambiance was set as per the Rajasthani theme. Handmade Rajasthani puppets, decorated earthen pots, hand embroidered umbrellas and more were around which made the afternoon very lively.
The service was perfect.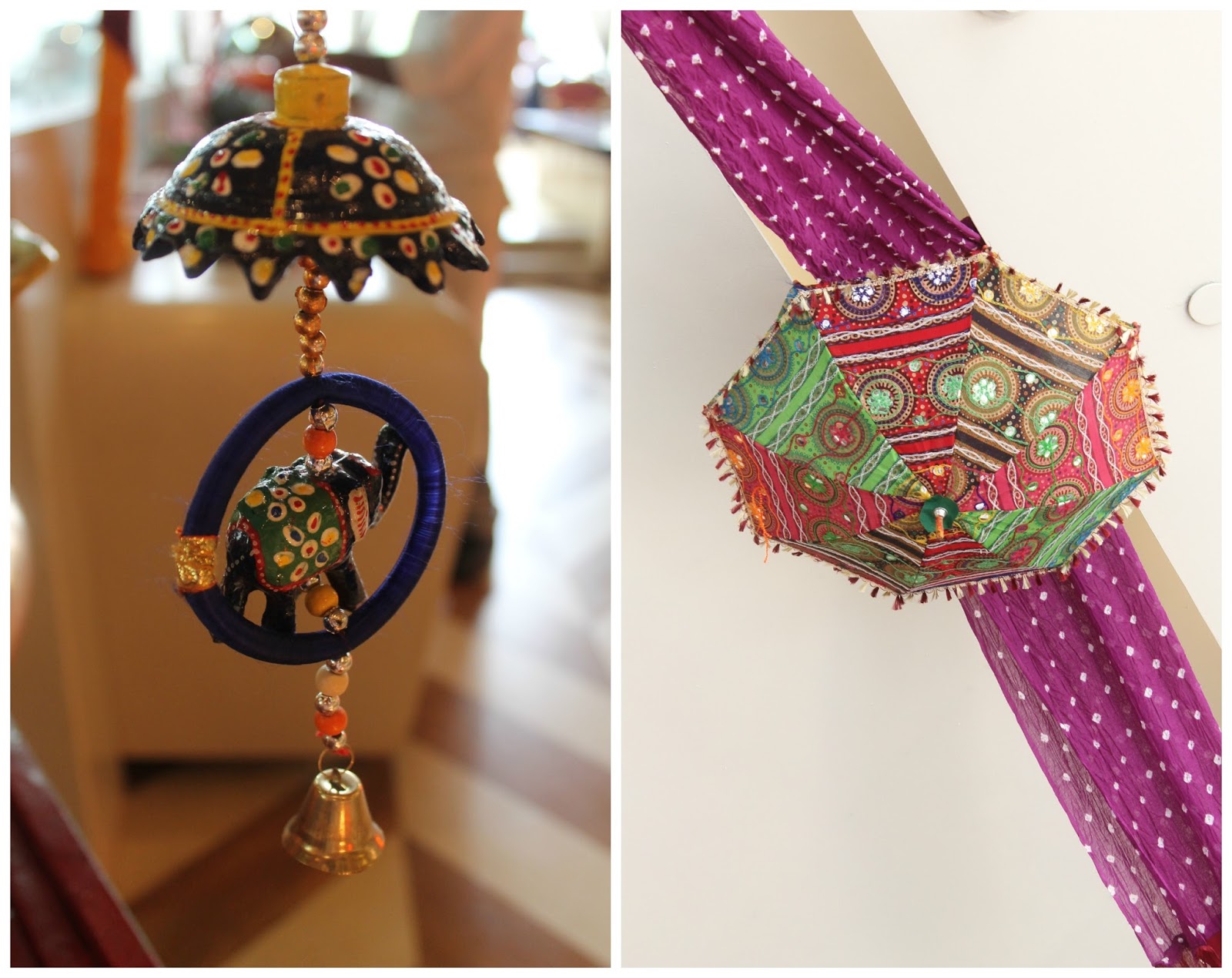 Food:
We got to taste some delicious Rajasthani drinks like – Sattu Ki Sharbhat and Jaipuri Chach. Both of these drinks were delicious and I had never tasted these before.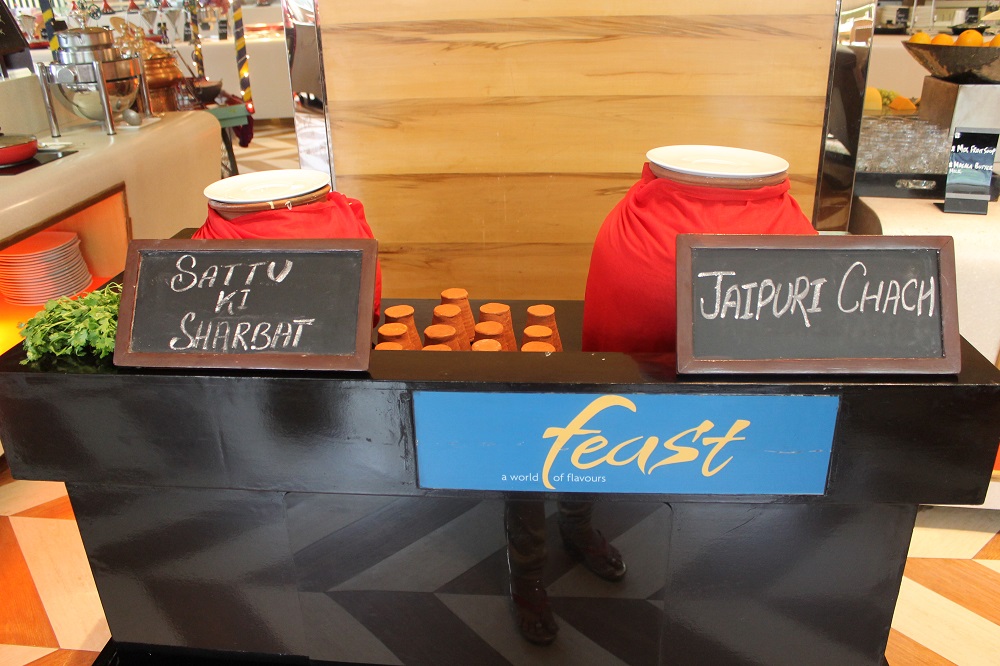 A live counter was present which was making some authentic Rajasthani kebabs like Murgh Ka Shoole, Jaiselmer Ki Booti and Laal Maas.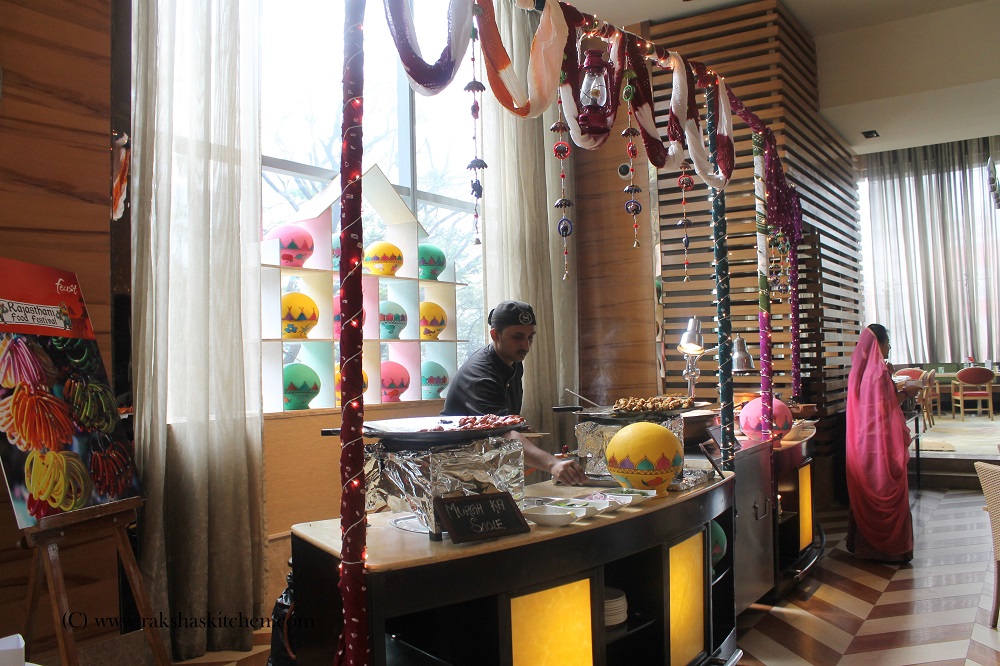 Murgh Ka Shoole and Jaiselmer Ki Booti
It also had the famous Dal Baati-Churma counter.
Jaipuri Chach and Dal-Bati Churma
We tasted the soup – Ba Jere Ki Raab Soup which was served warm and tasted delicious. Along with soup some more starters like Bikaneri Murgh, Achari Paneer and Marwari Sheek were being served at the table.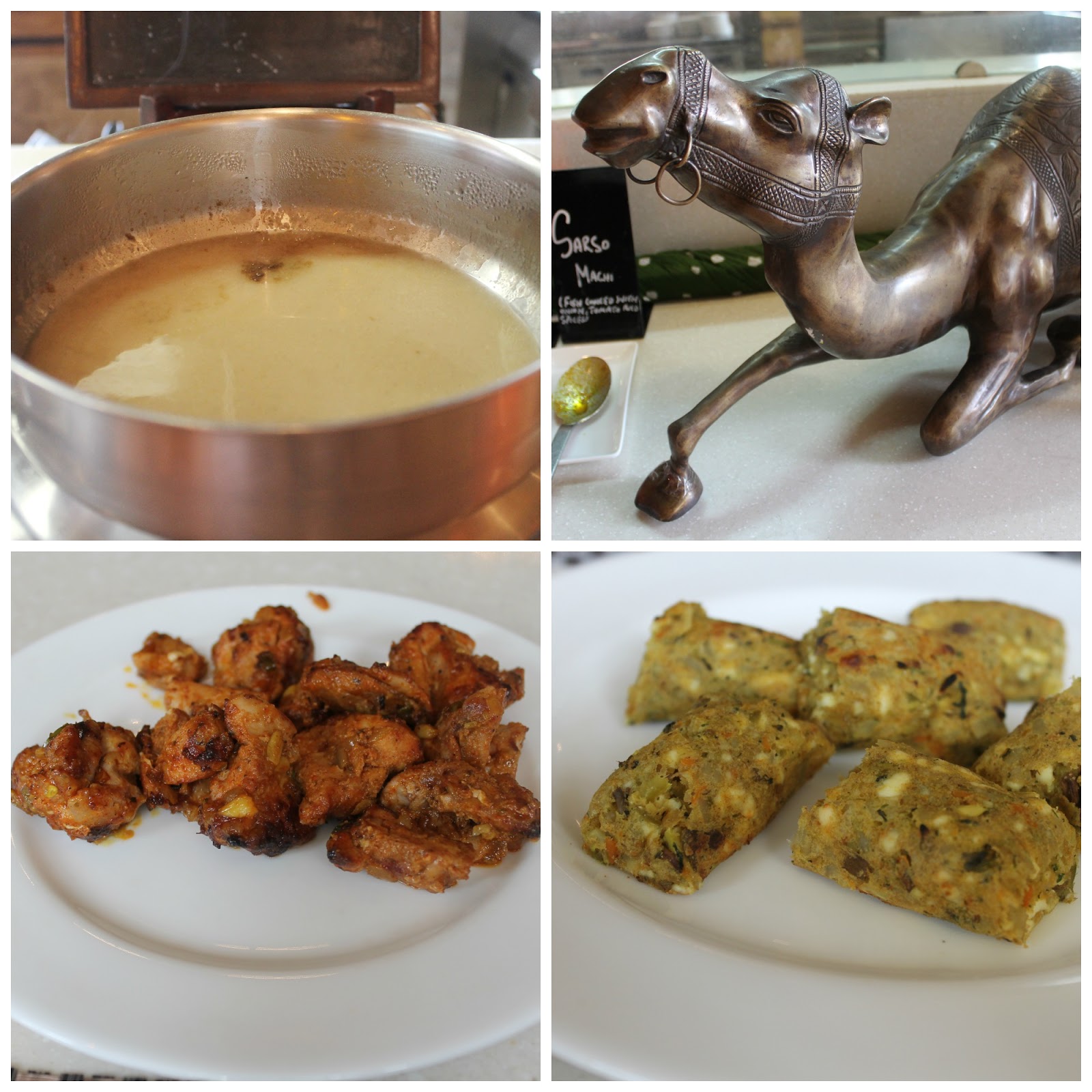 Ba Jeere Ka Soup, 

Bikaneri Murgh and Marwari Sheek
For the main course there were several dishes like Kachri Do Murgh i.e. chicken cooked with onion, tomatoes and spices, Sarso Machi that is fish cooked with onion, tomatoes and spices and egg curry in non-veg.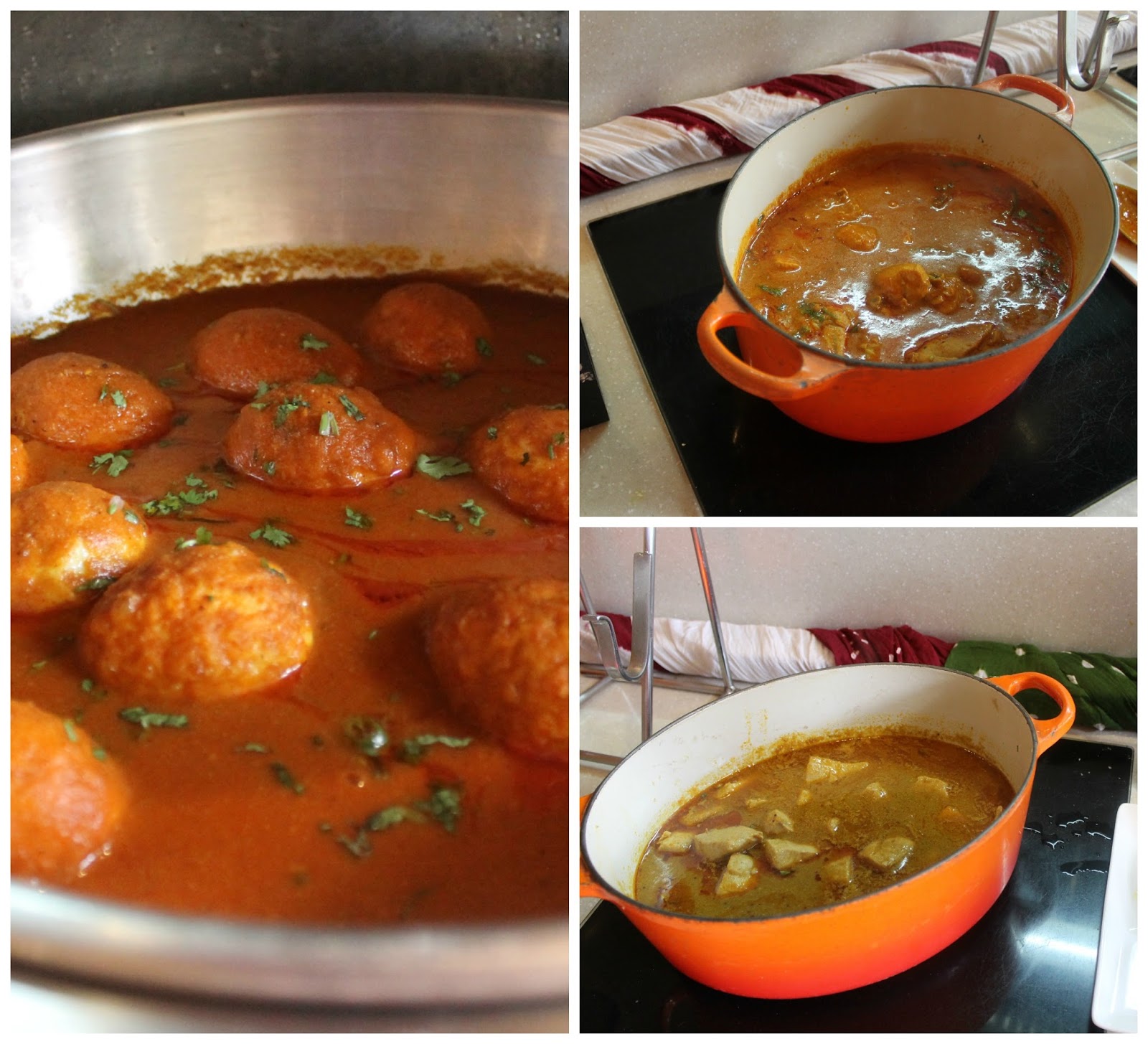 Egg curry, 

Kachri Do Murgh and Sarson Machli
The veg main course consisted of the famous Gatta Curry which is ground flour dumplings cooked with curd and Indian spices, Paneer Mircha that is cottage cheese cooked with green chili and spices, Bhindi Mircha that is okra cooked with onion, tomato, green chili and spices, Papad Mangoon that is moong dal cooked with onion, tomatoes, coconut and spices.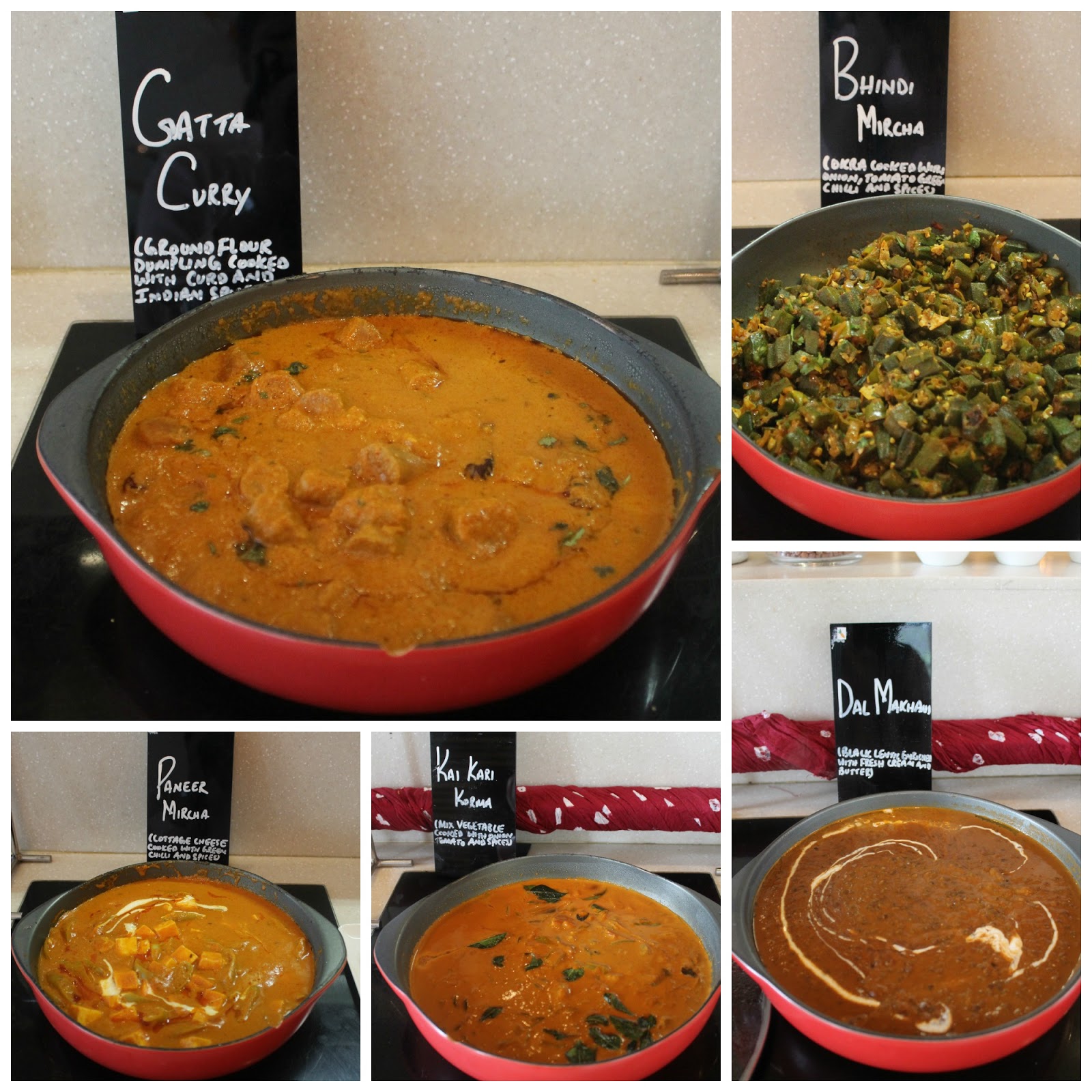 My favorite dish in the veg, Dal Makhani was on the menu along with Kai Kari korma that is mix vegetable cooked with onion, tomato and spices.
The Babycorn Peratal was my favorite too and I went for another serving of the same. This dish was made of babycorn cooked with onion, coconut and spices.
Babycorn Peratal
Rotis and naans were served at the table.
In rice there were several varieties, the special ones were Jeera Meethi Pulao which was Basmati rice cooked with fenugreek and Indian spices, Pyaz Ka Pulao consisting of Basmati pilaf cooked with ground onion and spices and Murgh Ka Pulao that is Basmati rice cooked with chicken and Indian spices.
For desserts there were several varieties like Rose burfi, Anjeer dry burfi, Paneer burfi, and Kaju Katli and Malai sandwich in the Indian desserts section. There were brownies, cheese cakes, fruit tarts, chocolate cake, Brazilian pudding, glaze almond cake and many more too.
Desserts
The famous sweet dishes like Malpua, Ghewar and Malai Ghewar were present on the menu along with crispy Jodhpuri Khasta jalebis. I loved the Malpua which I had with rabdi.
Jodhpuri Khasta Jalebis, Ghewar and Malpua
This Rajasthani Food is served as a part of the regular buffet at Feast and so you can try this food along with the other wide spread buffet like Italian and Asian.
My Verdict:
If you love Rajasthani food and want to taste the best in the town, then do visit Feast at Sheraton and savour the taste and aroma of authentic Rajasthani delicacies such as Sangari Ki Seekh, Dungari Maas, Jodhpuri Khasta Jalebi , and more.
The Rajasthani food festival will be going from 15-24th January 2016 and so you too can pamper your taste buds. Eat Royal. Feel Royal.
Address: 
Feast, Sheraton Grand Bangalore Hotel,
Brigade Gateway, Rajajinagar – Malleswaram
Bangalore
Website: http://www.sheratonbangalore.com/sheraton-bangalore-dining-venue-restaurants-coffee-shop-feast-all-day
Facebook: https://www.facebook.com/SheratonBangaloreatBrigadeGateway