It has been many days since I wrote a blog post. These days are turning pretty hectic with loads of work in office. Evening calls end at 8.30 PM and hardly get time for family and blogging. This will go on for some time as we have a deadline to achieve in August. But yea… this is a phase and will pass soon. In the meantime I decided to write a restaurant review post today. I had been to Ritz Carlton in Bangalore for lunch along with my family for a Sunday brunch. The best part was that, I got to spend some quality time with my beloved family.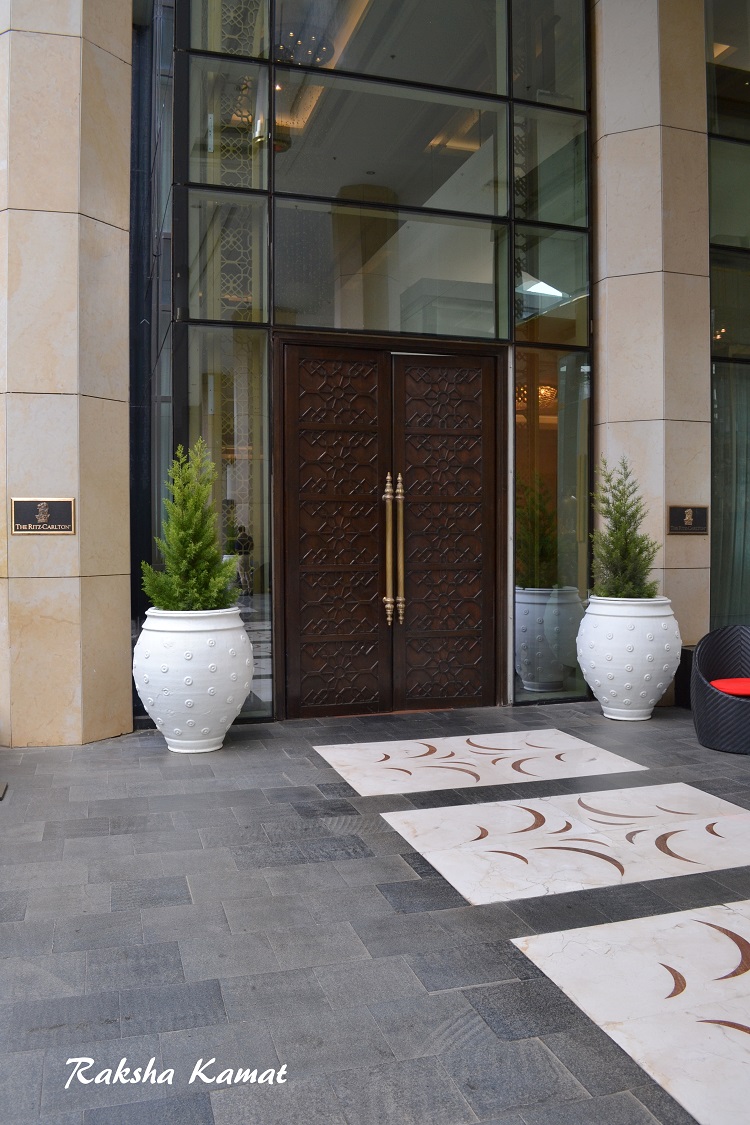 Ritz Carlton, Bangalore is a luxury hotel located in the heart of Bangalore. I.e. on Residency road. We were greeted by the staff at Ritz Carlton who guided us to The Market for Sunday brunch. The Market is a restaurant in Ritz Carlton, Bangalore located on the 3rd floor. All the restaurants at this hotel beautifully balance what is presented on each plate and the setting that surrounds it. The Market is a place with open kitchens. One can walk the entire place to find food everywhere.
The Market serves Sunday brunch at Ritz Carlton with flavors from around the world. The world's treasured culinary traditions are celebrated at The Market. This is an all- day dining restaurant and it offers Western, Indian and Asian dishes in its daily buffet and Sunday brunch.
A table was reserved for us in the middle of the restaurant. As soon as we sat, we were served with mocktails and some starters.
All dishes are prepared at live-cooking stations and open kitchens including a sushi bar and dessert studio.
As we walked inside The Market, we found a huge chaat counter serving chaats like dhokla, khandvi, dahi bhalla, aloo papdi chaat, kachori chaat,pani puri, bhel puri, jumbo puri, etc. I did not try the chaats. Just had a piece of dahi wada and Khandvi. Loved both these dishes.
There was a separate bread counter serving different types of bread.
The salad counter had different types of fresh salads, cheese platters and cold cuts.
Next we found a live counter names satay station. We tasted the chicken satay which was delicious.
We also found an Arabic delicacy, Shawarma counter and ordered chicken Shawarma which was also delicious.
The Italian counter served different types of Italian food like pastas, pizzas and more. I tasted the pizza and it was good.
There is a separate kids area too which we came to know about later. But even at The Market, a joker and a magician entertained our kid at our table.
The live music was not too loud and was perfect to set the mood for the day. They played some melodies from the 90s which brought a flash back to my childhood.
The service was impeccable and staff was courteous. The ambiance was simple and beautiful yet looked very grand.
We also tasted some Indian starters like chicken tangdi kebab and chicken tikka kebabs which were served at the table. For main course there were variety of dishes. We tasted the Chicken biryani. It was full of flavors and one of the best chicken biryani I ever tasted. I also tried chicken tikka masala which was cooked to perfection. There were many more dishes from pan Asian and Mediterranean cuisine, but I was too full to try them and had to save some space for desserts. The spread was never ending.
The dessert counter was located in a separate place and had a huge variety of desserts. I tasted few desserts.
After our brunch, we were taken for the tea tasting session where we tasted Hillcraft tea.
We had a great time at Ritz Carlton. I hope to visit this place during the next IPL season so that I can meet some of my favorite cricket players 🙂
Note: I was invited to Ritz Carlton for Sunday brunch. This is not a paid review, all views expressed are my own.
Do check out my other restaurant reviews.
Address: 99, Residency Rd, Shanthala Nagar, Ashok Nagar, Bengaluru, Karnataka 560025