On 7th Oct 2017, my daughter and me were invited for the grand launch of Toys"R"Us at Phoenix Market City, Bangalore. Toys"R"Us is the World's greatest toy store and one of the most globally loved brands.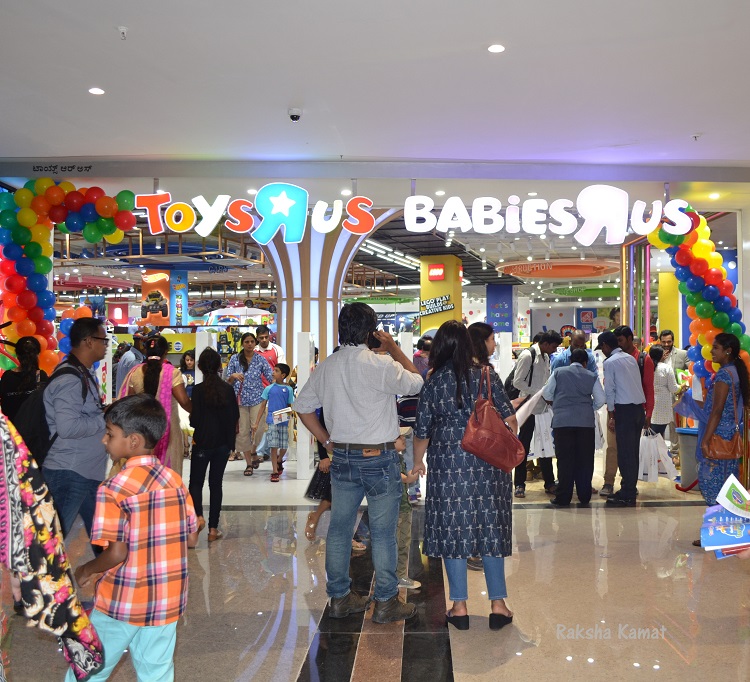 My daughter was super excited to see the biggest toy shop opening in Bangalore. That Saturday, she got up earlier than usual and was ready by herself as she wanted to go for the launch. We both wore similar types of outfits like best friends and went to Phoenix Market City to witness the grand launch of Global retail giant Toys"R"Us which made its debut in India.
The 1st Toys"R"Us store in India was inaugurated by five young achievers from Karnataka along with Adeeb Ahamed, Managing Director, Tablez and Shafeena Yusuff Ali, Chairperson, Tablez India.
The store is spread over an area of 20,000 sq. ft. and is designed to be an experiential store. The store is launched in two formats –
Toys"R"Us® which is the world's leading toy store
Babies"R"Us, a one-stop destination for baby essentials.
Almost every individual in Pheonix Market City had rushed to Toys"R"Us. The iconic mascot iconic mascot Geoffrey the Giraffe was moving around the store and super excited children clicked selfies with him. Geoffrey's great toy party was held for 2 days featuring Motu Patlu, Dora the explorer, Play-Doh, Shopkins, Transformers, Barbie, etc. There were tons of fun and goodies and gifts waiting for everyone.
Lots of creative workshops like Toy Design, Toy Home Building, Fashion Accessories and Super Hero Mask Making were conducted. Entertainment shows like puppet show, Instant dance, Story Telling, Play gym and games were conducted. Several fun activities like clown, face painting, jugglers, balloon modelling, MIME arts, Kids Mini Disco were also held at various floors in the mall.
Toys"R"Us® offers a full range of toys for both boys and girls in the age group 3 to 11 years and has a dedicated section for each category of toys. The store sells everything from action figure to dolls, books, role play kits, remote-controlled cars, blasters, plush, wheel goods, bikes, ride-on etc.
Large variety of soft toys ranging from a teddy bear to bunny to a talking lamb are stocked in the store. Children can also get a wide range of sports toys like basketball equipment, boxing equipment and gear, youth football equipment and so on. Apart from play and sports toys, kids can find educational toys, art and craft, books, games and puzzles in their learning category section.
Babies "R"Us is the quintessential stop for new and expectant moms and young parents. It offers a full range of products like diapers, food, wipes, baby clothes, sippers, feeding bottles, baby food and almost everything a parent needs to nurture infants. The store also stocks baby goods like bedding, travel and safety, baby gear, infant care and also has curated apparel for babies.
About Toys"R"Us® & Babies "R"Us:
With more than 65 years in toy business, Toys"R"Us merchandise is sold in 885 stores in the United States, Puerto Rico and Guam and in more than 810 international stores in addition to over 255 licensed stores in 37 countries. Founded by Charles Lazarus, Toys"R"Us® revolutionised the principle of quality, value and selection and realised that success in the toy business meant focusing on the everyday shopper. With a strong portfolio of e commerce sites, the company provides shoppers with a broad online selection of distinctive toys and baby products. The company is headquartered in Wayne, New Jersey. Toys"R"Us® embodies ideals that are focused on a memorable shopping experience for customers through classic, in-demand and exclusive merchandise, unique feature shops and knowledgeable trained sales staff.
Discover the destination which is the home to the widest collection of toys in the world. Rush to Toys"R"Us and enjoy along with your kid.