O
n a fine evening, my friend and me decided to meet up at The Coffee Bean and Tea Leaf(CBTL) , at Pheonix Market City. It is located in a spacious open air balcony of Pheonix Market City, right next to Copper Chimney. We really liked the ambiance. We went there in the day time and felt that it was a great place to relax after a hectic day of work with simply the best cup of tea or coffee. Also it is one of the best places in Bangalore, if you wanna take your boyfriend or girlfriend out on a date 😉 Specially on a Sunday evening when there will be some or the other special events happening there.
The Coffee Bean & Tea Leaf was founded in 1963 by Herbert B. Hyman in Los Angeles, has been a pioneer in bringing gourmet coffees and teas to the global connoisseur. Over the years, Coffee Bean & Tea Leaf has established itself as the oldest and most trusted brand, preferred by coffee & tea lovers across the world. The Coffee Bean & Tea Leaf currently has more than 1000 stores.
These stores blanket the world in markets such as Germany, California,  Arizona, Nevada, Singapore, Malaysia, Korea, Brunei, Indonesia,  Philippines,Vietnam, Thailand, Cambodia, China, Mongolia, UAE, Israel, Lebanon, Bahrain, Kuwait, Egypt, Jordon, Oman, Qatar, Saudi Arabia, Kurdistan, Turkey and still continues to expand further.
The Coffee Bean & Tea Leaf is the oldest and largest privately-held specialty coffee and tea retailer in the United States with more than 1000 stores across 25 countries. This year, the iconic brand celebrates 50 years of heritage and passion of delighting its patrons worldwide. They rewarded consumers for their loyalty and  that has played an enormous role in achieving this milestone. From 50th anniversary exclusive merchandise to special anniversary offers.
Operational in India since 2008, the brand also completes 5 successful years in India, where again it has played the pioneer's role in introducing the finest coffees & teas from around the world to the Indian coffee & tea lovers.
Coffee & Tea Guide & a special menu to celebrate 50 years
Talking about the 50th anniversary celebration, KS Narayanan, CEO, Pan India Food Solutions Pvt Ltd said, "Celebrating  50 years in business and delighting customers every day across so many countries is indeed a very proud moment in the history of any company. We at Pan India are extremely proud to be associated with Coffee Bean & Tea Leaf and would take this opportunity to thank all our customers – past and present, our partners and associates."
To celebrate the global landmark, Coffee Bean & Tea Leaf had introduced the 50th year anniversary week celebrations till 26th March, 2013, across all Coffee Bean & Tea Leaf outlets in India. Apart from being served the world's finest coffees and teas, all guests were being given a special offers booklet and few lucky ones even got some exclusive 50th anniversary merchandise.
To add to the celebrations, a new food menu with variety of gourmet and healthy eating options has also been introduced. From all day breakfast, gourmet bites, fresh bakes, main course to desserts, the new Coffee Bean & Tea Leaf menu is a foodies delight offering novel options like Chilly Cheese Baguette, Pizza Curl, Banofee Cake, Silky Chocolate Mousse to name a few.
Penne Arrabiata
Coffee Bean & Tea Leaf had also unveiled a new logo on the occasion, which bears the words: "Passion for coffee and tea". The logo reiterates the landmark in the brand's history, paying tribute to its patrons and thanking customers for their continuous support over the years. Also they reaffirm to produce the best tea and coffee beverages across the globe.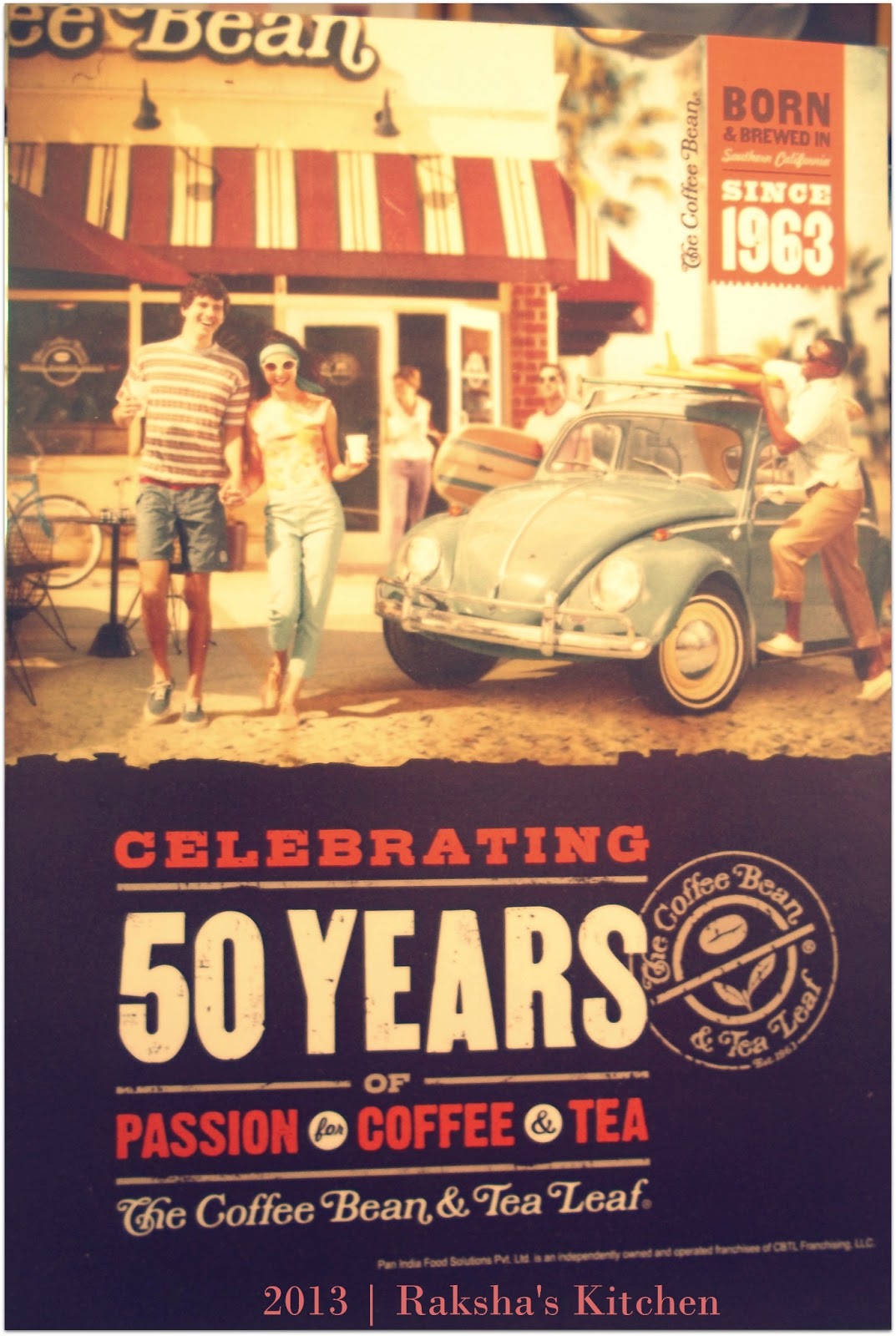 A little more about their Tea
Whole Leaf Tea Bags
Only at Coffee Bean & Tea Leaf you will enjoy the finest teas in the world in convenient single-serving tea bags. The unique pyramid shape of the bag allows the whole two leaves and a bud to fully expand, providing maximum flavor infusion and the same richness and aroma you savor when brewing their premium tea in an infuser or teapot. It's never been easier to achieve whole leaf goodness.
Pyramid Shaped Tea Bag
Their Black Teas are distinguished by extensive hand processing to achieve the full oxidation that is crucial in the development of the exceptional black teas available at The Coffee Bean & Tea Leaf.
 eg. Chai – which is a special recipe blended by hand using only the finest blend of black tea,cinnamon clove,cardamom and other spices. These give an exotic aroma and spicy taste to this flavorful tea.
Flavored Teas are flavored by hand to create a unique, distinctive taste that is perfectly balanced with the essence of the whole leaf tea. Most of these are imported from Sri Lanka and are special in it's own way.
Swedish Berries & Chai Masala stored in air tight containers
Green Teas & Flavored Green Teas– Directly after plucking, the green tea leaves are pan-fired or steamed in order to stop the oxidation process. The tea is then dried once again to remove excess moisture. During the entire process, the leaves maintain their soft and supple texture. These are imported from Japan and China.
Herbal Infusions – All the herbal infusions are 100% caffeine-free, making them the best alternative to regular tea or coffee.They offer an array of flavors that are both delectable and satisfying.
Swedish Berries Iced Tea
Fruit Infusions – These are naturally caffeine-free and are made with large pieces of dried fruit with fruit flavors added,giving the infusion a fresh,bold fruity taste.
I tried this Swedish Berries there and I wanna have it again. It is a blend of hibiscus,raisins and mixed berries, this infusion is well-balanced with natural fruit flavor and a sweet, fragrant aroma.
A little more about the coffees
They only purchase coffee beans from specialty grade Arabic coffee beans from small farms and private estates in East Africa, Latin America and the Pacific. Because the growing conditions in each geographic region have a significant impact on the look, taste and smell of the coffee, they travel to many estates in each region to find Simply the best coffee. They serve coffees in the following categories.
Light & Subtle Coffees – These are characterized by their mild and delicate flavor and are complemented by a light or medium roast. Both mellow and satisfying, these coffees are sure to please every palate.
Caramel & Pure Chocolate Ice Blenders
Rich & Smooth Coffees – These are deeply aromatic coffees and are characterized by their well-balanced flavor and full, fragrant aroma. Each distinctive blend is roasted to perfection to add richness to every cup.
Dark & Distinctive Coffees – These are full-flavored with a bold taste and rich aroma. Aromatically complex, each  coffee has a distinctive flavor that is well-balanced.
Flavored Coffees – The delicious flavored coffees are made with pre-ground medium roast coffee that they carefully hand-flavor with natural and artificial flavorings to ensure a rich and inviting full-flavored coffee.
Our personal experience:
A quiet place to relax
We loved the calm and serene open air atmosphere. The place was clean and the staff was polite. We met Mr. Zameer Ahmed, the Asst. Operation Manager- CBTL who was very friendly, and showed us around the newly opened store.
Something which I loved the most is the innovative coffee/tea takeaway box. We had never seen this type of a takeaway box in any of the coffee and tea outlets around. All the machines that they use are imported and maintained very well.
Takeaway Box for coffee/tea
Apart from Teas and Coffees, the food and dessert served there was good. Also we loved the ice blended caramel and ice blended double chocolate. The ice blended drinks are their speciality as they had invented them.
Paneer Tikka Sandwich & Chili Cheese Baguette along with ice blenders
We also tried Classic cheese sandwich and oats and cranberry bar. To beat the summer heat we sipped on the the Swedish berries iced tea.The taste and quality of the coffee, tea, food and the ice blenders was good. I highly recommend this place to everyone.
Location in Bangalore:
  Phoenix Market City, Whitefield Road
  1 MG Road Mall, Opposite Taj Vivanta
  Inorbit Mall – Whitefield
  Kormangala, 7th Block
Approx. Rs. 500/- , Taxes extra
10 AM to 11 PM
Note: All the opinions stated here are my own. This is not a paid review.