Today's post is focused on my love – the sun-and-sand state of Goa. Yes! This post was pending since a long time. You all know that I am born and brought up in Goa. I love Goa for a number of reasons. Firstly because it's my birth place and secondly because my parents and entire family is in Goa. I feel blessed to be associated with such a beautiful place also known as Miami of India. We spend most of our vacations in Goa which includes celebrating most of the festivals. In this post I will elaborate on the lesser known but much more beautiful places from Goa.
You can reach Goa by road, rail or by air. Since it is located along the coastal region you can also reach it via Arabian Sea, just like how Vasco Da Gama reached Goa. Goa is a popular tourist destination. Although most of the tourists flock towards Goa in the last week of December and between April and May, October to February is considered to be the most pleasant period with a temperature ranging from 29 to 33 degrees Celsius. If you are a nature lover, you should visit Goa during the monsoons i.e. from June to September. The greenery will leave you mesmerized.
As summer vacations are on the way, and many people are planning their vacations let us peek at things to do in Goa.
After landing in Goa, first thing that may come to one's mind is beaches. There are a lot of beaches in Goa. Although well-known beaches of Palolem and Colva in South Goa and Anjuna, Vagator, Baga and Calangute in North Goa may be in the priority list of a visitor, I would recommend you to visit the not so famous beaches like Galgibaga, Mobor, Velsao, Betalbatim, Benaulim, Sernabatim and Cabo De Rama in the south. These are the cleanest and most beautiful beaches in Goa. They are clean because they are not very famous. 🙂
Visitors may come from different backgrounds. Apart from just visiting beaches, some of them may want to explore pilgrimage places. Shantadurga Temple, Kavlem is a popular temple. Maroon-and-white color of the temple with a lush green vegetation surrounding the temple makes an ever-lasting mark on people's mind. There are other temples like Manguesh temple at Mangueshi, Shantadurga Temple at Fatorpa, Kamakshi Temple at Shiroda and Bhagvati Temple at Khandola which are as beautiful as Shantadurga Temple. A specialty about these Goan temples is that they are nestled within greenery in less polluted places.
You should also plan to visit the ancient Mahadev temple at Tambdi Surla which is approximately 65 kms from Panaji. This temple was built during the Kadamba rule. If you love nature and history, then this temple is a must visit.
Basilica of Bom Jesus, Old Goa is a very famous church in Goa. It is the UNESCO World Heritage Site. The mortal remains of St. Francis Xavier are preserved here. A visit to this place is a must. This church is open on all days for public. Old Goa was the capital of Goa during Portuguese rule. Apart from this church, there are many more churches. You can even visit the Holy Spirit Church, Margao and seek blessings from Mother Mary.
If you are travelling with children, do visit the Bondla Wildlife Sanctuary. This sanctuary is located near Ponda and is 50 kms from Panaji and 38 kms from Margao. Lots of wild animals can be spotted here like leopards, Indian bison, sambar deer, different types of snakes, gaur, Malabar giant squirrel, etc. Nature lovers will love this place.
Big Foot at Loutolim is an ancestral museum which is located in a small village named Loutolim. This village located 9 kms from Margao and 29 kms from Panaji. You must visit this place to see how Goans lived in the past in villages. This museum is open on all days from 9am to 6 pm.
Salaulim Dam is another beautiful place which is not so popular. Goans know this place and is a natural beauty. During rainy season this place looks beautiful with greenery around. You must visit this place to see one of the engineering marvels – spill well. You can see this from the botanical garden which is on the other side of the dam.
If you love trekking, you can visit Shree Chandranath Parvath at Paroda in Quepem taluka. You can start climbing from the bottom of the hill or you can drive halfway up, park the car in a designated parking area and climb the hill. There is a temple of Shree Chandreshwar at the top of the hill. You may go there early in the morning to see the rising sun. The beauty around the temple and the view from top is enchanting.
Do not miss visiting Aguada fort. This was built by Portuguese to protect Old Goa from enemy attacks.  A lesser known yet beautiful forts are Terekhol fort at the Northern tip of Goa, Reis Magos fort located on the Northern bank of Mandovi River and Cabo-De-Rama fort in South Goa.
You should visit the Mapusa market if you are in North Goa on Friday and Margao market in South Goa on weekdays. You can buy variety of local produce like spices, kokum, cashewnuts, bebinca, balchao, dry fish, "teffal" which is a type of Sichuan pepper, red chilies, turmeric roots, vegetables, etc. in these markets.
Do try the famous street food – Ross Omelets with paav. I always devour this every time I visit Goa. In South Goa, you can have these in Margao at two places. One near Colva taxi stand near Syndicate Bank known as Ulhas Gado and 2nd near old bus stand – Ashok Gado. Gado means pushcart and Ulhas and Ashok are the names of the owners. These Ross omelets are sold only in evenings. You should taste this dish only at these road side vendors and not at any hotels/restaurants to experience the authentic taste.
Omelet is served with a chicken curry on top of it. The chicken curry is made up of grated coconut and local Goan spices.
You should eat a Goan Paav. Visit a local bakery and eat a hot paav/bread which are very unique to Goa. Do not forget to try a Goan fish thali.
Carnival is a unique event which happens only in Goa since the 18th century. It was introduced by Portuguese who ruled Goa. If you visit Goa during February, you will get a chance to witness this event. Other events which happen in Goa are Shigmahotsav and Satryo during the month of March. If you visit Goa during these months, do not miss these events. You will get to see the traditional culture of Goa. And if you visit Goa during Diwali, you should not miss the Narkasur Killing competition which is held across the state on the night prior to Diwali.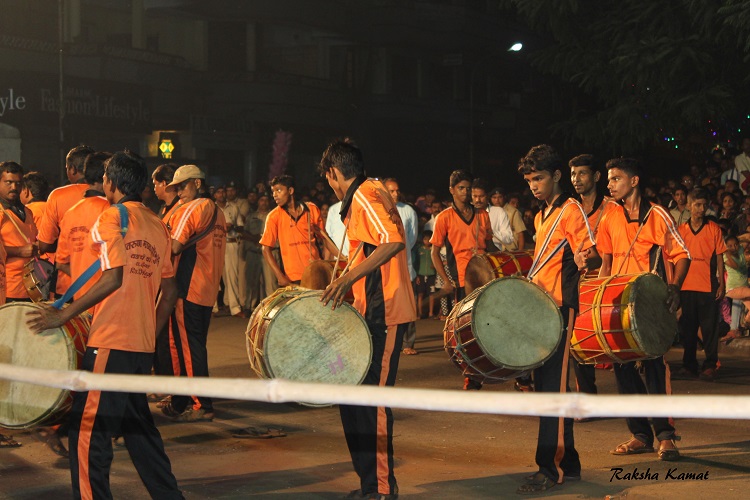 Effigies of demon Narkasur are made across the state. During the competition, Lord Krishna kills demon Narkasur. On the night prior to Diwali, the demon Narkasur is burnt and on the following morning, festival Diwali is celebrated across the state. If you visit Goa during Christmas, you will get to see some beautifully decorated cribs with baby Jesus Christ around the state.
Now you must be wondering where to stay to experience these lovely things in Goa? For stay, there are many hotels, lodges, resorts and home-stays in Goa.  I would recommend you to stay at a place which is close to a beach or is nestled inside greenery. The O Hotel, Goa is a beautiful resort situated at the serene Candolim beach and is located close to major tourist spots like Reis Magos Fort, Splashdown Waterpark and Casino Royale Goa. Goa is a very small state. So if you stay in North Goa or South Goa, you can easily travel to any place you wish. The local transport is very good. You can even hire motorbikes on rent and travel around on your own.
I can still write more on Goa. This subject is close to my heart. Stay tuned for more posts on Goa. Also, you can visit my blog to find some authentic Goan recipes and do not forget to request Goan recipes 🙂