Soya Chili –
My office cafeteria is one of the most boring cafeterias in my city. Everyday it's almost the same menu and I always wonder what to eat there. Most of the times I end up with juice and sandwich but some other times I go for the same Kitchen Bells counter.
One of the things that I find there is Soya Chili. Something which is healthy and turns tasty. I tried re-creating this in my kitchen and it turned out perfect.
Soya chili is an Indi-Chinese dish in which soya chunks are the main ingredient. Added bell peppers makes this dish yummy. Serve it with
hakka noodles
or
veg fried rice
.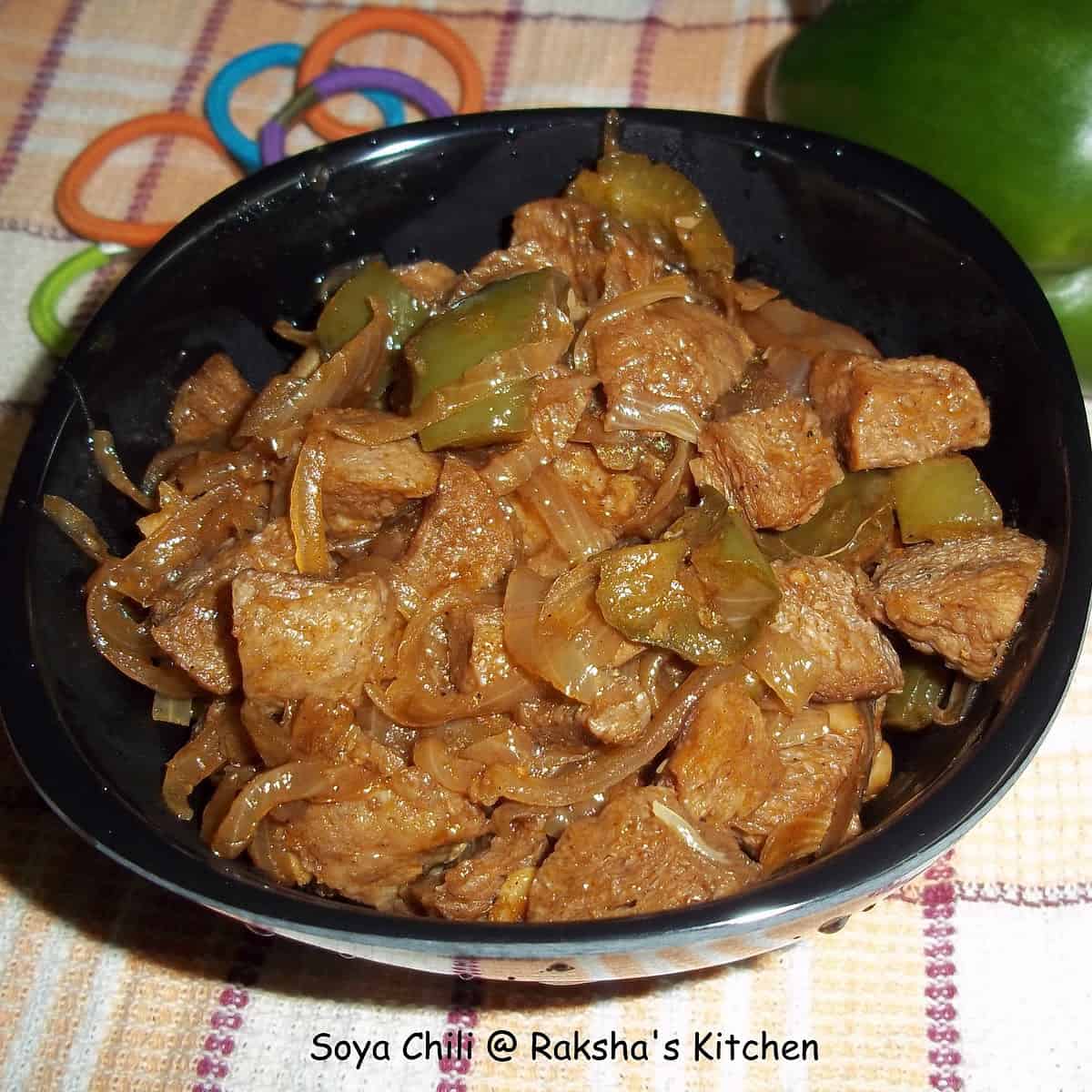 This dish has a combination of sauces like soya sauce, tomato sauce and green chili sauce. Indian spice powders like black pepper powder, chili powder and cumin powder are also added which lends a delicious Indian flavour. Try this dish, I am sure you will love it.
Ingredients:
1 cup soya chunks
1 capsicum
4-5 garlic flakes
2 small onions
1 teaspoon ginger garlic paste
1 tablespoon soya sauce
1 tablespoon tomato sauce
1 tablespoon green chili sauce
1 tablespoon black pepper powder
1 teaspoon chili powder
1 teaspoon cumin powder
Instructions:
Soak soya chunks in hot water till they become soft. After they become soft, drain the water and cut the soya chunks into small pieces.
In a kadai, add 2 tablespoons oil. Chop the garlic into fine pieces and fry in oil.
Add the onions which should be cut straight and fry them till they turn pinkish.
Add ginger garlic paste, fry and add the capsicum which should be cut into 1/2 inch cubes.
Fry till the capsicum is half cooked.
Add the sauces and the powders and mix well.
Add the salt as per taste.
Now add the soya, mix and fry for 5 minutes.
Serve hot.