Every morning a question comes to my mind as to what to cook for breakfast. I prepare this Vegan Eggless Omelette on days when I don't eat non-veg like Mondays and Thursdays. This is a low calorie weight loss recipe which can be prepared for breakfast or evening snacks. Instead of eggs chickpea flour (besan) has been used to make this vegan omelette.  I first time had this eggless omelette in an Udupi Hotel at Margao, Goa in my childhood. My dad who is a pure vegetarian had ordered it and I literally laughed after hearing the name tomato omelette. But I loved the taste and regularly prepare it at home.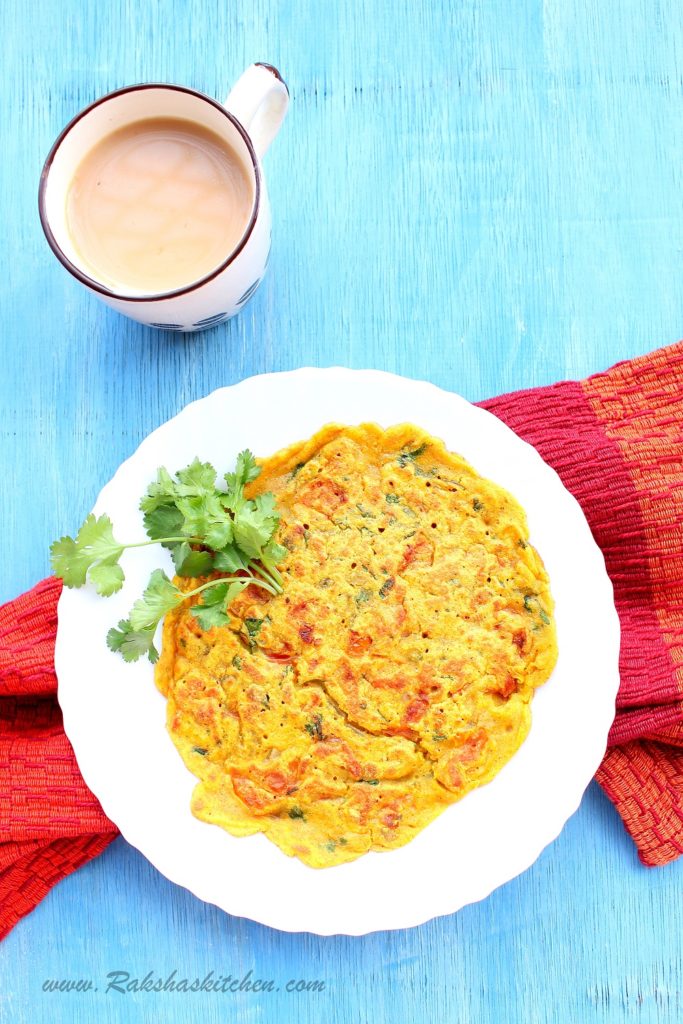 Vegetables like bell pepper and spinach may also be added to this recipe to make it healthier. Besan or chickpea flour is high in protein and has lesser calories than wheat flour. Cooking soda/fruit salt may be added to make this besan omelette fluffier. Serve this Vegan Eggless Omelette with green mint chutney and a cup of tea or coffee.
Consumption of chickpea flour has numerous health benefits. It helps lower cholesterol, improves hearth health, aids weight loss, regulates blood pressure, controls diabetes by stabilising blood sugar, improves immune system, strengthens bones and helps in development of fetus during pregnancy. It is gluten free too and is beneficial for gluten allergic people.
This healthy recipe of mine has got featured on Manipal Hospital's Health Library. Do have a look at it by clicking here. Did you also know that animals especially dogs can also eat vegan food? If you did not know till now, then check this vegan dog food website.