We all love shopping. Most of us spend thousands of rupees doing grocery shopping every weekend. Apart from that we also shop for other basic and luxury things like clothes, jewellery, food, toys, travel, gifts for friends and family, cosmetics, etc. I love to shop online. That is because I can save time and escape from the terrible traffic on the roads especially during the weekends. Oh yes, I hate standing in long queues at the checkout counters too. Shopping while enjoying the comfort of our homes, is one of the best things in the world. Now I have some exciting news for you. What if I tell you that you can save money and spend it wisely while shopping online? Yes! Isn't it a great news?
About Buykers.com:
I have come across this website https://buykers.com/in/. Buykers.com is the coupon marketplace leader in the CEE area, visited by around 1 million unique users every month, currently cooperating with over 5000 online stores and has generated hundreds of thousands of transactions worth over 50 million EUR total in the past year. It is an International shopping related website which is currently operational in India, Poland, Turkey, Brazil and Russia. Here you can find hundreds of discount codes/coupons. You can also find information about the most attractive offers and sales on the Internet and also news-sheets of over 120 shopping chains.
The coupons and news-sheets are free for all users and there are no limitations for using them. You don't even need to have a login ID to access the coupon codes. Navigating this website is very easy and user-friendly.
As soon as you click on https://buykers.com/in you can see the menu at the top left corner with labels Top 100 and Stores. If you know about any coupon, you can add a coupon by clicking on ADD COUPON button. I feel this option is for retailers. As you navigate down, you can find a search bar, where you can search for your favourite stores like Pizza hut or Swiggy.
You will also see "Find Coupons by Brand" where you can find all the stores listed in alphabetical order. Following this you can see the Coupon Overview where 30 most popular coupon codes are listed.
When you are feeling lazy to cook or if you are having some unexpected guests at home, you can order food using the coupon codes from Alerabat.com. For e.g. you can order food from Swiggy or Foodpanda or Zomato. There are some amazing discount coupons on pizzas too. You can choose from Dominos or Pizza Hut or Papa Johns and avail the discounts too. There are plenty of coupons on online ordering of food.
How does it work?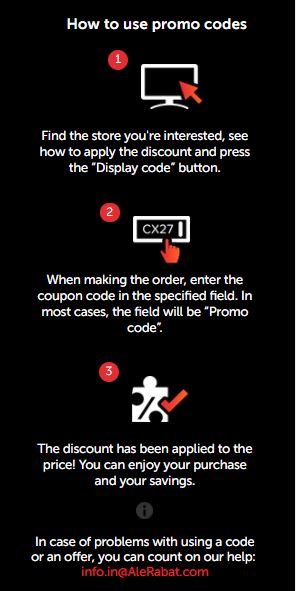 Let us take an example. Check out this PizzaHut deal where you can get Rs.101 off on order over Rs.400 on Signature/Supreme/Flavours Of World pizza.
To avail this offer, simply click on "Show Coupon Code" button and follow the instructions mentioned to avail the discount.
How many of you agree that lot of your time and energy gets spent on weekly grocery shopping? I know how time-consuming this is and in this 21st century time is money. Time is everything. One of the best things of this century is that you can also do some grocery shopping by sitting at home. Stores like BigBasket.com even deliver the grocery to your home. Isn't it amazing?
You can even purchase clothes from websites like Myntra. Just by sitting at home, you can avail attractive discounts and purchase all the stuff that you need at throw-away prices. Believe me, these websites also have a very good exchange policy.
Save your hard-earned money and invest it wisely.